Estimated reading time: 5 minutes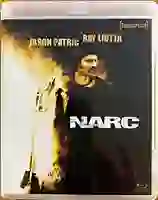 Narc is a gritty crime noir from 2002 written and directed by Joe Carnahan (The Grey). Set in Detroit, which was already in the throes of urban blight, the film follows Detroit undercover narcotics officer Nick Tellis (Jason Patric).
Suspended from the police force after a drug bust went terribly wrong and there were several deaths, Tellis is called back in and enticed to accept a reinstatement to help solve the murder of a slain officer. Tellis is paired with the officer's violent ex-partner Henry Oak (Ray Liotta). Meanwhile, Tellis is having his own domestic issues; he has a wife and a new baby at home, and his wife does not want him back on the streets. His recent issues with drug addiction give her good cause for concern.
As the investigation into the murder plays out, Tellis begins to worry that Oak may be corrupt and what is more, that he may know more about the crime than he is letting on.
Carnahan drapes Narc in atmosphere and style. From the opening foot chase sequence shot on a disorienting handheld camera to the lighting and color grading. Pair these things with the powerful, take-it-to-the-edge performance by Liotta who revels in the volatile nature of a violent and corrupt cop as much as he did in his role as the hitman from Goodfellas, and we have a cinematic feast.
The Video
Narc is served up on this Blu-ray from Imprint Films in a 1.85:1 AVC 1080p encodement. The source looks organic and filmic. It is a gritty film in both content and appearance, with a desaturated palette and a cooler, bluish/grayish tone. Some specks of dirt and a bit of sparkle can be seen in the source, the end result of which is this is not absolute reference, but it is still quite satisfying. It yields solid shadow details and an abundance of detail.
The Audio
We get a very well balanced lossless English DTS-HD Master Audio 5.1 mix that has good dynamics. Low range is beefy for the percussive, ambient score and action. The surrounds carry a good number of atmospheric effects like rainfall, reverberation, or a door squeaking.
The Supplements
From the Limited Edition 7-Disc Hardbox After Dark: Neo-Noir Cinema Collection Two (1990-2002) with 60-page booklet, featuring essays from film critics Peter Galvin, Blake Howard & Alexei Toliopoulos.
The disc for Narc provides a number of contemporary interviews with crew and cast as well as some archival featurettes.
On the Disc:
Audio commentary by writer/director Joe Carnahan and editor John Gilroy
Chasing Ghosts – Interview with actor Jason Patric (NEW) (1080p; 00:17:29)
Over the Top – interview with director Joe Carnahan (NEW) (1080p; 00:19:29)
A conversation with composer Cliff Martinez (NEW) (1080p; 00:15:33)
Interview with Ray Liotta (2002) (720p; 00:14:26)
Featurettes (720p):
Making the Deal (00:13:21)
Shooting Up (00:19:26)
The Visual Trip (00:12:57)
The Friedkin Connection (00:09:51)
The Final Assessment
Imprint Films has wisely chosen to close out their second After Dark collection with Narc, a twisting, stylish, and gritty crime noir that that packs a cinematic punch. The Blu-ray presentation is satisfying, and the film acts as a perfect closer to this strong set.
---
---
Rating Certificate: Australia:R
Studios & Distributors: Paramount Pictures | Lions Gate Films | Cruise/Wagner Productions | Splendid Film | Emmett/Furla/Oasis Films (EFO Films) | Tiara Blu Films | Applecreek Productions | Cutting Edge Entertainment | Echelon Productions, Inc. | JR Media Services | N.A.R.C. | Narc LLC | Imprint Films
Director: Joe Carnahan
Written By: Joe Carnahan
Run Time: 105 Mins.
Street Date: 7 December 2022 (After Dark: Neo-Noir Cinema Collection Two (1990-2002)
Aspect Ratio: 1.85:1
Video Format: AVC 1080p
Primary Audio: English DTS-HD MA 5.1
Secondary Audio: English LPCM 2.0 Stereo
Subtitles: English HOH