Estimated reading time: 4 minutes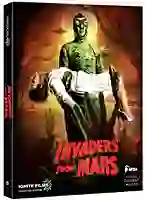 Invaders from Mars is one of the classic Cold War era sci-fi films in the same tradition of The War of the Worlds (1953) and Invasion of the Body Snatchers (1956).
David MacLean (Jimmy Hunt), young astronomy enthusiast, is stunned to see a flying saucer landing in a sand pit some distance away from his house. His father George (Leif Erickson) goes to investigate but goes missing. Meanwhile, David's worried mother Mary (Hillary Brooke) calls the police who then go looking for George, but they are swallowed up by the sand pit. The next morning George returns home acting strangely. The two cops also return, and they are behaving differently as well. David is the only one who believes they have been taken over my Martians. After being detained David meets Dr. Blake (Helena Carter) and Dr. Kelston (Arthur Franz) who are willing to entertain his story. The two notify the military who organize to come in and rescue the town from the alien infiltration.
The film was originally so short that stock footage from the U.S. military was added to lengthen it by several minutes. This led to many shots of tanks rolling and caravans heading off from and to somewhere that are a bit disconnected. Nevertheless, Invaders from Mars makes for an entertaining little sci-fi film despite its low budget and somewhat wooden performances. That being said, it was memorable enough to warrant a remake in 1986 and the original still holds up today.
The Video
Ignite Films conducted an extensive 4K restoration on Invaders from Mars. It was taken mostly from the original SUPERcineCOLOR (a cheaper alternative to 3-strip Technicolor) 35mm camera negatives and various best-source SUPERcineCOLOR prints. It comes to Blu-ray (a 4K HDR release is also available) in 1.37:1 AVC 1080p. The colors have been vibrantly restored, grain only slightly moderated, and, all things considered, this is a brilliant, filmic restoration.
The Audio
Invaders from Mars' original monaural soundtrack was restored from three SUPERcineCOLOR prints with RCA Duplex tracks printed to the cyan emulsion. The audio was put into Pro Tools and had high frequency noise reduced. The sound has a slight sibilance that is still audible on dialogue but in spite of this it sounds good given the age and provenance.
The Supplements
Ignite Films put forward a magnificent release jam-packed with bonus features and a booklet that offers an extensive essay on the film's original production format and the restoration process.
On the Disc:
20-page collector's booklet featuring an extensive essay on the restoration process: "Invaders from Mars: A Nightmare of Restoration" by Scott MacQueen.
William Cameron Menzies: The Architect of Dreams – New Interview with James Curtis, author of William Cameron Menzies: The Shape of Films to Come, and Menzies' granddaughter, Pamela Lauesen. (1080p; 00:16:25)
Jimmy Hunt Saves the Planet – New interview with actor Jimmy Hunt. (1080p; 00:10:30)
Terror from Above – New featurette with acclaimed filmmakers Joe Dante, Mark Goldblatt, Robert Skotak, John Landis, and preservationist Scott MacQueen. (1080p; 00:22:23)
Restoring The Invasion (1080p; 00:06:50)
TCM Festival Intro – John Sayles' introduction at the Turner Classic Movie Festival in Hollywood. (1080p; 00:07:02)
European Observatory Sequence — Restored in 2K (1080p; 00:08:50)
European Ending – Restored in 2K (1080p; 00:02:52)
Theatrical Trailer (1080p)
Re-Release Trailer (1080p)
Image Gallery (1080p)
The Final Assessment
Ignite Films enter the market with a stellar restoration of a cult classic from the golden era of sci-fi. The film has never looked as stunning as it does now on home video. This review pertains to the Blu-ray that was sent out, but given how colorful and filmic this disc looks, it would not be a leap to guess that the 4K HDR release would look even more splendid. Highly recommended.
---
Invaders from Mars is out on Blu-ray & 4K Ultra HD and available exclusively for purchase directly from the Ignite Films website.
---
Rating Certificate: Approved
Studios & Distributors: Edward L. Alperson Productions | Ignite Films
Director: William Cameron Menzies
Written By: Richard Blake (screenplay) | John Tucker Battle (story)
Run Time: 78 Mins.
Aspect Ratio: 1.37:1
Video Format: AVC 1080p
Primary Audio: English DTS-HD MA 2.0 mono
Secondary Audio: Spanish (Latino) DTS-HD MA 2.0 mono
Subtitles: English SDH | French | German | Italian | Japanese | Korean