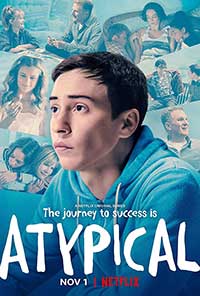 Atypical has become one of the darlings of Netflix's past two seasons as it gives the audience an unfettered look into the life of high school student Sam Gardner (Keir Gilchrist) who has an "atypical" type of autism spectrum disorder (ASD). The previous season exposed growing rifts in Sam's family. His mother Elsa (Jennifer Jason Leigh) had a brief affair with a hunky bartender. His younger sister Casey (Brigette Lundy-Paine) is torn between her feelings for unambitious boyfriend Evan Chapin (Graham Rogers) and the cute captain of her school track team Izzy (Fivel Stewart). EMT father Doug (Michael Rapaport) is continually caught between all of these lines of fire.
Season Three finds Sam preparing to enroll in Denton College. He will leave his on-again-off-again girlfriend perky Paige Hardaway (Jenna Boyd) who desperately wants to have sex with him before they depart for different schools. Elsa tries to reconcile with Doug but even free advice from school psychologist Julia (Amy Okuda) does not help.  She begins to suspect that Doug is having an affair with his co-worker Megan (Angel Laketa Moore) and fears that they will get divorced.
Sam continues his inner monologues and drawings in an ever-present notebook and remains fixated on Antarctica and penguins. After a short-lived move into a Denton dormitory, Sam returns to the security of the Gardner family home.  Thanks to FaceTime, he stays in touch with Paige who is having her own issues at Bowdoin College.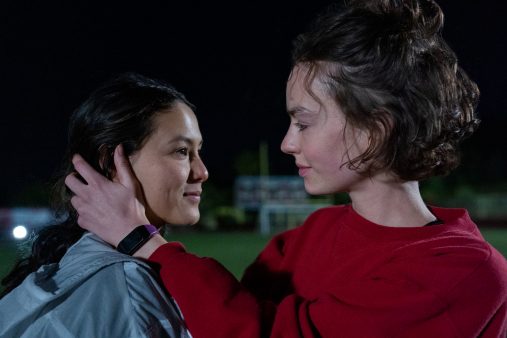 The new season also features the welcome return of Sam's best friend and electronics store co-worker Zahid (Nik Dodani) who offers Sam copious free advice about sex and drugs.  Their friendship is threatened when the Zahid takes up with slutty shoplifter Gretchen (Allie Rae Treharne) whom Sam sees as a threat to his buddy's nursing school studies. With considerable help from Casey and Paige, Sam plots a way to derail Zahid and Gretchen's impending nuptials at the Royal Oaks Casino.  In turn, Casey must choose between devoting her time to track practice for a possible UCLA scholarship or maintain her intimate relationship with Izzy.  As Season Three winds down, we get nostalgic insights in Doug and Elsa's strained relationship that offers a flicker of hope for their failing marriage.
Show creator Robia Rashid continues to delve deeper into the private and public life of a young man who struggles with his autism on his long personal journey to gain his independence. What again elevates Atypical above most of its competition is the presentation of three-dimensional characters whose paths frequently cross but who also must contend with their own often-conflicted lives.  With a cast that combines strong performances from its young stars—Gilchrist, Lundy-Paine, Boyd, Rogers, Dodani, and Stewart—with those of small-screen veterans Leigh and Rapaport, Atypical has become of the must-see streaming series of 2019. The episodes are a millennial-friendly half-hour-long and there is just the right mixture of comedy—Paige's recurrent road rage—and drama—Casey's discovery that she is attracted to both sexes. There is already buzz about a Season Four in 2020. In the meantime, viewers will get to spend a very rewarding five hours with people that they have grown to know quite well during the past three years.  Highly recommended.
Netflix Original Atypical Season Three is streaming now in its entirety on Netflix

---
The Creative Content: 4.0/5
Show Creator: Robia Rashid
Original Release Date: 1 November 2019
Network or Streaming Service: Netflix
Ep. Run Time: 30-35 Mins.
No. Eps. 10
Studios & Distributors: Netflix | Exhibit A | Sony Pictures Television
Rating Certificate: TV-MA