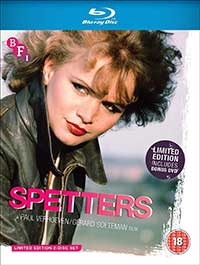 Paul Verhoeven's controversial film Spetters follows the lives of three male teenage buddies coming of age in a Dutch port town who are all passionate about the sport of motocross and idolize the local motocross legend Witkamp (played by Rutger Hauer). As the three friends compete in local motocross tournaments with dreams of success in the pro circuit, they also begin to lust after new hash house waitress after Fientje (Renee Soutendjik), who has her own ideas of how to gain success – mainly using her sexual appeal on all the men she can for whatever she can get out of them.
Verhoeven's film – the title being a triple-entendre referring to the splashes or grease stains in reference to the oil splashes from the motorcycles and an allusion to one of the film's main points of reference, the film Grease; a slang term for male ejaculate and a term used to refer to a "hot girl" in the '70s and '80s that has fallen into disuse – stirred up so much controversy and protest over its vivid, and what some said was homophobic, portrayal of male gang rapes, exposed male genitalia, misogyny and alleged suggestion that disabled people should just kill themselves, that Verhoeven was run out of The Netherlands and made his way to Hollywood.
Yes, Spetters is a typically frank and often boorish film that spares no one. One of the main characters is paralyzed and contemplates suicide, another who goes "gay-bashing" ends up gang-raped by a group of leather-clad gay men and then comes out as gay. The women, particularly the blonde bombshell of desire Fientje may seem like no more than a 'slut,' and the teen boys say and do horrible things about and to women, but there is also a subversiveness to Spetters that gets missed. Fientje is firmly in control of all the men around her and knows just what she's doing. The troubles that befall most of the male characters can be seen as a counter to what modern viewers might today call "toxic masculinity." In fact, it seems like no bad behavior in the film really goes unpunished, even if there are those who look on the surface and feel certain groups aren't portrayed exactly as they should have been.
[envira-album id="121699″]
The Video
Spetters has been remastered in 4K and is presented on Blu-ray in a 1.66:1 AVC 1080p high-definition transfer, the first time the film has been available in HD in the UK. It's a wonderful, filmic transfer with natural colors, even and consistent, thinly layered film grain, and lots of detail.
The Audio
The original Dutch mono mix is provided in LPCM 2.0. It provides clear dialogue and a good amount of dynamics and sound separation given the channel limits.
The Supplements
BFI includes an excellent slate of bonus materials, including a fantastic video essay from Amy Simmons and a detailed audio commentary by Verhoeven himself recorded in 2001.
Audio commentary by director Paul Verhoeven recorded in 2001.
Symbolic Power, Profit and Performance in Paul Verhoeven's Spetters (1080p) – A lengthy, yet interesting and in-depth audiovisual essay written and narrated by film critic and author Amy Simmons.
Trailers – English language trailer/Dutch trailer/German trailer 1, German trailer 2
Image gallery
Bonus DVD includes:
Andere Tijden – Spetters (2002, 29 mins) – Dutch TV documentary on the making of Spetters featuring the filmmakers, cast, and critics of the film
Speed Crazy: An interview with Paul Verhoeven (2014, 8 mins.)
Writing Spetters: An interview with Gerard Soeteman (2014, 11 mins.)
An Interview with Jost Vacano (2014, 67 mins.) – A wide-ranging interview with the film's cinematographer including Soldier of Orange and Robocop
The Final Assessment
Spetters looks and sounds fantastic here, and this release gives the English-speaking world who may be less familiar with his pre-Hollywood films a perfect opportunity to explore some of his edgier material.
Spetters is out in 2-disc Limited Edition Blu-ray + DVD in the UK 2 December 2019
---
The Creative Content: 3.0/5
The Video: 4.5/5
The Audio: 4.0/5
The Supplements: 4.0/5
Rating Certificate: UK:18
Studios & Distributors: VSE Film | BFI
Director: Paul Verhoeven
Writer: Gerard Soeteman
Run Time: 123 Mins.
Original RRP: £22.99
Street Date: 2 December 2019
Aspect Ratio: 1.66:1
Video Format: AVC 1080p
Audio Format: Dutch LPCM 2.0 Mono
Subtitles: English