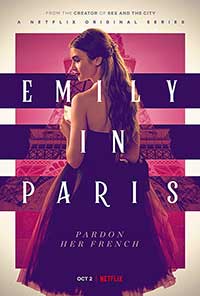 If you loved Darren Star's Sex in the City and have been in Carrie Bradshaw withdrawal for the past fifteen years, your prayers may have just been answered by this new champagne-bubbly ten-episode series, Emily in Paris. Lily Collins stars as Emily Cooper, an enterprising young staffer at a Chicago-based marketing firm that has recently taken over Savoir, a Paris-based public relations firm. Emily's boss Madeleine Wheeler (Kate Walsh) speaks French fluently but cancels her Paris assignment when she discovers that she is pregnant.  Emily is sent in her place to give Savoir the "American slant" on the high-end fashion items that this company represents.  Her long-distance move conveniently dooms her relationship with boyfriend Doug (Roe Hartrampf)
Once at Savoir, Emily meets new CEO Sylvie Grateau (Philippine Leroy-Beaulieu) who makes it clear that this young woman who cannot speak French is "too American."  It does not take very long for the resourceful Emily to discover that Savoir has lost some major accounts. Dazzled by her new surroundings, Emily creates her new Instagram account, "Emily in Paris" that soon makes her a media darling. She also makes friends with perky Chinese nanny Mindy Chen (Ashley Park) who knows Paris quite well. Mindy's wealthy father has disowned her for dropping out of business school and, like a number of the show's other characters, Mindy has an unrealized dream–to become a star pop singer.
There is a meet-cute with her neighbor, chef Gabriel (Lucas Bravo) when Emily mistakes his apartment for hers since the French begin their floor numbers with the second story.  Gabriel runs a neighborhood restaurant and also has an unrealized dream—to own a haute cuisine establishment.  His wealthy girlfriend Camille (Camille Razat) dreams of marrying Gabriel and bankrolling his restaurant—an offer that he rejects out of hand. Emily meets famous Chicago hotelier Randy Zimmer and convinces Antoine Lambert (William Abadie), head of the Maison Lavaux perfume business and Sylvie's married lover, to create a new scent for his hotels.   Antoine and, later, Mathieu Cadault (Charles Martin), nephew of the famous haute couturier Pierre Cadault (Jean-Christophe Bouvet), both have the hots for Emily who has begun to fall for hunky Gabriel.
[envira-album id="125503″]
One of this show's main storylines is fueled by the prickly relationship between Emily and Sylvie. Only the support of her co-workers Julien (Samuel Arnold) and Luc (Bruno Gouery) keeps Emily from getting canned. Before all is said and done in the "City of Lights," Emily's fractured French and scant sex life have significantly improved, and suddenly she may have more men lusting after her than she can readily manage.
With all of the beautiful people and drop-dead-gorgeous shots of Paris on display, there is so much eye-candy in this dramedy that viewers may experience sudden spikes in their blood sugars. Lily Collins is the consummate clotheshorse (shades of Holly Golightly!) and her personal wardrobe seems limitless from her stylish berets right down to her designer boots.  One has to admire her character's pluck and persistence as she constantly seems to be swimming against the Seine's current. Ultimately, this show either succeeds or fails on how well the players in the ensemble interact and this is where the principals of Emily in Paris truly shine.
Understandably,  les vraies Parisiennes or real Paris-dwellers may take offense at the stereotypes that this show features with their rampant male chauvinism, infidelity, and political incorrectness, but so what.  The series is highly entertaining in its current format and absolutely loaded with laugh-worthy moments. By the way, very little French is actually spoken here, so viewers should not worry about being subtitled to death. It looks like Darren Star has got another hit on his hands and the rumor mill is already buzzing with speculations about a Season Two. Highly recommended.
Emily in Paris is streaming in its entirety now on Netflix
[youtube https://www.youtube.com/watch?v=lptctjAT-Mk&w=853&h=480]
---
The Creative Content: 4.0/5
Show Creator: Darren Star
Original Release Date: 2 October 2020
Streaming Service: Netflix
Ep. Run Time: 24-34 Mins.
No. Eps: 10
Studios & Distributors: Jax Media | MTV Studios | Netflix
Rating Certificate: TV-MA