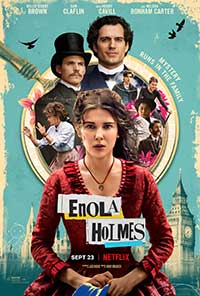 Sir Arthur Conan Doyle's legendary Sherlock Holmes has inspired more than fifty film adaptations of the stories in which this sleuth solved crimes and meted out justice. There have been numerous spin-offs featuring both elderly and youthful versions of Holmes, but Enola Holmes is the original account of Sherlock's teenaged sister, the heroine in the first of a series of Nancy Springer's young adult novels.
Enola (Millie Bobby Brown) was raised by her unconventional mother Eudoria (Helena Bonham Carter) who was fond of word games—Enola is the reverse of alone. From Eudoria she learned how to play chess, engage in jujitsu and chemistry experiments and was encouraged to read the contents of their huge home library at Ferndell Hall.  Her much older brothers, Sherlock (Henry Cavill) and Mycroft (Sam Claflin) had left for London years earlier but when Eudoria disappears on Enola's 16th birthday, they return so Mycroft can become her legal guardian and get her a proper education at Miss Harrison's (Fiona Shaw) finishing school. Before this takes place, Enola finds a note and money left by her mother and, disguised as a young man, she boards a train for London in search of Eudoria.
Enola's train ride jump starts the rest of this mystery-adventure as young Viscount Tewkesbury (Louis Partridge) briefly becomes her traveling companion as they barely escape Linthorn (Burn Gorman) who has been hired to kill the Viscount. Once in London, Enola gets proper women's clothes and relatively modest digs as she shifts her focus to finding and protecting the vulnerable young Tewkesbury.  Mycroft catches up with Enola, thanks to Inspector Lestrade (Adeel Akhtar), and sends her back to Miss Harrison but she soon escapes with Tewkesbury in the school's motor car. The identity and motive of the person behind the attempts on the young Viscount's life will eventually be revealed and Enola's search for her missing mother resumes in earnest.
[envira-album id="125147″]
Millie Bobby Brown, as the occasional narrator, breaks through the "fourth wall" at this film's very beginning, a device used to set up some of the following scenes and one that immediately draws viewers into this charming coming-of-age tale. Henry Cavill and Sam Claflin do the best that they can with their relatively brief roles as the older brothers who are continually being shown up by their much younger sibling. I would have liked to see a bit more of Helena Bonham Carter but fully understand that this is intended to be MBB's film.  The martial arts scenes that had MBB taking down the much larger Burn Gorman might have strained our powers of belief but I did enjoy watching the improbable relationship develop between the scrappy Enola and the effete Tewkesbury.
Having watched Ms. Brown's acting skills evolve over the first three seasons of Stranger Things, I was duly impressed by how well she handled only her second feature-length film role and one considerably different from that in Godzilla: King of the Monsters. Exactly the same age as the fictional Holmes sister that she portrayed, there is a composure and maturity that most sixteen-year-olds simply don't possess. I am delighted that Netflix has made this film suitable for young adults and it will provide two hours of much needed diversion. Highly recommended.
Enola Holmes is streaming now on Netflix
[youtube https://www.youtube.com/watch?v=1d0Zf9sXlHk&w=961&h=541]
---
The Film: 4.0/5
Studios & Distributors: Legendary Pictures | PCMA Productions | Netflix
Rating Certificate: PG-13 (for some violence)
Country: UK | USA
Language: English
Run Time: 123 Mins.
Aspect Ratio: 2.39:1
Director: Harry Bradbeer
Written By: Jack Thome
Original Release Date: 23 September 2020