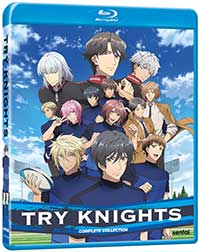 Try Knights is the 2019 anime series based on the Japanese rugby manga series written by Shunsaku Yano and illustrated by Erisawa Chizuka. The series is directed by Sasaki Tadayoshi and written by Takada Makoto.
Being a big rugby fan – one of only two sports I actually follow closely – I was excited to watch and review this series. It follows the male protagonist Haruma Riku who one day gives advice on running to fellow high school student and new rugby club member Kariya Akira. Haruma when he was younger used to be fully absorbed in the sport, but he dropped out when he got older because he didn't have the physique to play. Through his interactions with Akira, Riku slowly becomes more interested in the sport again and joins the school's rugby club in order to help them win the high school tournament through adherence to strict training methods and strategy.
There is a lot that is good in this series, so let me start with that. The story does put forward the ethos of never giving up, always trying harder and trying again, and backing up your friends. There are subplots related to sibling rivalries, the feeling of abandonment by one's parents and friends, and even if the sense of self-worth through achievements is a good or bad thing.
Then there are the bad things about Try Knights. As a rugby series, it fails miserably. I'm sure they are trying to crossover to those who do not follow the sport, but the sport takes a serious backseat here, acting only as a catalyst, so much so that they fail to even portray the game accurately in the rugby sequences despite having a pretty good rudimentary rundown of the laws of the game as cut sequences. I won't get too technical or nerdy, but there's not a single ruck portrayed in one of the rugby sequences and they almost seem to be playing by either Aussie rules (a different style of rugby to what is meant to be portrayed here) or even – yikes! – American football rules.
That said, perhaps Try Knights as an anime series did fulfill its purpose in the long run and that was to help build interest in the sport ahead of the country's hosting of the 2019 Rugby World Cup.
[envira-album id="125125″]
The Video
The digital animation for Try Knights arrives on Blu-ray in a 1080p AVC encodement framed at 1.78:1 from Sentai Filmworks. We get a solid transfer here with good colors and crisp line work showing minimal aliasing (there is some slight aliasing here and there) and very minimal color banding.
The Audio
This series is provided only with the original Japanese-language audio mix in DTS-HD Master Audio 2.0 stereo and English subtitles. There isn't much in the audio mix outside of the sequences with the rugby matches to really make this an exciting mix, but it is good, with clean dialogue and strong stereo imaging.
The Supplements
Try Knights comes with minimal but typical bonus materials. Only the clean opening and closing credits, a Japanese promo, and additional Sentai Filmworks trailers are included on disc.
The Final Assessment
A sometimes inspirational and sometimes frustrating high school rugby anime series that gets somethings right and a lot wrong is generally fun to watch, but not likely to be a series that many will return to for multiple viewings.
Try Knights is out on Blu-ray August 11, 2020 from Sentai Filmworks
---
The Animation: 3.5/5
The Story: 3.0/5
The Video: 4.0/5
The Audio: 4.0/5
The Supplements: 1.0/5
TV Rating: TV-14
Animation Studio: Gonzo
Distributor: Sentai Filmworks
Director: Sasaki Tadayoshi
Written By: Takada Makoto
Run Time: 300 Mins.
Aspect Ratio: 1.78:1
Video Format: AVC 1080p
Primary Audio: Japanese DTS-HD MA 2.0 Stereo
Subtitles: English