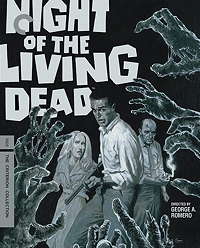 1968's Night of the Living Dead from horror auteur George A. Romero was an immensely groundbreaking film at the time. Decades removed from its release, it is difficult to understand just how groundbreaking and influential it was, from the casting of Black actor Duane Jones in the lead to the redefining of the zombie (called ghouls in this film) on the big screen.
When radiation from a Venus space probe that crashes back into Earth's atmosphere causes the dead to rise, turning them into mindless, flesh-eating monsters. A group of Pennsylvanians – Barbra (Judith O'Dea), Ben (Jones), married couple Harry (Karl Hardman) and Helen Cooper (Marilyn Eastman), their daughter Karen (Kyra Schon), Tom (Keith Wayne) and girlfriend Judy (Judith Ridley) – find themselves holed up in an abandoned farmhouse trying to hold off the threat from outside even as tensions and bickering arise amongst the group over how best to survive.
Former TV commercial director Romero broke ground with this visceral horror by eschewing the genre's previous bent toward ensuring the 'good guys' always won. That is not necessarily the case in Night of the Living Dead where the good guys cannot agree, do not best the monsters, and the saviors in the form of the government authorities turn out to be more dangerous than the monsters.
Shot in stark black and white and on a shoestring budget, the film overcomes its limitations with the excellent camerawork, solid performances all around, and Romero's subtle sociopolitical commentary which is less hard hitting than much of his later films.
The Video
This restoration by The Museum of Modern Art and The Film Foundation was created from a 4K digital transfer created on Cineric's wet-gate film scanner primarily from the 35mm original camera negative. Approximately 1 percent was scanned from a 1968 35mm fine-grain for portions too damaged to scan. The film comes in its original 1.37:1 framing encoded in HEVC 2160p (4K UHD) SDR, so there is no HDR on this 4K disc, but the stark, crisp, black and white imagery looks wonderful even without it. There is only marginal difference between the 4K disc and the included Blu-ray, but the 4K does provide a slightly more natural looking grain structure and a little hint more extended depth of field. Both discs have excellent shadow details and overall detail and contrast.
The Audio
The original monaural soundtrack was remastered under the supervision of Romero and Gary Streiner from the original quarter-inch mix masters, quarter-inch premix audio tape, a final composite 16mm magnetic track, and the 16mm magnetic mix units. The soundtrack comes to 4K in a LPCM 1.0 track and is a solid mono mix with little to complain about. The restoration and remaster provide clean sound and intelligible dialogue with little noise.
The Supplements
This release is stuffed with two commentaries, and entire special features disc of interviews and related materials, plus we get the work print of the original cut of the film.
Foldout 'poster'/booklet featuring an essay by Stuart Klawans, film credits, and information on the transfer.
1994 commentary featuring Night of the Living Dead cowriter-director-editor George A. Romero, producer-actor Karl Hardman, actor Marilyn Eastman, and cowriter John A, Russo
1994 commentary featuring producer-actor Russell W. Streiner, production director Vincent D. Survinski, and actors S. William Hinzman, Judith O'Dea, Kyra Schon, and Keith Wayne.
Night of Anubis (Blu-ray Only) (1.37:1; 1080p; DD 1.0) – This uncorrected 16mm workprint of Night of the Living Dead features the alternate opening title and a day-for-night ghoul shot that was removed at the request of the original distributor. For this presentation, unrestored audio has been conformed as closely as possible to the silent footage. This features a separately accessible introduction by coproducer Russell Streiner.

Russell Streiner (1080p; 00:07:17)
Special Features Blu-ray Disc:
Light in the Darkness (1080p; 00:23:41) – Made by the Criterion Collection in 2017, this program features filmmakers Frank Darabont, Guillermo del Toro, and Robert Rodriguez discussing the cinematic importance of Night of the Living Dead.
Dailies (1080p; 00:18:04) – This silent 16mm reel includes never-before-seen raw footage and alternate takes that were not used in Night of the Living Dead.

Gary Streiner Introduction (1080p; 00:03:41)

Learning from Scratch (1080p; 00:11:58) – In this 2017 Criterion Collection interview, Night of the Living Dead cowriter John Russo remembers the Latent Image, the commercial and industrial-film production company in which he and cowriter-director-editor George A. Romero were partners and discusses its importance in preparing the filmmakers for their feature debut.
TV Newsreel (1080i; 00:02:48) – This VHS recording of silent, B-roll 16mm film shot for Pittsburgh broadcast news, saved by newscaster and actor Bill "Chilly Billy" Cardille, is the only behind-the-scenes footage of Night of the Living Dead production known to exist. Original music has been added by Jeff Carney.
Walking Like the Dead (1080i; 00:13:04) – Made for the Criterion Collection in 2017 by Jim Cirronella, this program features ten cast and crew members discussing what it was like to portray cinema's original flesh-eating ghouls, in interviews shot for the 2009 documentary Autopsy of the Dead.
Tones of Terror (1080p; 00:11:15) – This 2017 Criterion Collection program featuring producer Jim Cirronella delves into the skillful use of existing library music for the scoring of Night of the Living Dead.
Limitations into Virtues (1080p; 00:11:57) – In this new video essay made for the Criterion Collection, filmmakers Tony Zhou and Taylor Ramos (Every Frame a Painting) examine the style of Night of the Living Dead.
Tomorrow (1080i; 00:18:20) – In these edited excerpts from the July 3, 1979, episode of NBC's Tomorrow, host Tom Snyder discusses the mechanics of the horror genre with director George A. Romero and filmmaker Don Coscarelli (Phantasm).
Higher Learning (1080i; 00:45:30) – In this footage from a November 2, 2012, Toronto International Film Festival event, hosted and moderated by Colin Geddes, director George A. Romero discusses Night of the Living Dead.
Duane Jones (1080p; 00:21:56) – Conducted by journalist Tim Ferrante on December 13, 1987, this audio interview with actor Duane Jones, edited by Ferrante and including content not heard in previous presentations, is illustrated with stills and clips.
Judith Ridley (1080i; 000:10:42) – Produced in 1994 by Elite Entertainment, this interview features actor Judith Ridley discussing her role in Night of the Living Dead.
Venus Probe (1080p; 00:00:32) – This 1967 newsreel detailing the real-life findings of the Mariner 5 spacecraft in Venus' atmosphere prefigures the radiation-contaminated satellite that causes the dead to rise in Night of the Living Dead.
Trailers (1080p):
TV Spots (1080p):

Twenty Seconds
Sixty Seconds

Radio Spots (1080p):

1968, Thirty Seconds
1968, Sixty Seconds
1970 Rerelease One
1970 Rerelease Two
1970 Rerelease Three
The Final Assessment
A true horror classic that laid the groundwork for many of the genre films to follow gets a reference SDR 4K release from Criterion Collection. This is one of the films that genre fans should own. Highly recommended.
Night of the Living Dead is out on 4K Ultra HD Combo Pack October 4, 2022 from Criterion Collection
---
Rating Certificate: Not Rated
Studios & Distributors: Image Ten | Criterion Collection
Director: George A. Romero
Written By: John A. Russo (screenplay by) | George A. Romero (screenplay by)
Run Time: 96 Mins.
Street Date: 4 October 2022
Aspect Ratio: 1.37:1
Video Format: HEVC 2160p (4K UHD)
HDR Format: SDR
Primary Audio: English LPCM 1.0
Subtitles: English SDH