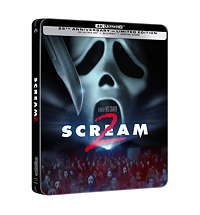 Lighting can really only strike once, when it comes to films at least, and sequels, no matter how hard they try are always a bit of a letdown in comparison to their predecessors, except in those rarest of exceptions (I'm thinking now of the wonderful Toy Story films from Pixar). Wes Craven's 1996 horror film Scream was a hip shot in the arm for the genre, one that woke up a flagging market and gave it a new outlook, a new way of doing things by blending slasher, thriller and murder mystery with contemporary coolness while poking fun at the genre itself.
The problem is, once you've seen the formula, that newness vanishes and a sequel becomes sort of, well, mundane. So what do you do if you are Wes Craven? Well, you make darn sure that you go even more elaborate, make the film even more multi-layered by crafting yet another tongue-in-cheek plot involving a movie within a movie with a wink, wink towards the audience, then play out the same horror tricks you did the first time around. Does it work? Sort of.
In Scream 2 our damsel in distress, Sidney Prescott (Neve Campbell), is now in college thinking she is once and for all past the horrendous murders that disrupted her life, that is until the movie Stab hits theatres. Based on the best-selling book by the tabloid reporter Gale Weathers (Courtney Cox) about the "ghost face" murders, it seems a copycat killer is determined to make darn sure the sequel jumps right of the screen and into Sidney's life, terrorizing her and other people from Sidney's past. But who could the killer be this time? Is it her new boyfriend (Jerry O'Connell), the man she wrongfully accused of killing her mother, Cotton Weary (Liev Schreiber), or maybe it's even her old friend Deputy Dewey (David Arquette)? No one's above suspicion.
The movie-in-a-movie scheme works sometimes and Scream 2 still has some thrills but sitting through it is at times just like rewatching Scream, which is still the superior film.
(Editor's Note: The editorial review above of this film was previously published)
The Video
Scream 2 is offered up on 4K Ultra HD with no solid information from Paramount about the process or provenance involved in bringing it to 4K. The film was originally shot in the anamorphic format with Panavision Panaflex Platinum cameras and Panavision Primo and C-Series lenses on 35mm film stock. This new 4K Ultra HD Blu-ray arrives framed at 2.39:1 in an HEVC 2160p Dolby Vision encodement with HDR metadata that reads a MaxLL of 1000 nits and a MaxFALL  of 796 nits. This is a definite step up from the previous Blu-ray in that the picture looks cleaner overall. I had been able to spot some minor instances of dirt and scratches on the Blu-ray whereas those are nonexistent on the 4K, even while the grain structure remains natural. Detail, however, is on the softer side. It's not that it looks smooth, it's just that it doesn't look particularly crisp. There is still plenty of depth to the image, but perhaps I am biased from watching this directly after the recent 4K release of I Know What You Did Last Summer, which was outstandingly three-dimensional. That said, the WCG and dynamic range are reasonable, but there isn't an exceptional amount of added brightness or specular highlight 'pop' added to this, and colors have only a marginal amount of added vibrancy and nuance. There are also some mild instances of crush that only slightly hinder detail in darker scenes.
The Audio
Scream 2 comes with its previously issued DTS-HD Master Audio 5.1 lossless mix. Some of the issues I had heard with some clipping in the dialogue before seem to be have addressed perhaps threw a new mastering, but otherwise this sounds the same, with excellent dynamic range and an aggressive use of the channels. The LFE  is hefty, there is a lot of side-to-side and front-to-back motion with good levels of ambience and atmospherics.
The Supplements
All bonus features on Scream 2 have been previously released, and the included Blu-ray is even just a repackaging of the Miramax/Lionsgate release.
Steelbook packaging with new artwork
Digital Copy
Audio commentary by director Wes Craven, producer Marianne Maddalena, and editor Patrick Lussier
Blu-ray Special Features:
Audio commentary by director Wes Craven, producer Marianne Maddalena, and editor Patrick Lussier
Deleted Scenes w/ optional audio commentary by director Wes Craven, producer Marianne Maddalena, and editor Patrick Lussie (SD; 00:04:09)
Outtakes (SD; 00:08:54)
Featurette (SD; 00:07:05)
Music Videos:

Master P – "Scream" (SD; 00:03:06)
Kottonmouth Kings – "Suburban Life" (SD; 00:03:47)

Theatrical Trailer (SD)
TV Spots (SD)
The Final Assessment
Although it is still quite entertaining and filled with thrills and chills, Scream 2 lacks the same originality and surprises that abound in Scream. Still, Paramount has offered up a solid 4K transfer of this second entry in this popular franchise.
Scream 2 Limited-Edition 4K Ultra HD SteelBook is out October 4, 2022 from Paramount Home Entertainment
---
Rating Certificate: R (for language and strong bloody violence)
Studios & Distributors: Dimension Films | Konrad Pictures | Craven-Maddalena Films | Miramax | Maven Entertainment | Lionsgate | Paramount Home Entertainment
Director: Wes Craven
Written By: Kevin Williamson (characters)
Run Time: 120 Mins.
Street Date: 4 October 2022
Aspect Ratio: 2.40:1
Video Format: HEVC 2160p (4K UHD)
HDR Format: Dolby Vision (Compatible with HDR10)
HDR Metadata:

MaxLL: 1000 nits
MaxFALL: 796 nits

Primary Audio: English DTS-HD MA 5.1
Secondary Audio: German DD 5.1 | Spanish (Castilian) DD 2.0 | Spanish (Latino) DD 2.0 | French DD 2.0 | Italian DD 2.0 | Japanese DD 2.0
Subtitles: English | English SDH | Danish | German | Spanish (Castilian) | Spanish (Latino) | French | Italian | Japanese | Korean | Dutch | Norwegian | Finnish | Swedish