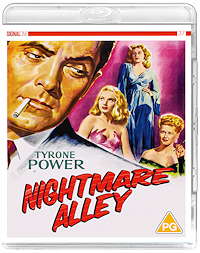 The 1947 film noir Nightmare Alley was adapted from the William Lindsay Gresham novel which, given the constraints of the Hays Code Hollywood was operating under at the time, was considered impossible to make into a film. Nevertheless, it was made into this sordid tale of a conniving young carnie who, as it says in the film, ends up falling low because he aimed too high.
The story follows Stanton Carlisle (Tyrone Power), a drifter who talks his way into job at a struggling carnival. He finds himself drawn to an illegal sideshow act called "The Geek" whose attraction is doing disgusting stunts for the payoff of a bottle of rotgut at the end of the night. But Stanton soon finds himself romancing the naïve "electricity" act Molly (Coleen Gray) who works with thickheaded strongman Bruno (Mike Mazurki). The turning point in Carlisle's life comes when he takes interest in the drunken "mentalist" Pete Krumbein (Ian Keith) and learns from him how easy it is to fool people. A tragic accident leaves Pete dead and Stanton inveigles his way into the good graces of Pete's widow (Joan Blondell), who continues to teach him all the cheats and tricks of Pete's mindreading racket. He learns enough to breakout on his own, taking his act on the road with his new bride Molly, after being forced to marry her by Bruno. Stanton begins a classy nightclub with Molly as his sidekick where he awes wealthy patrons, but he grows tired of this and wants more. He meets the beautiful but tough as nails psychologist Dr. Lilith Ritter (Helen Walker, who had just been cleared of charges involving a car accident where one passenger died). Stanton and Ritter team up to start convincing the wealthy patrons that he can speak to their dead relatives and elevate their scam to target a millionaire who wants to see his dead daughter, but it goes sideways when Stanton's wife has a crisis of conscience at the last minute and blows his con. He soon finds himself hung out to dry by Lilith, on the run from the police, and nowhere to run. He finds himself a drunken, has-been doing magic tricks for money on the streets until he finally comes across a carnival and begs for a job. He is initially rebuffed for being too much of a drunkard but is eventually offered the job of "geek."
This was Power's chance to break away from his typecast as romantic lead and while the film was not successful at the time, it has grown in stature over the years as one of the great early film noirs from the Golden Age.
The first act of the film may not even initially strike one as a film noir, but it really picks up in the second act when Stanton crosses paths with Lilith. From there, the direction of Edmund Goulding and chiaroscuro cinematography of Lee Garmes really take a shift into the recognizable, stylistic territory, with strong contrasts, shocking whites, shadows draped across people like prison bars, and of course the thematic elements of the femme fatale and the stunning plot twist. Power is excellent in his role, but it is the icy performance of Helen Walker who is the standout in this fine drama that is not to be missed.

The Video
Nightmare Alley, appearing on Blu-ray in the UK for the first time with this release, comes with an AVC 1080p encodement framed at 1.37:1. The black and white noir cinematography looks fantastic, played black on my CX OLED with inky blacks, bright, purposely blown out whites, but excellent contrast and shadow nuance. While the overall image is clean, very nicely cleaned up of source damage, the use of DNR is just a bit heavy-handed. The film grain structure is still present but obviously suppressed a bit and from time to time some faces look a little waxy, smoothing out and losing detail like lines on faces and so on. This is still a pleasing transfer these minor faults notwithstanding.
The Audio
The monaural mix is provided in LPCM 1.0. It has clear dialogue and provides the sweeping, melodramatic score with enough headroom to sound dynamic given the limitations.
The Supplements
Signal One includes two very enjoyable audio commentaries with this release from film historians and writers. I recommend anyone who purchase this disc (and I do recommend everyone who loves films purchase this) to listen to each of them after
DVD
Audio commentary with writer and anthologist Johnny Mains and film expert Michael Brooke
Audio commentary from 2005 featuring film historians James Ursini and Alain Silver
Stills Gallery (1080p)
Trailer (1080p)
The Final Assessment
A riveting film noir from the Golden Age that stuns with its visual style and its lurid thematic elements. This one looks good and comes highly recommended.
Nightmare Alley is out on Dual Format in the UK, 17 January 2022 from Signal One Entertainment
---
Rating Certificate: UK: PG
Studios & Distributors: Twentieth Century Fox | Signal One Entertainment
Director: Edmund Goulding
Written By: Jules Furthman (screenplay) | William Lindsay Gresham (novel)
Run Time: 111 Mins.
Street Date: 17 January 2022
Aspect Ratio: 1.37:1
Video Format: AVC 1080p
Primary Audio: English LPCM 1.0
Subtitles: English SDH