Estimated reading time: 6 minutes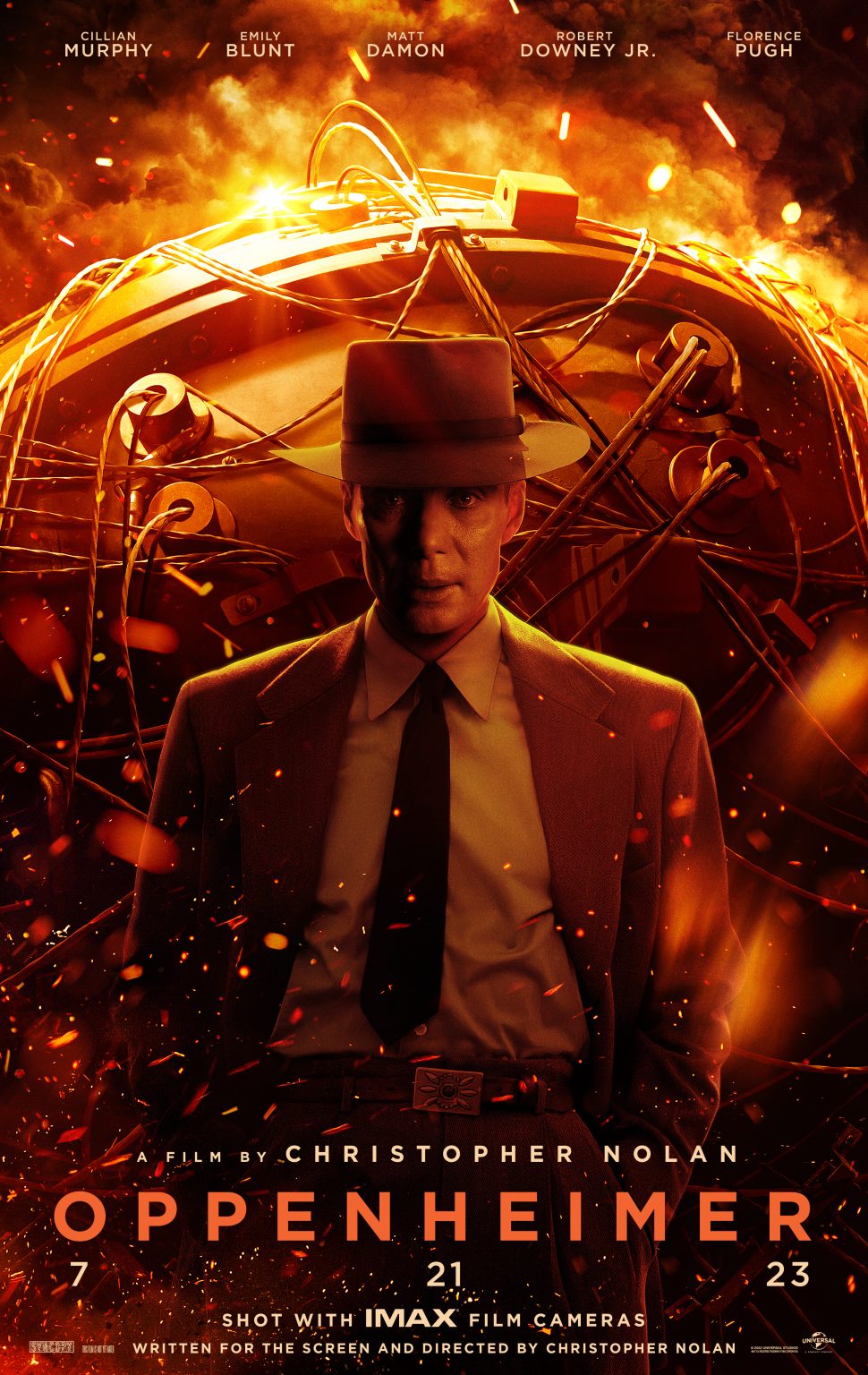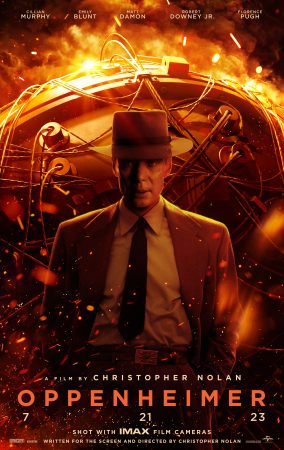 J. Robert Oppenheimer may not be a familiar name to many 21st-century Americans. But as this biopic, based on American Prometheus by Kai Bird and Martin J. Sherwin, ably recalls, he was the physicist in charge of developing the atomic bomb that ended World War II. Oppenheimer takes its hero from the beginnings of his career to the pinnacle of his crowning achievement at Los Alamos, New Mexico.
The film opens in 1926 as anxious young Oppenheimer (Cillian Murphy) leaves his doctoral studies with experimental physicist Patrick Blackett (James D'Arcy) at Cambridge University and transfers to Gottingen University for his PhD.  After returning to the United States, he begins teaching at the University of California (Berkeley) and California Institute of Technology.  At Berkeley, Oppenheimer meets the twice-married biologist and former communist party member Katherine "Kitty" Puening Harrison (Emily Blunt). The pair begin an affair, Kitty becomes pregnant, divorces her husband Frank and quickly marries Oppenheimer in Nevada.  Few punches are pulled in this up-and-down marriage as Oppenheimer continues to see his troubled sometime-mistress Jean Tatlock (Florence Pugh) while Kitty has an obvious drinking problem.  
Oppenheimer also crosses paths with Albert Einstein (Tom Conti) and Lewis Strauss (Robert Downey, Jr.), who recognizes Oppenheimer's brilliance as do colleagues he meets during research work on atomic fission including Ernest Lawrence (Josh Hartnett), developer of the cyclotron and Edward Teller (Benny Safdie). In 1942, General Leslie Groves (Matt Damon) puts Oppenheimer in charge of the "Manhattan Project" in Los Alamos to develop the first atomic bomb. Oppenheimer quickly assembles a research team that includes Lawrence, Teller, Klaus Fuchs (Christopher Denham), Isidor Isaac Rabi (David Krumholtz), Enrico Fermi (Danny Deferrari), and David Hill (Rami Malek).
Cillian Murphy in Oppenheimer (2023)

Cillian Murphy in Oppenheimer (2023)

Cillian Murphy in Oppenheimer (2023)

Florence Pugh and Cillian Murphy in Oppenheimer (2023)

Emily Blunt in Oppenheimer (2023)

Matthew Modine and Tom Jenkins in Oppenheimer (2023)

Oppenheimer (2023)

Josh Hartnett in Oppenheimer (2023)

Tom Conti and Cillian Murphy in Oppenheimer (2023)

Cillian Murphy in Oppenheimer (2023)

Oppenheimer One Sheet
The bomb is completed after Germany's defeat but President Harry S. Truman (Gary Oldman) insists that the two extant A-bombs be dropped on Nagasaki and Hiroshima to hasten Japan's surrender.  Following this act of massive destruction, Oppenheimer becomes lionized as "the father of the atomic bomb" but becomes at odds with the Truman administration that wants to create an even more powerful hydrogen bomb proposed by Teller.  Oppenheimer also incurs the wrath of Strauss, now chairman of the AEC, for his seemingly pacifist stance. He is betrayed by Teller and other former colleagues during a closed-door hearing led by vicious attorney Roger Robb (Jason Clarke). As a result,  Oppenheimer's security clearance is revoked and he is effectively removed from the public limelight
Simply put, writer-director Christopher Nolan's Oppenheimer is the best film I have seen this year. Murphy turns in a Oscar-worthy best actor performance, Downey, Jr. should receive an Oscar nomination in a supporting role, and Nolan should be in the running for his first golden statuette. Color images portray the past, interspersed with black-and-white scenes, in newsreel fashion, showing the Senate confirmation hearings for Strauss's nomination as Secretary of Commerce –-a brilliant visual contrast between the two men who became bitter enemies. Although this film runs for three hours, Nolan paces the proceedings with substantial dramatic tension as he did in Dunkirk six years earlier. There is also luxury casting:  Casey Affeck is military investigator Boris Pash, Matthew Modine is the scientist Vannevar Bush,  and Tony Goldwyn plays hearing panel member Gordon Gray. Cinematographer and frequent Nolan collaborator Hoyte van Hoytema creates atmospheric scenes of the Los Alamos compound and the ultimate final test of the A-bomb prototype while noted film composer Ludwig Goransson gives the audience a magnificent score that complements the exciting images on the big screen.  Oppenheimer receives my highest recommendation.
---
Oppenheimer is showing in theaters now
---
Rating Certificate: R (for some sexuality, nudity and language)
Studios & Distributors: Universal Pictures | Atlas Entertainment | Gadget Films | Syncopy
Country: USA
Language: English
Run Time: 180 Mins.
Aspect Ratio: 2.39:1
Director: Christopher Nolan
Written By: Christopher Nolan | Kai Bird | Martin Sherwin
Release Date: 21 July 2023