– –

The Film
In his previous film Another Earth, editor-turned-director Mike Cahill wrapped a riveting human drama in the trappings of a sci-fi fantasy. In his latest film, I Origins, he continues his penchants for tackling complex philosophical issues within the frameworks of a sci-fi drama, avoiding the clichés and grounding it in something that could actually happen today.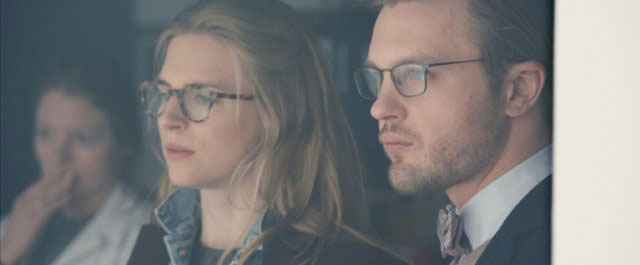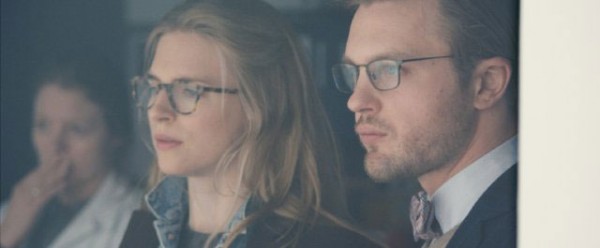 The basis of his latest outing is the story of a molecular scientist, Ian Gray (Michael Pitt), and his lab assistant Karen (Brit Marling), who concentrate their research on the evolution of the human eye with the intention being to disprove the necessity of intelligent design, AKA, a god. Ian meets an oddly compelling masked woman at a party one night and becomes infatuated with her. He does all he can to track her down, and he does, with the help of a picture of her eyes she allowed him to take. They fall in love, but the woman, Sofi (Astrid Bergès-Frisbey), has a much different philosophy on life, destiny, and God than Ian, who is resistant to anything concerning creationism and destiny.
Years later, after Ian and Karen have had a breakthrough and Ian is making the rounds on a successful book tour, they make a discovery that may change the world and the meaning of life as we know it. When their longtime friend Kenny (Steven Yeun), a specialist in biometric eye scanners, finds a stunning anomaly in his eye database, it leads Ian on a journey all the way to India, and also questioning his long-held belief about science, God, and reincarnation.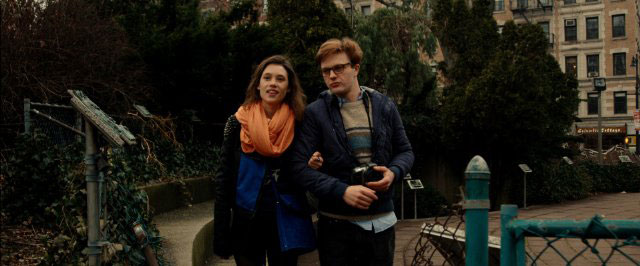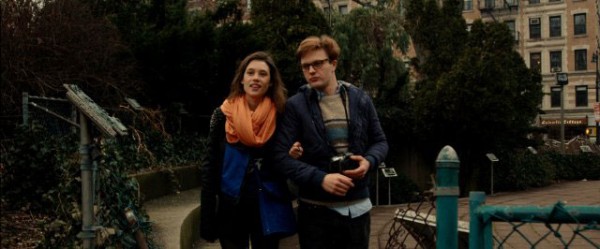 Cahill's film is a marvel of philosophical insight. He knows how to allow the idea of the tug-of-war between science and religion to play out without forcing anyone to take sides. Not only that, but he allows the film to evolve organically as well, which makes it all the more involving. The film slowly transforms from its beginning as a sexy romance in the first act, to an intense sci-fi thriller in the second act, and then becomes something more philosophical and universal by the third act. Cahill isn't satisfied just setting things out in a straight line, because, like life, things are rarely linear. He uses symbolism effectively as well, such at the allusion to The Great Gatsby in the India scenes with the giant billboard with the eyes on it like God looking down on us. And his adeptness behind the lens isn't limited to just the visuals. In one particularly intense scene, the director chooses to fade all the way to silence in an effort to mimic the the disorientation that often occurs in the brain when involved in a traumatic experience. It works to hauntingly perfect effect.
By the time we reach the end of I Origins, we have been on our own spiritual journey, which was perhaps Cahill's intention. The film leaves us thinking, wondering. It doesn't firmly answer anything, just ends with a question mark of sorts that you can take to mean whatever you wish.
I Origins made the film festival rounds and won the Alfred P. Sloan Feature Film Prize at the 2014 Sundance Film Festival before being picked up by Fox Searchlight. It will start running in limited release in the U.S. on July 18, 2014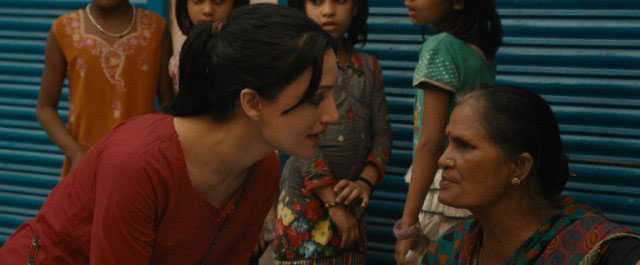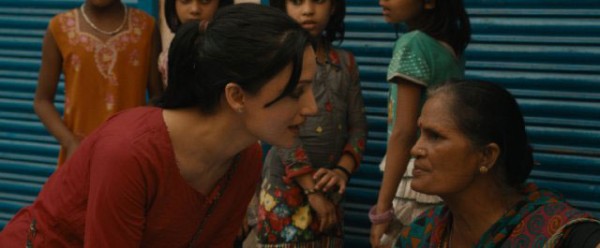 Movie Rating
[Rating:4.5/5]
The Dolby Atmos Sound of I Origins from Dolby Laboratories on Vimeo.