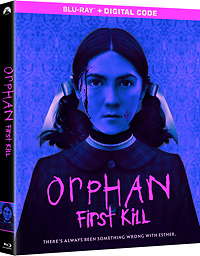 Orphan: First Kill is the prequel to the 2009 horror film Orphan. Directed by William Brent Bell, this story finds returning character Esther (Isabelle Fuhrman) managing to escape the psychiatric facility in Estonia by seducing one of the security guards, which ends in an obviously violent conclusion for the guard. After getting free, Esther concocts a scheme which finds her taking on the identity of a missing child, who would now be twelve years old. With her medical condition allowing her to pass as a child even though she is thirty, Esther, who has a striking similarity to the missing girl, is taken in by married couple Allen Albirght (Rossif Sutherland), Tricia Albright (Julia Stiles), and their teenaged son Gunnar (Matthew Finlan), pretending to be their long-lost daughter. Things take a turn quickly when Esther develops a sexual attraction for Allen and Tricia turns to violently protecting her family and its secrets against Esther. Orphan is at times a slow film with some moments that seem like they are purposely made for scares, but this is far from a scary film. It seems caught between being a straight thriller and a slasher, but there are few visceral moments of gore to make it the latter and the thrills are more an anticipation of when the next kill will come that true scares. It must also be mentioned that Bell does horrible a job blending the shots of the double for actor Isabelle Fuhrman. Faults aside, there was never a moment where my interest was not kept right to the over-the-top ending.
Orphan: First Kill (2022)
The Video
Orphan: First Kill was shot on the Arri Alexa Mini LF with Canon K-35, Kilfitt Makro Kilar, Laowa and Angenieux HR lenses at 4.5K and utilizes a 4K digital intermediate. It arrives on Blu-ray in a 1.85:1 AVC 1080p encodement. There is nothing to complain about or criticize in this transfer, which is clean and detailed with no noise, has extended depth of field even as the film's intended color palette is muted.
The Audio
Orphan: First Kill comes only with the lossless English DTS-HD Master Audio 5.1 soundtrack and English Audio Description. The lossless 5.1 mix provides an appropriately balanced and atmospheric mix for a film like this with some subtle sounds in the surround channels and a natural dynamic range.
The Supplements
This release comes with nothing beyond the digital copy code.
The Final Assessment
While this prequel does not seem to know exactly what it wants to do with itself, it is a watchable if flawed thriller that looks great on Blu-ray.
Orphan: First Kill is out on Blu-ray + Digital October 18, 2022 from Paramount Home Entertainment

---
Rating Certificate: R (for bloody violence, language and brief sexual content)
Studios & Distributors: Dark Castle Entertainment | Eagle Vision | Entertainment One | Paramount+ | Paramount Home Entertainment
Director: William Brent Bell
Written By: David Coggeshall (screenplay by) | David Leslie Johnson-McGoldrick (story by) | Alex Mace (story by)
Run Time: 98 Mins.
Street Date: 18 October 2022
Aspect Ratio: 1.85:1 AVC 1080p
Video Format: AVC 1080p
Primary Audio: English DTS-HD MA 5.1
Secondary Audio: English Audio Description
Subtitles: English | English SDH | Spanish