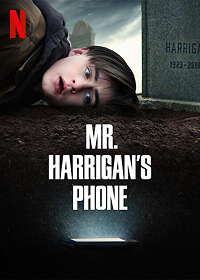 Writer-director John Lee Hancock may not have a lengthy filmography but he has written and directed critically acclaimed movies like The Blind Side and Saving Mr. Banks. With his adaptation of a Stephen King short story Mr. Harrigan's Phone represents Hancock's initial foray into the imaginary and often frightening world of today's most prolific author of horror fiction.
Young Craig Poole (Colin O'Brien) becomes the unlikely amanuensis for Maine billionaire Mr. Harrigan (Donald Sutherland) whose failing eyesight finds him hiring the boy to become the designated reader of his vast library of literary classics. This becomes a very timely event for Craig as he and his father (Joe Tippett) are still trying to cope with the recent loss of his mother (Chelsea Yakura-Kurtz).  As the years pass, a now-adolescent Craig (Jaeden Martell) has developed a close relationship with the crusty older man and his regular reading sessions are an escape from his lonely everyday life.
When the Craig enters the Gates Falls High School, he encounters bullying by student Kenny Yankovich (Cyrus Arnold), the local drug dealer, who hangs out with a group of very threatening young men.  Craig gets some respite from these baddies during his science classes taught by a caring Ms. Victoria Hart (Kirby Howell-Baptiste).
Everything changes when Craig's father gives him an iPhone3, a gift that makes him quite popular at school particularly with pretty student Regina (Thalia Torio). In appreciation of Craig's services, Mr. Harrigan occasionally gifts the teen with Red Devil Lottery scratch-off tickets. When one of Craig's lottery tickets wins the jackpot, he decides to spend some of his winnings on an iPhone for Mr. Harrigan who, surprisingly enough, becomes quite attached to this new device and adopts "pirateking" as his handle.
Mr. Harrigan's Phone (2022)
On one of his regular reading days, Craig enters the study only to find the old man dead and slumped in his favorite chair. After the funeral, Craig surreptitiously slips Mr. Harrigan's phone into the dead man's coat pocket. Some deadly surprises await Craig when he gets his first text message from the late Mr. Harrigan's iPhone.
For those expecting a typical Stephen King horror film, Mr. Harrigan's Phone has surprising little violence or gore—save for very brief images of two dead bodies—and is more a coming-of-age story like Stand by Me. While the big name in the cast is Donald Sutherland, this is really Jaeden Martell's picture and he delivers an excellent portrayal of a young man who learns how to come to terms with death. Craig's internal monologue reveals how he deals with the vicissitudes of his young life in almost clinical detail.  This psychological approach gives us the three-dimensional character that King's stories require if they are to resonate with their audiences. Hancock uses a deft economy of expression in his script that shows viewers how far the main character has traveled since his reading sessions began with the old man who, although absent from much of the film, has made an indelible impression on his young acquaintance.  Perhaps not the best King-adapted film out there, Mr. Harrigan's Phone is still worth watching.
Mr. Harrigan's Phone is streaming now on Netflix
---
Rating Certificate: PG-13 (for some strong language, thematic material, violent content and brief drug material)
Studios & Distributors: Blumhouse Productions | Ryan Murphy Productions | Netflix
Country: USA
Language: English
Run Time: 104 Mins.
Aspect Ratio: 2.39:1
Director: John Lee Hancock
Written By: John Lee Hancock
Release Date: Film releasing in the United States on Netflix on 5 October 2022 at 3:00 AM EDT | Theatrical: Film releasing in the United States in select theaters on 28th September 2022