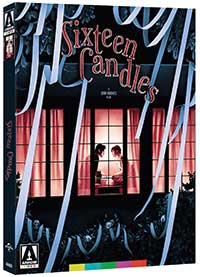 John Hughes first film as writer/director, Sixteen Candles, was actually meant to follow another of his era-defining classics, The Breakfast Club, but Hughes wrote the former in just one weekend after being inspired by a headshot of actress Molly Ringwald when casting her for The Breakfast Club, and the rest, as they say, is history.
This teen, coming of age story tracks outsider Samantha (Ringwald) who, on her sixteenth birthday is forgotten in the bustle of the planning for her older sister's wedding. Meanwhile, back at high school, the unconventionally beautiful Samantha with her red hair, freckles, a penchant for new wave music and her "dipshit wedding dress" has a crush on the school hunk Jake Ryan (Michael Schoeffling), who is dating the school "it" girl, a blonde beauty who is conventionally gorgeous and popular much the same way Sam's older sister is. The situation becomes embarrassing for Samantha when Jake discovers a sex quiz she filled out in which she reveals she's "saving herself" for him.
With an outer veneer of the familiar teen sex comedies of the era, but more of an overall, family-friendly vibe with some albeit troublesome spots – many of the male characters are still let loose here to ogle, get handsy, and be basically crude without consequence, then there's the awful Long Duk Dong (Gedde Watanabe) character that has definitely not aged well – Sixteen Candles immediately set up Hughes as the voice for a generation of teenagers coming of age in the 1980s and catapulted actress Molly Ringwald – who was playing her actual age — into superstardom.
Anthony Michael Hall also made a name for himself here playing the hormone-driven virgin who consistently turns his very much unwanted attention toward Samantha. Despite, again, the troublesome teenage misogyny that is allowed to play for laughs, Hall's innate comedic character was already on full display here and it would come into full play in another John Hughes film, Weird Science.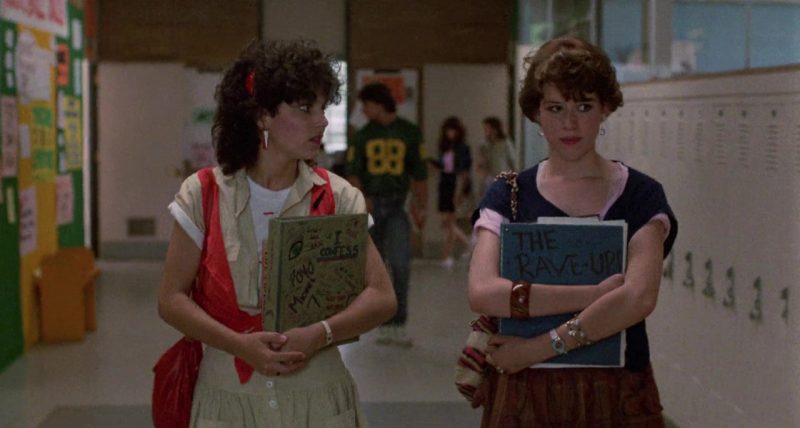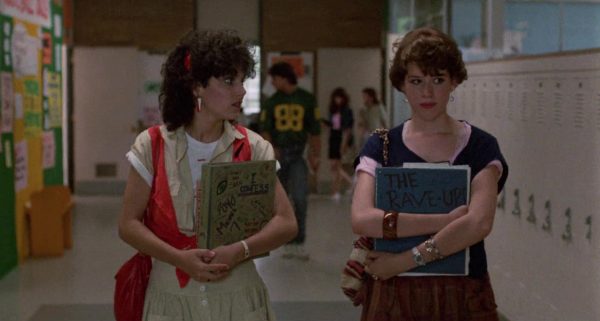 The Video
Sixteen Candles arrives in a new restoration by Arrow Films from a 4K scan of the original negative with a newly remastered HD presentation of the Theatrical Version of the film (92 mins), plus the Blu-ray premiere of the Extended Version (94 mins), featuring the additional "cafeteria" scene. The film is framed in 1.78:1 and offers up an image rich in crisp detail and lots of organic film grain. The colors and contrasts are all solid here and in comparison to the previous DVD and Blu-ray release there is a lot more high-frequency information.
The Audio
In addition to the original monaural soundtrack in DTS-HD Master Audio 1.0 and the alternate home video monaural soundtrack also in the lossless DTS-HD Master Audio 1.0, there is a DTS-HD Master Audio 5.1 remix. Both monaural tracks sound excellent with clear, full dialogue and balance and the 5.1 mix also offers clean dialogue with a good amount of stereo panning as well as some low-level atmospherics in the surround channels.
The Supplements
There are a lot of new interviews and other bonus materials included in this collection. The interviews with the cast and crew are all worth watching as is the excellent 20-minute-long video essay from Soraya Roberts.
Additional Scene from the Extended Version in isolation
Alternate Home Video Soundtrack – Due to licensing issues, the original video release of Sixteen Candles featured a different sound mix, with ten of the songs either replaced or omitted entirely. It is included on this Blu-ray Disc for posterity.
Casting Sixteen Candles with Jackie Burch (1.78:1; 1080p; 00:09:06) – An all-new interview with casting director Jackie Burch, explaining how the film's ensemble cast was assembled.
When Gedde Met Deborah with Gedde Watanabe and Deborah Pollack (1.78:1; 1080p; 00:19:19) – A newly filmed conversation between actors Gedde Watanabe and Deborah Pollack about their experience working together on the film.
Rudy the Bohunk with John Kapelos (1.78:1; 1080p; 00:06:25) — A newly filmed interview with actor John Kapelos on his experience playing Rudy in the film.
The New Wave Nerd with Adam Rifkin (1.78:1; 1080p; 00:08:19) – A newly filmed interview with filmmaker Adam Rifkin, who worked as a featured extra during the making of the film and shadowed John Hughes on set.
The In-Between with Gary Kibbe (1.78:1; 1080p; 00:07:38) – A newly filmed interview with camera operator Gary Kibbe on his experience working with director John Hughes and cinematographer Bobby Byrne.
Music for Geeks with Ira Newborn (1.78:1; 1080p; 00:08:18) — A newly filmed interview with composer Ira Newborn on his first experience working with director John Hughes.
A Very Eighties Fairytale by Soraya Roberts (1.78:1; 1080p; 00:17:21) – A new visual essay written and narrated by columnist Soraya Roberts, looking at the film from a contemporary feminist perspective.
Celebrating Sixteen Candles (1.78:1; 720p; 00:37:55) – An archive featurette produced for the film's 2008 DVD release, featuring interviews with cast, crew, and admirers, including stars Anthony Michael Hall, Paul Dooley, Justin Henry, Haviland Morris, and Gedde Watanabe.
Trailers & Promotional Spots:

Teaser Trailer
Trailer 1
Trailer 2
TV Spots
Radio Spots

Image Galleries

Shooting Script
Production Stills
Poster & Video Art

BD-ROM: PDF of the original shooting script
Reversible sleeve featuring original and newly commissioned artwork by Sara Deck
First Pressing Only: Illustrated Collector's Booklet featuring new writing on the film by Nikki Baughan and Bryan Reesman.
The Final Assessment
A classic of the teen genre from the 1980s that set up John Hughes as the go-to for teen comedies of the 1980s, this Sixteen Candles restoration from Arrow Video is superbly done and presented on Blu-ray with gorgeous transfer and bursting at the seams with brand-new bonus materials.
Sixteen Candles (Special Collector's Edition) is out April 14, 2020 from Arrow Video
[amazon box="B084DGFL8Y"]
---
The Creative Content: 3.5/5
The Video: 4.5/5
The Audio: 4.0/5
The Supplements: 4.5/5
Rating Certificate: PG
Studios & Distributors: Universal Pictures | Channel Productions | Arrow Video
Director: John Hughes
Writer: John Hughes
Run Time: 93 Mins.
Original MSRP: $39.95
Street Date: 14 April 2020
Aspect Ratio: 1.85:1
Video Format: AVC 1080p
Primary Audio: English DTS-HD MA Mono 1.0
Secondary Audio: English DTS-HD MA 5.1 |English "Home Video Version" Mono DTS-HD 1.0
Subtitles: English SDH