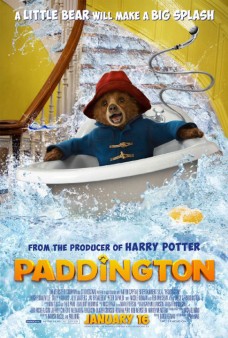 – –

The Film
Paddington Bear is now Paddington the movie, and it's very warm and fuzzy.
Paddington the movie has been a long time coming. It's the first film incarnation of Britain's best loved bear, having been in book form since 1958, and it was also a 1975 television series. Paddington Bear has always been known as a stuffed animal collected and loved by many generations over the past 60 years. Now the film hits the big screen and it's like Paddington Bear has turned life-like!
In the beginning of the film, we see the bear (not named until he gets to London) in his natural habitat, with his family, in the hills of Peru. A terrible earthquake takes place and their habitat is destroyed, and some of his family members are killed. So his aunt, who is off to the bears retirement home, puts him on a boat bound for London, with bottles of marmalade for food, and in case of an emergency, a sandwich of marmalade under his hat. He's going to London to look for an explorer who had visited Peru many years ago and told the bears that they would be welcome in London anytime.
The bear makes his way from the ship and into London in a garbage bag, and somehow, and luckily, finds himself at Paddington Station. He's jostled and practically stepped on by the commuters (just like the rest of us are), but he's eventually picked up by the Brown family, including Mr. Brown (Hugh Bonneville), Mrs. Brown (Sally Hawkins), and their two children Judy (Madeleine Harris) and Jonathan (Samuel Joslin). The don't know what to call him but in the background there is a sign that reads 'Paddington' – so that is what they call him – Paddington. Mr. Brown is very reluctant to take this bear home but Mrs. Brown, and the children, talk him into it – to let him stay at their house for just one night. Upon arriving at their three story Notting Hill home where housekeeper Mrs. Bird (Julie Walters) maintains the household, Paddington creates a right mess his first night at the Brown's house. He's not sure how to use the sink and eventually floods the bathroom, causing water to cascade down the staircase and into the family's kitchen. It's not a good start for Paddington. But Mrs. Brown is on his side and she wants him to find the explorer so she talks Mr. Brown to take him to the Royal Geographical Society to look in their archives for M. Clyde, the famous explorer who many years ago had visited Peru. Told by the front desk that there is no record of him, Mr. Brown dresses as a cleaning woman to infiltrate the research room to get the information. But soon enough him and Paddington are caught and they make a lucky escape. As Mr. Brown and Paddington (and the children) bond, Paddington continues to look for the explorer, and one night when he overhears the Brown's saying the he is causing too much of a mess in their home, he knocks on every M. Clyde door in town. He's not the only one looking for someone, he's also being chased by Millicent (a very mean Nicole Kidman) — a taxidermist at the Natural History Museum who wants to add him to her collection — stuffed. Will Paddington find the explorer in the hopes he will give him a home? Will he get kidnapped by Millicent and end up on her wall? How can anyone not be charmed and warmed over by Paddington's loveable face!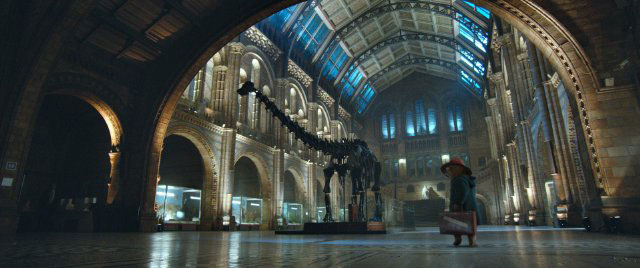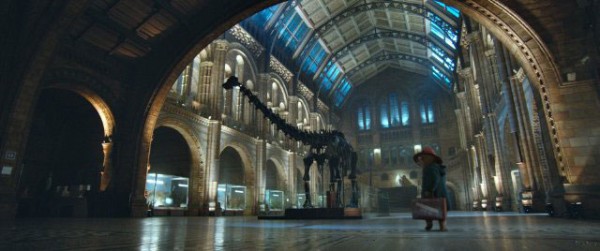 Paddington does not disappoint on any level. It's funny, cute, loveable, charming, and a film for all members of the family. It also includes musical interludes from the era when Paddington was 'born,' music that is West Indian in flavour. And Ben Whishaw's voice is perfect as Paddington (not quite yet grown up and still young enough). And there are quite a few cameos in the film, including Matt Lucas as a cab driver and Peter Cipaldi as the Brown's nosy next door neighbor. And even though a couple of the scenes in the film are a bit ridiculous (Bonneville dressed as a woman as mentioned above, and a long street chase where Paddington is returning the wallet of a man who happens to be a pickpocket), overall it's a great film. But it's the spirit of Paddington that this film is based on, and Producer David Heyman (Gravity) and Writer and Director Paul King successfully bring Paddington's spirit to the film, a film to be enjoyed by all ages.

Our Movie Rating:

[Rating:4/5]