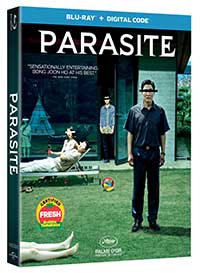 Parasite, the latest, and now Oscar-winning (Best Picture, Best Director, Best Original Screenplay, Best Foreign-Language Film) film from Ho Bong Joon is the culmination of 24 years of constantly improving films from the South Korean filmmaker. I first came across Ho with his 2006 monster film The Host that reworked the Godzilla-type creature feature into a high-octane movie about family sticking together to take on a challenge. Others may know him best from the grizzly horror of Mother or the dystopian Western film Snowpiercer, or maybe the off-kilter fantasy of Okja. They have all been building up to this one film, a dark comedy about a low-income family, the Kims, who insinuate themselves into the lives of a wealthy family, the Parks, and play a long con, but things take a dark and unexpected turn in the best, most classic of South Korean film crime drama twists.
The Kim family, led by patriarch Kim Ki-taek (played by frequent Ho collaborator Song Kang Ho), are a family struggling to get by. They live in one of the numerous semi-basement apartments in Seoul – the South Korean government at one point had mandated that all structures be built with these basements and underground bunkers in the event of a strike by North Korea. The Kims get by by running scams and folding pizza boxes for a local pizzeria. When the son Kim Ki-woo (Choi Woo Shik) gets an offer from a friend to watch over a local wealthy girl, Park Da-hye (Jung Ziso), pretending to be her tutor until she comes of age and his contact comes back, it offers the Kim family an in into the Park's life and home. They quickly insinuate themselves into every crucial position in the Park's home. Ki-woo gets his sister placed in the home as the Park's hyperactive young son's art tutor, then Ki-woo gets the Park's      driver fired by leaving one of her panties in the car, and Mr. Kim takes over as driver. Soon the Kims set their sights on the Park's housekeeper who had been working there since the previous owner and when she is removed, the Kim matriarch Kim Chung-sook (Chang Hyae Jin), a silver medalist at the Seoul Olympics, is placed in the position. They're now living large – or so they think until the previous housekeeper Moon-gwang (Lee Jung Eun) returns one night when the Parks are away, and dark secrets are revealed that will have major consequences on all three families.
Parasite is far and away the best film Ho has yet made, with perhaps Mother coming in a close second, but there is a reason this film and not Mother winning international acclaim. This film deals with universal issues that cross international boundaries. These is a peek into how people treat each other, class distinctions, income disparities, respectability. There are two pivotal moments in this film where we see how the psychology of these things plays out. First when the Kims are confronted by housekeeper Moon-gwang and we see them treat her with the same contempt that the Parks treat them. Then in the final act there's a moment where Ki-taek sides with someone of his own class rather than doing what we expect him to do, which would be of the most benefit to himself.
This masterful use of human emotions, human psychology, and socio-economic structures has us guessing all the time who are the good guys, who are the bad guys, and who exactly are the 'parasites' alluded to in the title?
[envira-album id="122172″]
The Video
Parasite was shot on an Arri Alexa 65 with Hasselblad Prime DNA lenses in ARRIRAW (6.5K) and a 4K DI was used in the mastering process. While there is a 4K digital version with HDR available the home video disc version is only available on Blu-ray and DVD. This Blu-ray comes with an AVC 1080P encodement that looks superb. It is clean with good detail and a filmic quality to the image. Colors and flesh tones look natural and shadows are nuanced with only a slight bit of crush.
The Audio
The theatrical release of Parasite was available with an Atmos audio mix, but this Blu-ray release comes only with Korean DTS-HD Master Audio 5.1. It's a good mix, however, that surrounds you in lush soundscapes and moves solid sound effects around through the surround channels as well as spreading the score out nicely. There's good dynamic range, but the low-end, while it may not be staggering, is well suited to the material.
The Supplements
Only a Q&A with the director is included on disc as a bonus. Additionally, the release comes with a Movies Anywhere digital code.
The Final Assessment
Classic South Korean crime drama and dark comedy with unexpected twists that examines how people treat each other and the human condition is given a strong but barebones Blu-ray release from Universal.
Parasite is out on Blu-ray January 28, 2020 from Universal Pictures Home Entertainment
[amazon box = "B07YTDYDYB" ]
---
The Creative Content: 4.5/5
The Video: 4.5/5
The Audio: 4.5/5
The Supplements: 1.5/5
Rating Certificate: R (for language, some violence and sexual content)
Studios & Distributors: Barunson E&A | CJ E&M Film Financing & Investment Entertainment & Comics | CJ Entertainment | TMS Comics | TMS Entertainment | Universal Pictures Home Entertainment
Director: Ho Bong Joon
Writers: Ho Bong Joon (story & screenplay) | Han Jin Won (screenplay)
Run Time: 132 Mins.
Street Date: 28 January 2020
Aspect Ratio: 2.39:1
Video Format: AVC 1080p
Primary Audio: Korean DTS-HD MA 5.1
Subtitles: English