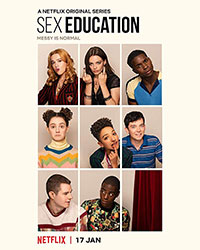 Season One of Sex Education introduced us to a bunch of Moordale's secondary schoolers–sex-obsessed Otis Milburn (Asa Butterfield), his nosy sex-therapist mother Jean (Gillian Anderson), his best friend and recently uncloseted gay Eric Effiong (Ncuti Gatwa), still-closeted gay Adam Groff (Connor Swindells), son of the Headteacher (Alistair Petrie), and smart, sexy Maeve Wiley (Emma Mackey).  As the season progressed, Otis became the school sex therapist and Maeve collected the money for his "treatments" of their fellow students. Other Season One Moordale "characters" return like popular gay boy Anwar (Chanell Kular), his coterie of bitchy Ruby (Mimi Keene) and anxious Olivia (Simone Ashley), and the horny virgin Lily Iglehart (Tanya Reynolds) who dreams of having sex with aliens.
As the new season opens, Otis has a new girlfriend Ola (Patricia Allison) while a chlamydia "epidemic" has terrorized the student body who are now wearing useless masks for "protection." While Ola and Otis are making out in his bedroom, they discover Jean and Ola's father Jakob the plumber (Mikael Persbrandt) having more than "casual" sex in the living room.   Headteacher Groff gets pressured into hiring Jean as the "sex ed" teacher for Moordale, a move that badly backfires.
Continuing the tricky thread of complicated relationships, Maeve has reentered Moordale and revives Otis's sex education business while he still harbors feelings for her. A new neighbor in Maeve's trailer park: quadriplegic Isaac (George Robinson) who also takes a shine to the young woman. Handsome Rahim (Sami Outalbali) gets cozy with Eric who, in turn, still has feelings for Adam, recently returned from military school and working in a convenience store. "Head Boy" and star swimmer Jackson Marchetti (Kedar Williams-Stirling) has his own dark personal issues in a home run by his two moms who are having marital issues.
[envira-album id="115977″]
If all of this is not enough, Season Two is not only loaded with gender fluidity but also takes on the ubiquitous adolescent angst. Stir in the more complex issues that face the older generation: Jean's romance with Jakob while her ne'er-do-well ex-husband and male self-help author Remi (James Purefoy) makes an ill-timed cameo appearance; Maeve's drug addict mother  Erin (Anne-Marie Duff) reinserts herself in the young girl's life with a new toddler; Headteacher Groff gets kicked out of his home by his lovelorn wife Maureen (Samantha Spiro).
It is unusual for a second season to surpass its predecessor let alone equal it. In this case, creator Laurie Nunn's deft blend of pathos and laugh-out-loud comedy works to the proverbial "T." We get a televised student knowledge bowl contest between Moordale and perennial champion Knights of Education, the incredibly high production value of the students' reimagining of Shakespeare's Romeo and Juliet as a teen musical, and the "Breakfast Club" detention of Maeve, Ola, Viv (Chinenye Ezedu), Olivia (Simone Ashley), Ruby, Lily and Aimee (Aimee Lou Woods). These and other scenarios are all strokes of genius that keep the party going strong for the show's eight episodes.  Season Two does not neatly wrap up all of the storylines and its fan club will surely hope that a Season Three is in the offing. Viewers with teenage children might want to keep them cordoned off as there is a surfeit of ideas about how to spend their idle time. With an all-star cast and great pacing, Sex Education: Season Two is another example of Netflix Studios hitting the proverbial nail on the head. Highly recommended.
Sex Education: Season Two is streaming now in its entirely on Netflix
[youtube https://www.youtube.com/watch?v=qZhb0Vl_BaM&w=853&h=480]
---
The Creative Content: 4.0/5
Show Creator: Laurie Nunn
Original Release Date: 17 January 2020
Streaming Service: Netflix
Ep. Run Time: 50 Mins.
No. Eps.: 8
Studio/Distributor: Eleven Film | Netflix Studios
Rating Certificate: TV-MA