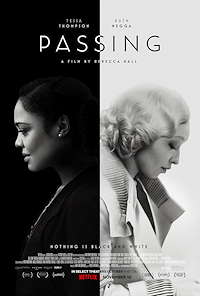 Passing was adapted for the screen by actress and first-time writer-director Rebecca Hall from Nella Larsen's 1929 novel of the same title that refers to the old practice of light-skinned Black women "passing" for white. Hall's  father was famed British film director Sir Peter Hall and  her mother Maria Ewing is an American opera singer of African American, Dutch, and Scottish ancestry. Appropriately enough, Hall cast two light-skinned mixed race women in the lead roles: Tessa Thompson as Irene Redfield who identifies herself as Black and Ruth Negga as Clare, her former high school classmate who passes for white.
Irene lives in a nice Harlem brownstone with her husband Brian (André Holland), a doctor, and their two young sons, Ted (Justus Davis Graham) and Junior (Ethan Barrett). Clare lives in Chicago with her wealthy white husband John (Alexander Skarsgård). The two women have not seen each other in years and have a chance meeting in the tearoom of the hotel where Clare and John are staying during a business trip.  Clare invites Irene to her hotel room for drinks where she meets John who thinks Irene is white and reveals himself as an unabashed racist.
As Irene and Clare rekindle their friendship and spend more time together, they share  their issues—Irene is worried about her sons' exposure to racism, while Clare expresses relief  as John will send their daughter Margery off to a private school in Switzerland. Clare gets more than passing attention from Brian as she insinuates her way into the Negro Welfare league Christmas dance. There she meets  one of Irene's good friends, noted white author Hugh Wentworth (Dave Camp), who turns down her request for a dance. Irene begins to suspect that Brian might be having an affair with Clare and tries unsuccessfully to keep her friend away from their home. Although Clare expresses how much she longs to be part of Harlem's Black social scene, she is reluctant to give up the luxurious lifestyle that John has provided for her. Tension continues to mount in the Redfield home as Passing wends its way to an unexpected and tragic conclusion.
This film is set in pre-Depression 1920s New York and, although the Volstead Act was still in effect, alcohol flows freely in homes and speakeasies. Symbolically shot in black and white and with a period-appropriate 1:33 aspect ratio, the cars, clothes, and settings effectively recall an era known as the "Harlem Renaissance" in which Black art, music, dance, theater, and literature flourished. The soundtrack contains a wealth of jazz and ragtime music and British singer and songwriter Devonte Hynes adds a simple but evocative score.
Rebecca Hall made a bold choice of tackling the subject of race that, nearly a century after the film's timeframe, remains a contentious issue in the United States.  While her screen adaptation is reasonably faithful to Larsen's book, it exposes some of the weaknesses of Passing's narrative and keeps its main subject mostly churning in the background.  We never learn the true nature of Irene's chronic malady as we see her often sitting alone in her parlor while a loudly ticking clock marks the passing time. We also never find out what kind of medicine Brian practices that often keeps him out late at night or the country to which the Redfields may might emigrate to avoid racism or how John locates the Harlem party that Clare is attending. These are but a few of the lacunae in a script that lets down a superb cast assembled for a film that plays longer than its actual running time. Rather than develop the characters of the only two white men in this film, Hall simply portrays them as stereotypes of a blatant racist and of a writer who considers Black culture as a curiosity. Watch this one for the outstanding performances by Thompson and Negga, the terrific period sets, costumes, and music, and hope that writer-director Hall will learn from this experience and give viewers a better film the next time around.
---
Rating Certificate: PG-13 (for thematic material, some racial slurs and smoking)
Studios & Distributors: Significant Productions | Picture Films | Flat Five Productions | Film4 Productions | Gamechanger Films | Sweet Tomato Films | Endeavor Content | Netflix
Country: USA | UK
Language: English
Run Time: 99 Mins.
Aspect Ratio: 1.33:1
Director: Rebecca Hall
Written By: Rebecca Hall
Release Date: 10 November 2021h