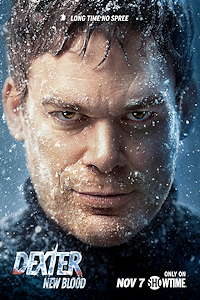 For the millions of Dexter fans like me, Dexter: New Blood is a most welcome return to the small screen of a critically acclaimed series. When viewers last saw Michael C. Hall as Dexter Morgan, a vigilante serial killer, he had faked his death in a boating accident. After leaving his son Harrison in the company of his lover Hannah Kaye, Dexter left for the forests of Oregon with a new identity–an ending that disappointed the show's many viewers.
As Episode One, "Cold Snap" opens, ten years have passed, and Dexter is living in a remote cabin in an upstate New York forest near Iron Lake. He has assumed the alias of "Jim Lindsay," leads a simple life, interrupted by occasional "head" sessions with the specter of his late sister Debra (Jennifer Carpenter) who acknowledges that he is no longer a murderer. Dexter works as a salesman at Fred's Fish & Game store by day, and dates Police Chief Angela Bishop (Julia Jones) by night. He now finds it impossible to shoot any living creature, including a stately white buck that appears in the sights of his hunting rifle.
All this changes when obnoxious Wall Street stockbroker Matt Caldwell (Steve M. Robinson) enters Fred's store, intent on buying a very expensive "big-ass" rifle. Dexter makes him wait for a background check as there are rumors that Matt was involved in a boating accident that killed five people. Matt's background check clears the next day, and store owner Fred Jr. (Michael Cyril Creighton) asks Dexter to deliver the rifle to the Caldwell lodge where he finds a drug-fueled party in progress and Matt's friend Bill (Charlie Thurston) high on coke. Bill admits that Matt deliberately caused the fatal boat crash and that he lied about what happened to get his buddy exonerated.
Dexter: New Blood (TV) (2021- )
Dexter finds a hooded figure inside his cabin, his long-lost son Harrison (Jack Alcott), but denies that he is the boy's father.  The next day, Dexter returns to the woods and again spots the buck. When he approaches the deer, a shot rings out from Matt's gun, killing the animal. This senseless killing pushes Dexter over the top.  He knocks Matt out and takes him to a makeshift killing room where he tapes Matt to a table and stabs him with a hunting knife. After cutting up Matt's corpse, Dexter rides through town to dispose of its well-wrapped chunks, carried in the back of his pickup truck. As the first episode concludes, Dexter has met Harrison at the bus stop, admits his fatherhood, and takes him back home. Only a patch of blood-stained snow outside the cabin shows that serial killer Dexter needs to clean up his act.
The concept of a serial killer as a main character was a bold choice for its time but the show's superb acting, writing, and directing paid off in many dividends for the Showtime network. Time has been very kind to Mr. Hall who appears to have aged little over the past decade and a half. In this starter to a new mini-series, Hall displays the kind of form that garnered him five Emmy nominations. While his cast mates, except for Jennifer Carpenter, are not as well known, they all turn in first-rate performances as typified by Steve Robinson's portrayal of an arrogant hedonist that makes you cheer when he gets his comeuppance at Dexter's hands. The collaboration between show creator Clyde Phillips and director Marcos Siega cooks the Dexter recipe to perfection and whets my appetite for what I am certain will be nine more scintillating and blood-curdling episodes. Kudos to Showtime for bringing this show back even if it is only for one more season. Highly recommended.
---
Rating Certificate: TV-MA
Show Creator: Clyde Phillips
Original Release Date: 8 November 2021
Network: Showtime
Ep. Run Time: 60 Mins.
Num. Eps.: 10
Studios & Distributors: Showtime Networks