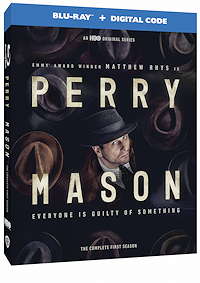 Perry Mason: The Complete First Season will be something completely fresh and unexpected for anyone in America who remembers the Perry Mason character from the TV series of the 1950s and 1960s. This series, starring Mathew Rhys in the title role and having Robert Downey Jr. as one of its co-executive producers, is a different, more complex story that works as an origin story of the famous criminal defense attorney.
Set in the 1930s, it shows Mason as a complex, somewhat angry private detective suffering the aftereffects of his time in World War II and estranged from his child and ex-wife. He's hard drinking, and willing to cross the lines in his detective work for attorney E.B. Johnson (John Lithgow). A big case involving a kidnapped and subsequently murdered infant falls into his lap, E.B. dies and he must go through law school to get his license and continue defending the woman, Emily Dodson (Gayle Rankin), he is convinced is innocent. The high-profile case, which also winds up including popular evangelist preacher Sister Alice (Tatiana Maslany) who rallies to Emily's defense and eventually claims she will raise her baby from the dead, becomes not only a media circus, but ironically, a way for Mason to turn his life around.
The eight-episode season starts a little slow which was probably responsible for some of the early poor reviews based on only the first one or two episodes of the season. This series really picks up and becomes a fantastic and complex series on multiple levels. The production is gorgeous and takes us right back to Los Angeles of the 1930s with dark alleyways, old megachurches, and pale-yellow streetlights. The story grows on multiple levels with wonderful subplots, a lot of growth for the titular character, and many twists. This is one series I want to see return for 2021 or 2022, or whenever things get back to some form of normal.

The Video
Perry Mason was shot on the Sony CineAlta VENICE digital camera and brought to Blu-ray in an AVC 1080p encodement from Warner Bros. I was a little disappointed to see this series being released alongside the Chernobyl 4K home video release yet only be on Blu-ray. If ever a series was crying out for a 4K Ultra HD Blu-ray with Dolby Vision from Warner, this neo-noir crime drama is it. That said, this HD presentation looks great. The color palette is not exactly natural, there is sort of patina cast over the image that mutes flesh tones little bit, and we do at times get sort of a high-contrast sepia toned cast over the color image. Blues do stand out particularly well and shadow details are excellent.
The Audio
Perry Mason: The Complete First Season comes with a lossless English DTS-HD Master Audio 5.1 mix and this, I guarantee, will be one of the best audio mixes you will hear for a television series outside of the Atmos mixes on Game of Thrones. From the sounds of street noises moving through the surround channels to the courtroom ambience, wide stereo panning, and full, clear dialogue, this mix does it all and does it well. I didn't even get to how good the Jazz-inspired score sounds. This 5.1 mix is superior in many ways to the Atmos mix on Westworld, which is sort of underwhelming in comparison.
The Supplements
There are only a few brief supplements on Perry Mason: The Complete First Season, but they all include interviews. The best are the virtual (covid-era raises its head again) interviews with executive producers Robert Downey Jr. and Susan Downey.
Digital Code
The Characters of Perry Mason (1080p; 00:02:28)
Under the Fedora (1080p; 00:04:41)
Robert Downey Jr. & Matthew Rhys Conversation (1080p; 00:04:43)
Susan Downey & Robert Downey Jr. (1080p; 00:04:19)
The Final Assessment
Perry Mason: The Complete First Season is a great origin story with complex characters and a plot as thick as the Los Angeles traffic. This Blu-ray looks and sounds great.
If if you found this review helpful please consider clicking the button below and leaving a donation to help fund TheaterByte to keep us operational and able to keep putting up great content.
Perry Mason: The Complete First Season is out on Blu-ray December 1, 2020 from Warner Bros. Home Entertainment
---
TV Rating: TV-MA
Studios & Distributors: Home Box Office (HBO) | Team Downey | Warner Bros. Home Entertainment
Run Time: 475 Mins.
Street Date: 1 December 2020
Aspect Ratio: 1 December 2020
Video Format: AVC 1080p
Primary Audio: English DTS-HD MA 5.1
Secondary Audio: French DD 5.1
Subtitles: English SDH | French | Dutch |Spanish | Portuguese | Danish | Finnish | Swedish