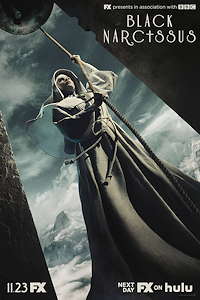 In December 1947, Universal International Pictures released the original film version of Black Narcissus in the United States. At the time of its screening, the Catholic National Legion of Decency was appalled by its depiction of nuns as troubled souls with suppressed libidos. Times and mores have changed greatly since then and this 2020 three-episode remake, in the wake of films like Agnes of God, is not likely to elicit a similar response from most viewers. By the way, the film's title is a French perfume with a very erotic scent that is the very essence (pun intended) of the sexual tension that permeates this drama.
Sister Clodagh (Gemma Arterton), a nun in the Darjeeling convent for the Order of the Servants of Mary, approaches Mother Dorothea (Diana Rigg) to allow her to establish a Catholic school, St. Faith, in the Himalayas. The site will be the palace of Mopu built by the late father of General Toda Rai (Kulvinder Ghir) as a seraglio for his harem. Mopu is allegedly haunted by the spirit of the unfortunate Srimati Rai (Gianni Gonsalves) whom we see leaping from the bell tower to her death many years earlier. The prospect faced by young Sister Superior Clodagh and her fellow nuns — Sisters Philippa (Karen Bryson), Briony (Roie Cavaliero), Blanche (Patsy Ferran) and Ruth (Aisling Franciosi) is daunting. The nuns are greeted by housekeeper Angu Ayah (Nila Aalia) but find the palace nearly deserted and in need of substantial repair. The next morning, they meet Mr. Dean (Alessandro Nivola), the General's jack-of-all-trades, who will help them get the palace restored and establish the flow of essential supplies.  Sister Clodagh and Mr. Dean get off to a rough start, but it becomes clear that he is physically attracted to her and she to him.
Black Narcissus (TV) (Miniseries) (2020)
The Sisters create a makeshift classroom and begin to instruct the village children and to treat sick villagers. Flashbacks gradually reveal that Clodagh was in love with a younger man, Con (Charlie Maher). When he left her to pursue his fortune in America, she took her vows as a nun and, as she later tells Mr. Dean, she has never really gotten over the breakup. It is obvious by now that young Sister Ruth is mentally ill and obviously lusts after Mr. Dean, creating friction between her and Clodagh.
Randy Dilip Rai (Chaneil Kular) Toda's nephew approaches Sister Clodagh about becoming a student in her school but this is simply a ploy for getting close to the beautiful local girl Kanji (Dipika Kunwar) whom he attracts with the French scent "Black Narcissus." The dramatic crux occurs after Sister Ruth does not renew her vows. She dons the late Srimati's elaborate wardrobe, applies garish makeup, and leaves to work her wiles on Mr. Dean but with tragic consequences.
The first Black Narcissus film had a starry cast and was superbly supported by the collaboration of legendary writer-directors Michael Powell and Emeric Pressburger. While the image restoration is astonishing, the 73-year-old soundtrack is quite boxy. This 2020 remake contains much of the same dialogue but, being twice as long, is a much slower paced affair and this becomes the new series major problem. The Clodagh-Con flashbacks are far less cohesive and the repetitious trope of the unfortunate Srimati's suicide wears out its welcome quite quickly.
This was one of Deborah Kerr's signature roles and sex symbol David Farrar with his open shirt and short shorts makes it easy to believe that Sister Clodagh could have mustered up sexual feelings for him as opposed to Gemma Arterton and the new version's tightly buttoned-up Alessandro Nivola. Kathleen Byron is far more compelling than Aisling Franciosi as the unhinged Sister Ruth. An obvious plus for the new productions are the spectacular Nepalese location shots and the better visuals and sounds. Another plus for the new version is the use of actual Indian and Nepalese actors for the important supporting roles rather than using English actors in dark makeup. In spite of its age, I still give the nod to the original version available as a Criterion Collection VOD, as it does a far better job in telling the story and makes much more efficient use of its screen time.
---
If you found this review useful please consider clicking the button below and donating to help keep TheaterByte funded and to allow us to continue posting great content.
---
Black Narcissus is streaming now in its entirety on FX on Hulu
---
Show Creator: Amanda Coe
Release Date: 23 November 2020
Streaming Service: FX on Hulu
Ep. Run Time: 60 Mins.
No. Eps.: 3
Studios & Distributors: BBC One | FX | Hulu
Rating Certificate: TV-MA