–
The Series
[Rating:4.5/5]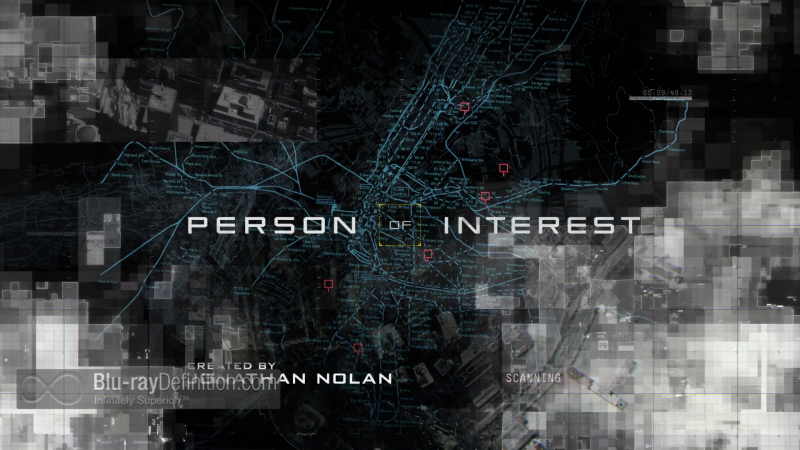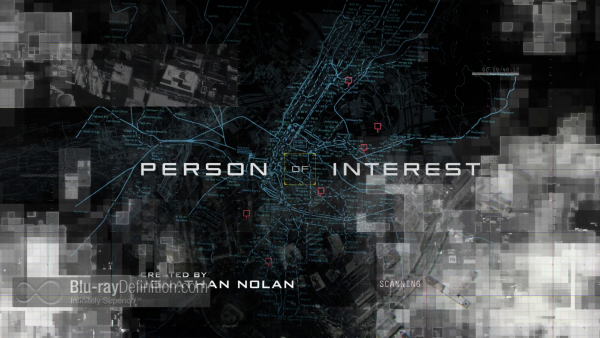 In the post-Edward Snowden world we live in now with everyone knowing about and concerned, to varying degrees, about privacy and the extent to which our own governments and even corporations spy on us, it is no surprise that Person of Interest would be such a continuing success. Its smart, pertinent, drama tapping into the current atmosphere of mistrust, privacy concerns, and a kind of Minority Report approach to crime (no surprise that is being rehashed for television) is the perfect storm of topics for today's audiences, just like The X-Files decades before (another series being resurrected).
The fourth season loses one of its major original characters, Joss Carter; Taraji P. Henson has moved on to star in the smash hit series Empire. Nothing against Ms. Henson (who actually makes a guest appearance in one episode in this season), but the series does not skip a beat with her gone. It does take two incredible actors to fill her shoes, however, the incredible Sarah Shahi as the dangerous operative Sameen Shaw and Amy Acker as Root, the ever-changing, highly skilled cyber hacker.
Genius billionaire Harold Finch (Michael Emerson) has tried to retire from the world of fighting crime and saving people with his super invention "the machine", which can see and hear everything, but a rival machine, Samaritan, another highly evolved artificial intelligence, has emerged, and now Finch and his team, including John Reese (Jim Caviezel), who is now working as an NYPD detective as a cover, Root who keeps changing identities, and Sameen, are its target. But Finch is drawn out of retirement when the machine selects a new number to be saved, and the person is, in fact, being targeted by Samaritan. Also, the team of operatives end up embroiled in a major war involving the drug gang known as The Brotherhood, whose influence stretches quite far.
As with the previous seasons of this series, it takes a while for things to heat up, but when it does, it's really good, and it leads to a fantastic finale. The writing for Person of Interest just keeps getting better every season. It has come a long way since season 1, which I felt was good, but needed improvement. That improvement has definitely arrived in the form of incredible actors, compelling characters, and thrilling storylines that tap into contemporary anxieties.

Video Quality
[Rating:4.5/5]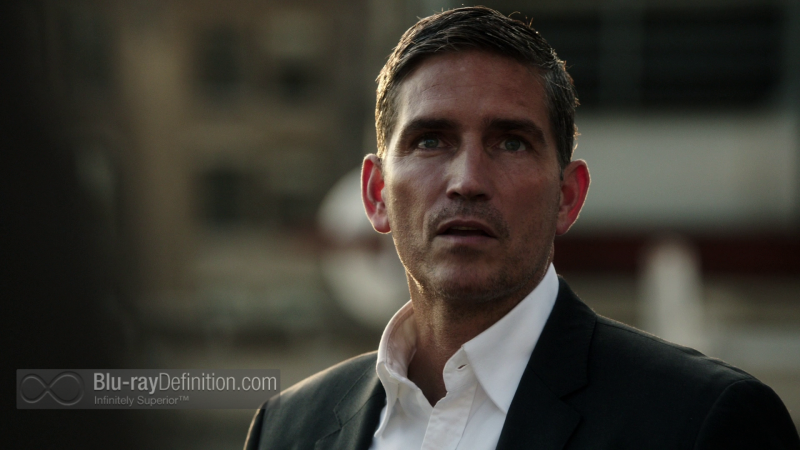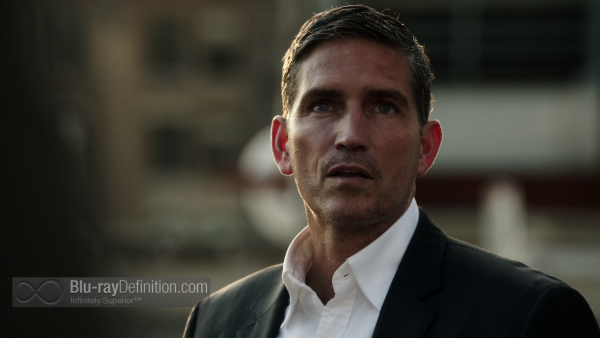 Person of Interest is shot in high definition on an Arri Alexa with Cooke S4 and Angenieux Optimo lenses. Additionally, the production uses the Canon EOS 7D, GoPro HD Hero, and Sony PMW-EX1 cameras to shoot the series' surveillance footage sequences. On the Blu-ray, the series arrives in an AVC/MPEG-4 1080p encodement from Warner that looks quite good, detailed, and fittingly high tech. One can spot the stubble on Jim Caviezel's face or the individual lashes on the stunning Sarah Shahi. The numerous dark, shadowy scenes show no black crush or banding and have good detail as well, with only small hints of digital video noise. Flesh tones are completely natural and, overall, the colors, while subdued, look good.

Audio Quality
[Rating:4/5]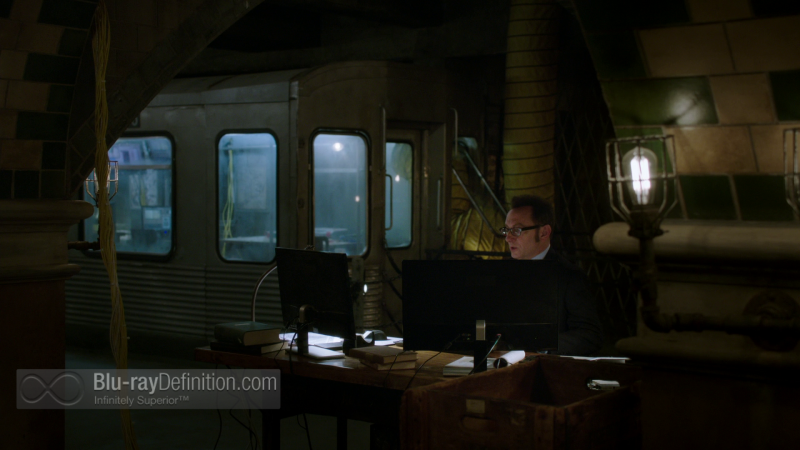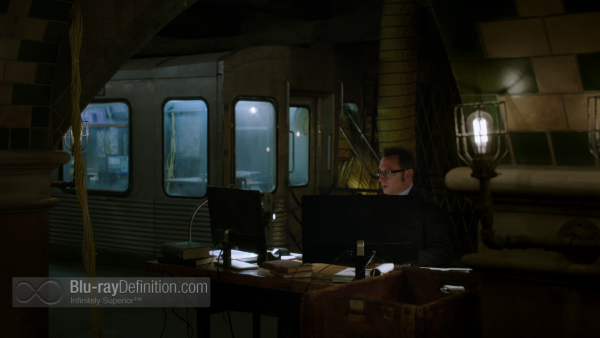 Person of Interest comes to Blu-ray with a single DTS-HD Master Audio 5.1 (48kHz/16-bit) soundtrack. While it sounds much better in this lossless variety than it does via broadcast in lossy Dolby Digital, the mix itself is underwhelming. It sounds like a typical TV mix where the surround channels are a bit of an afterthought that only carry some ramped up atmospherics with some "escaped" sound effects. The low end is really solid, beefing up the gunshots a lot. Dialogue is clean and clear without any clipping.

Supplemental Materials
[Rating:2.5/5]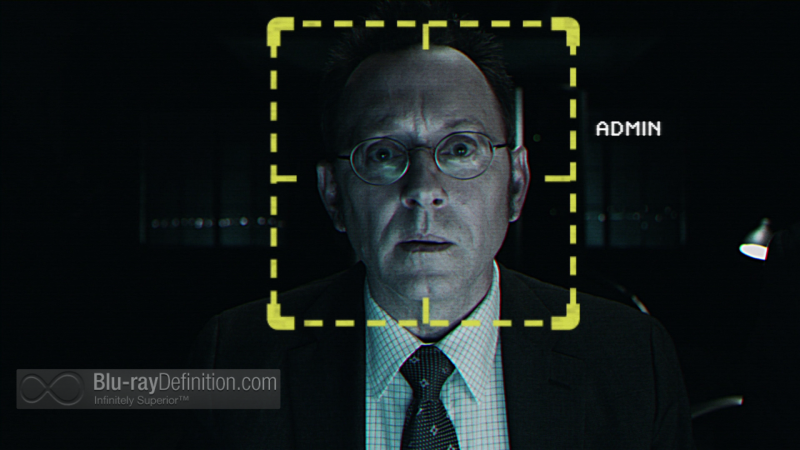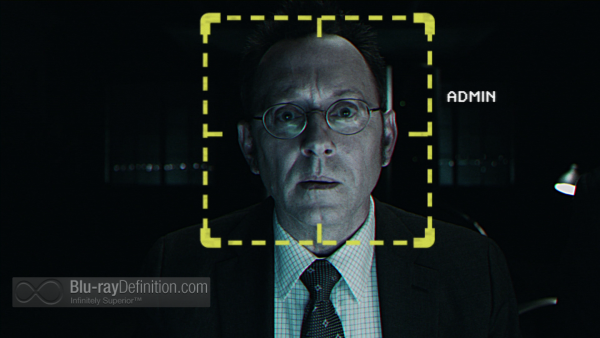 The best extra provided on disc in this set is the 2014 San Diego Comic-Con panel with Sarah Shahi, Amy Acker, Jonathan Nolan and others. Everything else is just typical EPK-type material.
Digital HD UltraViolet
Music of Interest (1.78:1; 1080p/24; -00:14:44) – Step inside the studio of Person of Interest's composer Ramin Djawadi for an intimate look at his process discussing scoring sequences and key elements with show-runners Jonathan Nolan and Greg Plageman.
Going Underground with Root and Finch (1.78:1; 1080p/24; 00:04:57) – Michael Emerson and Amy Acker five us a one-on-one tour through the newly created Subway Headquarters with the production designer, Rick Butler.
Gag Reel (1.78:1; 1080p/24; 00:02:58)
Person of Interest 2014 Comic-Con Panel (1.78:1; 1080i/60; 00:28:36) – San Diego Comic-Con

The Definitive Word
Overall:
[Rating:4/5]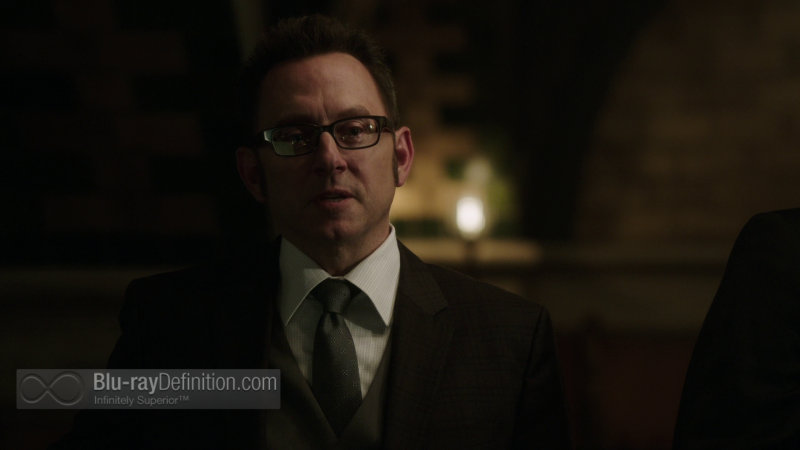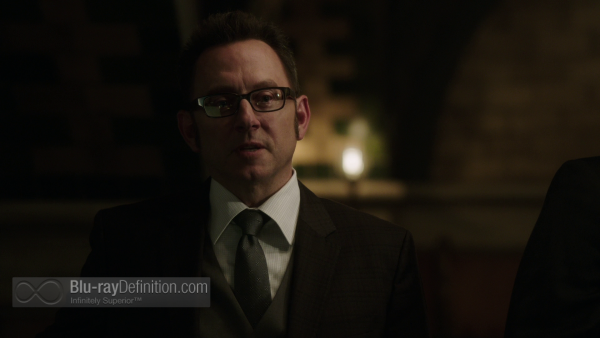 A fantastic season of Person of Interest arrives on Blu-ray from Warner Bros. Home Entertainment. Taraji P. Henson may be missed by fans, but the creators have more than made up for her absence with the characters that have taken up the slack.

Additional Screen Captures