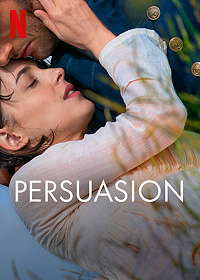 Persuasion is a romantic drama that is based on Jane Austen's novel of the same name. It is about a young woman, Anne Elliot (Dakota Johnson), and her feelings for her past love Frederick Wentworth (Cosmo Jarvis) after they meet again some years later.
PLOT
Anne Elliot is living with her self-absorbed father and sisters in Kellynch Hall. She and Frederick, who is a naval officer, are in love with each other and they wish to get married. However, because of his low status, he is considered unsuitable for Anne and she is advised to break off the engagement. She is in pain and her feelings for him persist, as she is seen keeping track of his achievements all the years that follow their separation.
Fate brings these two together again. Now Frederick is a Captain, he is rich and Anne's family is facing financial trouble requiring them to move to a more modest home. At first he is very hostile towards her but later they agree to remain friends. Meanwhile, the sister of her brother in law, Louisa, falls in love with Frederick and they seem to get on well with each other, which makes Anne broken-hearted. She and Frederick become distant through time, as a mysterious man expresses his attraction towards her and tries to court her. Is that really the end of their romance though?
I really enjoyed the movie, as it combined comedy and romantic element in a successful way, while retaining the aesthetic and characteristics of the era in which it takes place. The atmosphere takes us to the 19th century and the dialogue, style, and fashion choices represent the era in a realistic way. The only problem is that during the second half of the movie there is a fifteen-minute span when nothing interesting is really going on and I lost interest for a little while. There are people who criticize this adaptation because of the attempt to make it look more modern, which is something I disagree with. I have seen many Jane Austen movie adaptations and I always had the same wonderful feeling in the end and Persuasion (2022) is no exception to the rule. For sure it could have been better, as it tends to be superficial sometimes, but still it enchanted me.
CHARACTERS
Anne Elliot is the middle daughter of the Elliot family. She is very educated and most importantly, down to earth unlike her sisters and her father. She is a very kind and compassionate person. She was in love with Frederick and one of the reasons for that was because he saw her for who she really was and he understood her. Anne is left devastated after being advised to break off her engagement with Frederick and after meeting him again, after many years, she feels like she will have a second chance at love.
Frederick Wentworth is a very intelligent man who starts as a naval officer and ends up a Captain because of his bravery and skills. He loses his love because he didn't have the high social status Anne's family needed, but after some years fate brings him together with her again.
Sir Walter Elliot is the father and head of Kellynch Hall. He is very self-centered and all he cares is about is status and wasting money on himself. He ends up bankrupt and is forced to move temporarily to a more modest house.
Mary Musgrove (Mia McKenna-Bruce) is Anne's sister, who wants to be the center of attention all the time.
Louisa Musgrove (Nia Towle) is the sister of Mary's husband. She is very cheerful and energetic. At first she encourages Anne to date Frederick, but as time passes she starts having feelings for him.
Mr. Elliot (Henry Golding) is a mysterious man that appears out of nowhere and he shows interest in Anne. Soon it is revealed that he is their cousin and he had a big fight with their father in the past concerning their legacy.
ACTING
Dakota Johnson was amazing as Anne Elliot. I did not expect that she would be so convincing playing a role that is so in contrast to her previous roles. I was really satisfied by her performance as the protagonist.
Cosmo Jarvis was good as Frederick Wentworth, but I feel like he could have been much better. I liked his chemistry with Johnson, but his acting is occasionally inflexible. There is a scene where he says to Anne that they should be friends and his acting looked a bit problematic in my opinion.
Richard E. Grant was iconic as the father Sir Walter Elliot. Together with Mia McKenna-Bruce playing Mary Musgrove they shined throughout the film and with Yolanda Kettle as Elizabeth Elliot they were exceptional as the narcissists of the house providing us with many funny moments.
Henry Golding was interesting as the mysterious and charming Mr. Elliot.
Nia Towle was very good as Louisa Musgrove and Afolabi Alli touched our souls as Captain Benwick.
DIRECTION-CINEMATOGRAPHY
Carrie Cracknell and Joe Anderson did a very good job as the director and cinematographer of the film respectively. The majority of the scenes take place in Bath and there are some lovely scenes that make us appreciate nature and they are shot very artistically. There is a scene where Dakota Johnson is seen swimming in the sea after getting overwhelmed by feelings of sadness and the sunset makes it look very pleasant aesthetically. Also there is another scene where she is playing with her siblings that is visually memorable.
ENDING
The last scenes, when we finally see what happens with the two protagonists, and the quotes made me feel so moved.
---
Rating Certificate: PG for some suggestive references
Studios & Distributors: Bisous Pictures | Fourth & Twenty Eight Films | Mad Chance |  Media Rights Capital (MRC) | Netflix
Country: UK
Language: English
Run Time: 107 Mins.
Aspect Ratio: 2.1:1
Director: Carrie Cracknell
Written By: Ron Bass
Alice Victoria Winslow Jane Austen
Release Date: Theatrical: Select Theaters July 1, 2022 | Netflix: July 15, 2022