– –
The Film
[Rating:2.5/5]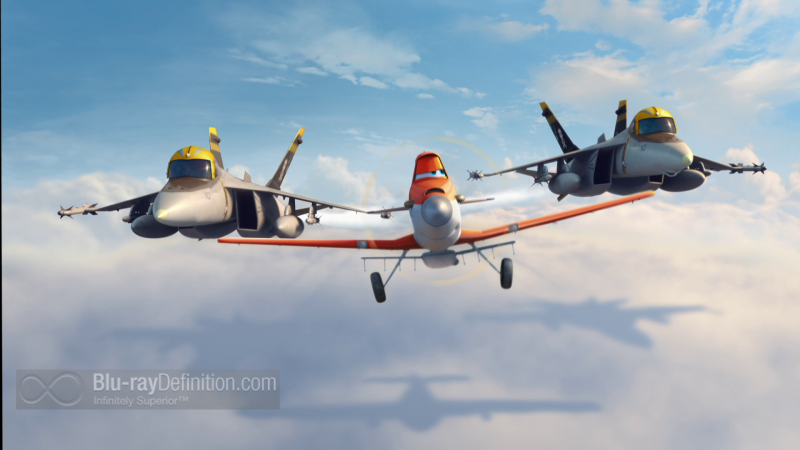 Disney Animation Studios gives us this dull spinoff of Pixar's Cars that aims high, yet fails to soar. Put in the hands of director Klay Hall (Tinker Bell and the Lost Treasure), the film naturally looks (and sounds; see below) spectacular on the screen, 3D or 2D, but with a story that is burdened with clichés and a stagnant plot, it never gets off the ground.
The film follows the story of a humble little crop duster named Dusty (Dane Cook) who dreams of flying high as a racer, but his small engine and fear of heights works against him. Fortunately for Dusty, he gets the tutelage of a veteran high-flyer Skipper (Stacy Keach), that gives him a shot at winning the prestigious, world-trekking Wings Around the Globe rally he so desires to enter and win, if only he can shake off his fears. He has the help of his faithful mechanic Dottie (Teri Hatcher) and happy-go-lucky fuel truck Chug (Brad Garrett) to help see him through, so hopefully things just may work out for Dusty.
Disney's production of Planes is visually and aurally faultless, which isn't saying much, given that this is the studio that crated the feature-length animated film and also now owns Pixar. The problem with Planes is that is never rises above the level of a direct-to-video production, and it probably should have just stayed as one rather than trying to break out into the world of theatrical releases. It's not surprising, however, given the resumé of the filmmakers that worked on it. The director is responsible for Tinker Bell and the Lost Treasure, and one of the screenwriters includes Jeffrey M. Howard of Tinker Bell and the Great Fairy Rescue and TV's Pixie Hollow Games. Thus, we get broadly painted characters in Planes with little depth, only very unsubtle stereotypes, like the hotblooded Mexican, El Chupacabra (Carlos Alazraqui) and the stuffy Brit, Bulldog (John Cleese). That Dusty is the prototypical "little engine that could" whom everyone has to rally behind who must suddenly find a way to overcome his fears is the least of the film's woes.
Hall's direction is also quite grounded, and I mean that in the literal sense of the word. For a film aspiring to such heights, so much of it is spent watching the titular planes wheeling around on the tarmac talking in simplistic phrases, obviously aimed at the younger crowds. It makes for a dull, slow-moving film that only picks up at certain points when we finally get to see Dusty and the others begin to fly.
Video Quality
2D HD: [Rating:5/5]
3D Effect: [Rating:5/5]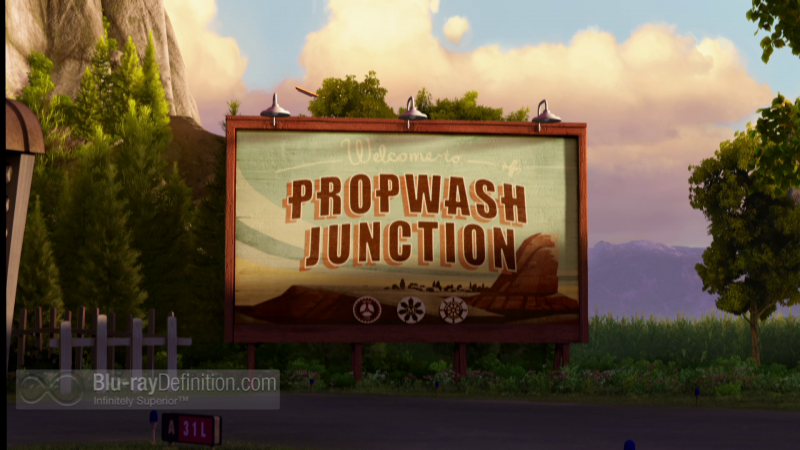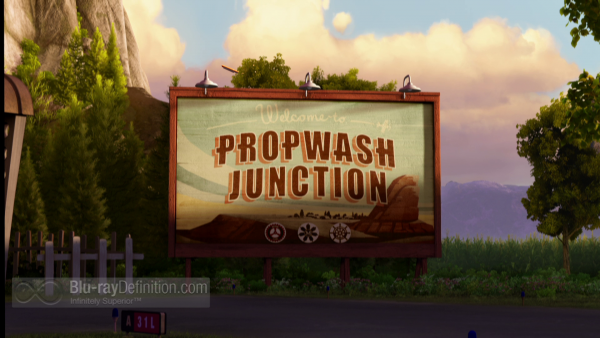 As we've come to expect from Disney at this point, Planes is a superb high definition presentation of the CG animation on Blu-ray with no artifacts, fine detail and great contrast. The 3D presentation is another fine effort as well, with a natural sense of dimensionality and a strong sense of front to back depth. There's nothing particularly gimmicky, but there is some mild pop-out.
Audio Quality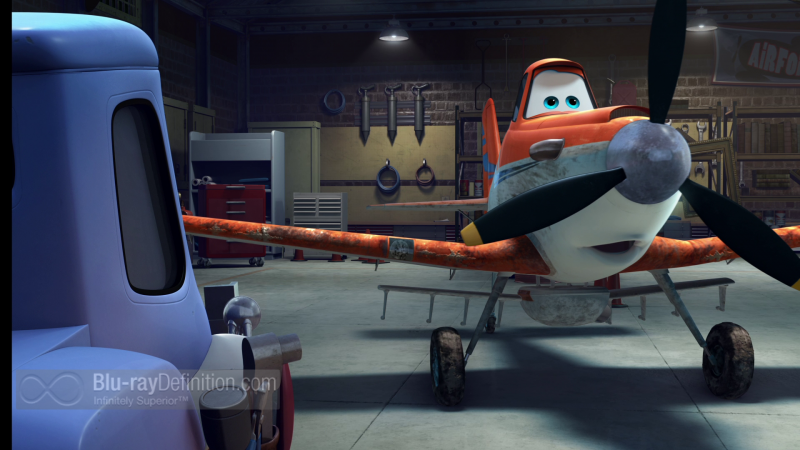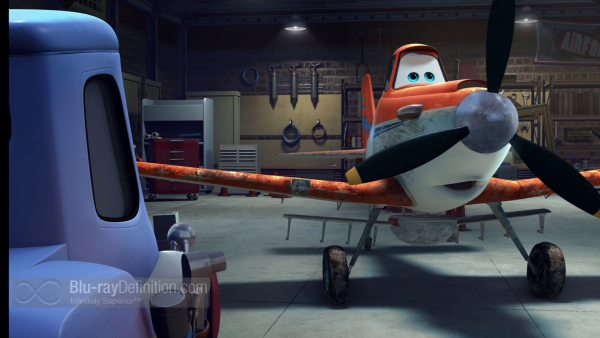 The main audio program for Planes is an English DTS-HD Master Audio 7.1 (48kHz/24-bit) mix. It's a reference quality presentation that is superbly balanced with natural dynamics, an easy, "airy" high end, and a hefty bottom.
Supplemental Materials
[Rating:2/5]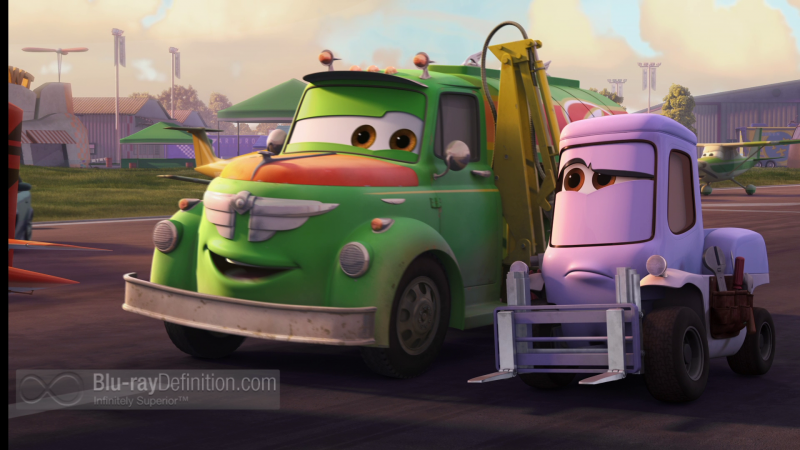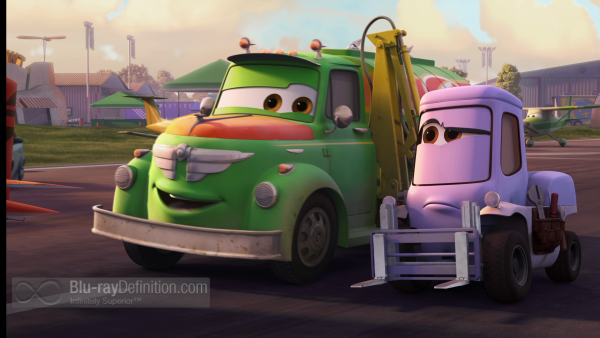 The extras that are included on disc, all on the Blu-ray 2D disc, are nothing special, and mostly promo-type EPK material.
The supplements:
DVD
iTunes Digital Copy
Exclusive Musical Scene: Franz's Song (1.78:1; 1080p/24; 00:03:18)
Klay's Flight Plan (1.78:1; 1080p/24; 00:15:31)
Deleted Scenes (1080p/24):

Introduction by Director Klay Hall and Producer Traci Balthazor-Flynn
Training Montage
Taj Mahal

Meet the Racers (1.78:1; 1080p/24):

El Chu
Ripslinger
Dusty
Ishani

Top 10 Flyers (1.78:1; 1080p24; 00:05:53)
The Definitive Word
Overall:
[Rating:3/5]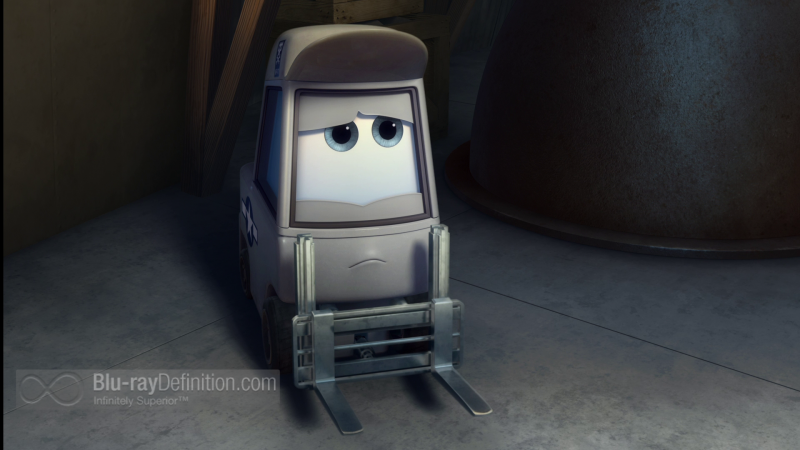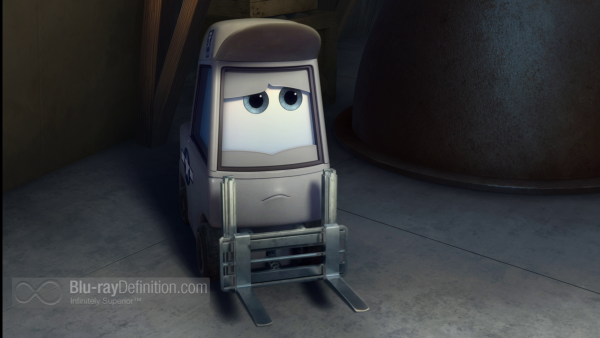 Planes would have been better kept as a companion release to include with Cars or, better yet, kept as one of the numerous Pixar animated shorts to include alongside Cars or Cars 2. As a feature film, it doesn't really succeed, but it may appease the 4 to 7 year old crowd.
Additional Screen Captures
[amazon-product]B00DMKFN34[/amazon-product]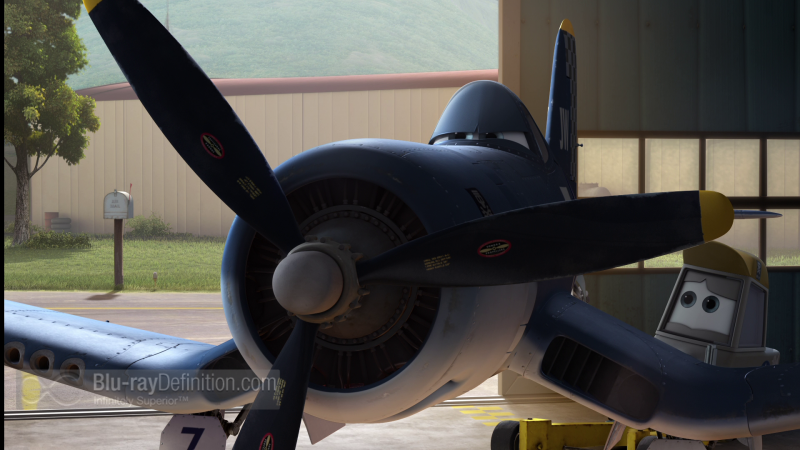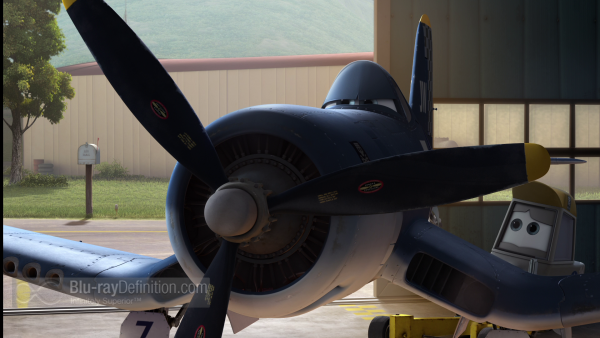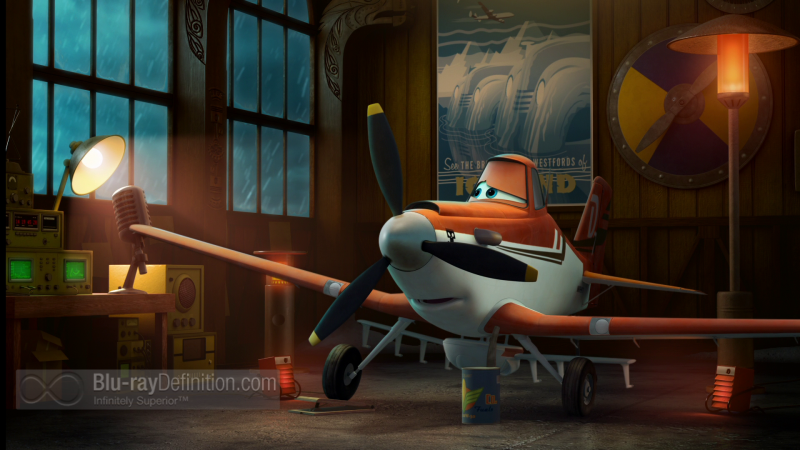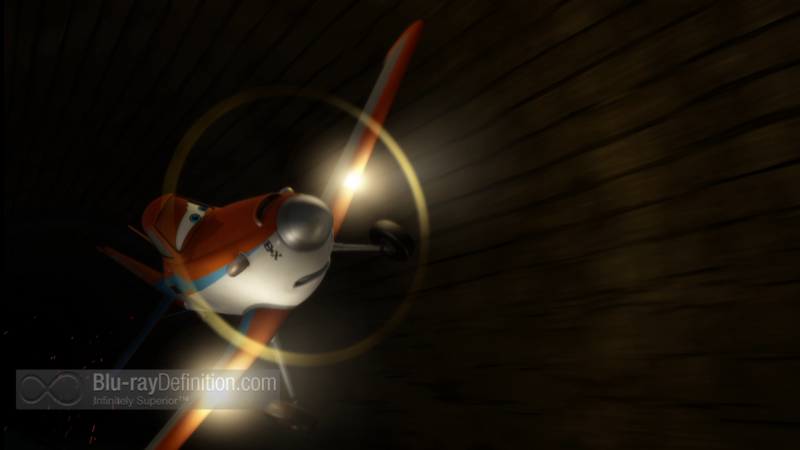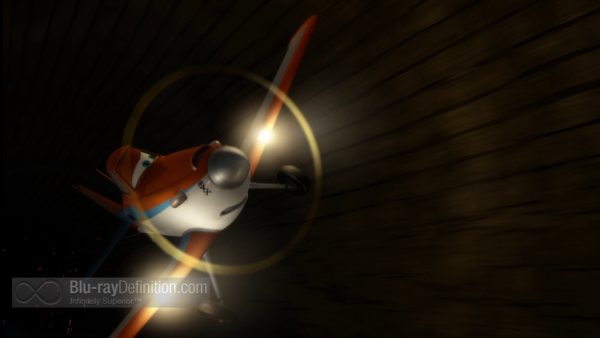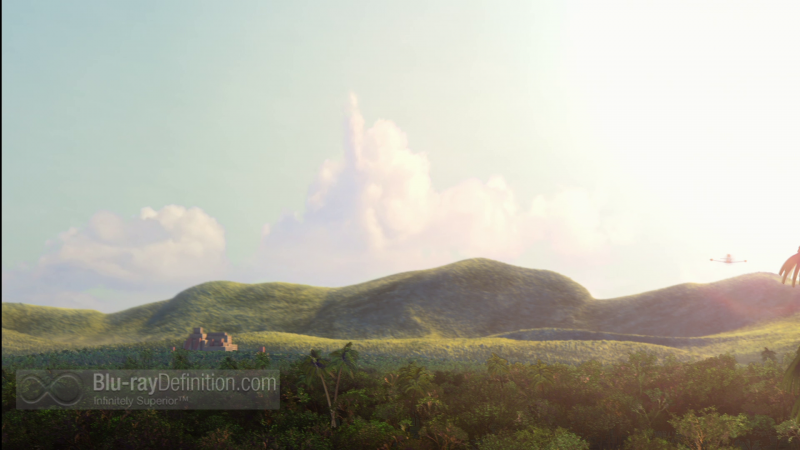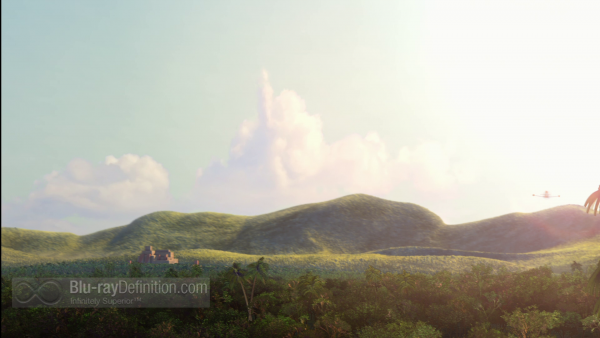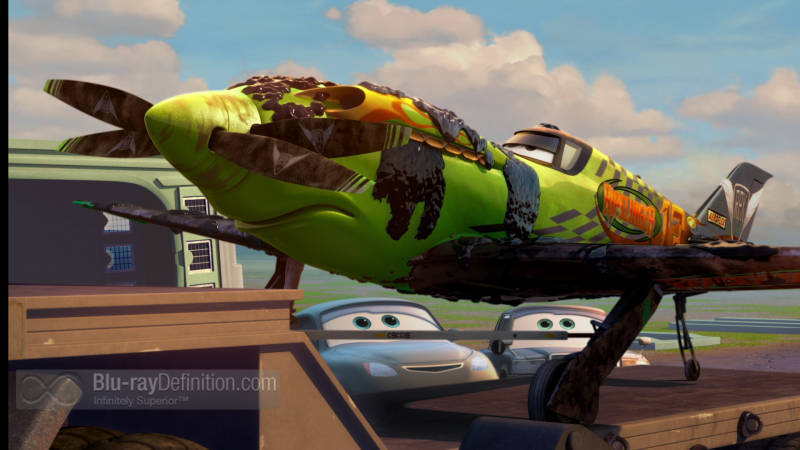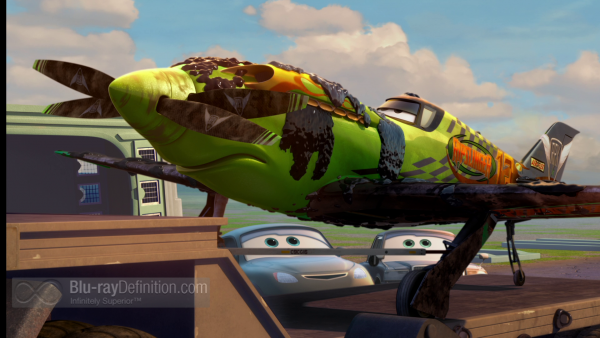 [amazon-product]B00DMKFN34[/amazon-product]