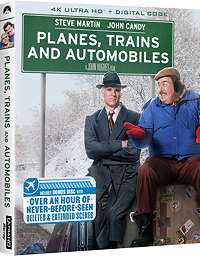 One of the few '80s films from legendary filmmaker John Hughes aimed at an adult market, Planes, Trains and Automobiles stars two comedic legends, Steve Martin and John Candy, in a classic "odd couple" pairing for a road trip adventure filled with mishaps. Stripped bare of some its unnecessary profanity-filled rants, one scene involving a particularly frustrating rental car agent, the film would be just like any number of Hughes' era-defining teen films. Clear archetypes, warm humor, and plenty of slapstick gags that could be lifted right out of Ferris Bueller's Day Off make up the bulk of the wild ride that define this humorous outing. Steve Martin plays the straight-man Neal Page, an ad executive whose efforts to make it home to his family for Thanksgiving Day are thwarted at every turn by John Candy's Del Griffith, a shower curtain ring salesman whose garrulous personality doesn't sit well with Page's more taciturn demeanor. However, the forced travel companions end up imposed upon one another in and endless series of bad situations, mostly the doing of bad ideas on the part of Del, that take them on the titular planes, trains, and automobiles on their way back to Chicago from New York City.
Subtract a few F-Bombs here and there, and this would make a fantastic family film for the holidays. One wonders why Hughes thought it so necessary to pepper the film with the unnecessary language other than the obvious reason to distance himself from the tag of being a teen-oriented filmmaker. But wouldn't it have been enough to have the fantastic John Candy and Steve Martin heading up your cast?
(Editor's Note: the film portion of this review was previously published)

Planes, Trains, and Automobiles (1987)
The Video
Paramount does not seem to be able to get releases of Planes, Trains, and Automobiles on home video right. The 2012 Blu-ray release had serious flaws and it seems this new 4K Ultra HD release may be worse. Arriving in a 1.85:1 HEVC 2160p (4K UHD) Dolby Vision encodement, the film suffers from serious softness and at times even looks out of focus. There are serious issues with grain suppression, which can be seen really early on, such as when Steve Martin misses the taxi and then is seen getting off the bus – his face looks like wax. This is an ongoing occurrence in the film. In the scene with Martin and Candy in the motel room as Martin begins to get annoyed with Candy, both of their faces started to look very smooth, losing all texture. The application of Dolby Vision brings very little to the image. Colors look about the same as on the Blu-ray and contrast is average at best, actually suffering a bit of crush on nighttime shots of the city and streets, which are the only ones that show a bit of specular highlight 'pop.'
The Audio
This 4K Ultra HD release of Planes, Trains, and Automobiles comes with the same English DTS-HD Master Audio 5.1 remix of the film's soundtrack that appeared on the previous Blu-ray reissue of the film which was initially released by Paramount ten years ago. As I felt before, the mix doesn't sound great and has a bit of a reprocessed surround sound to it but does have good stereo imaging across the front and clean dialogue.
The Supplements
The heart of the bonus features included in this release is the over-an-hour's worth of deleted and extended scenes on a bonus Blu-ray that were recently discovered in John Hughes' archive. Everything else, other than the Dylan Baker audition, is on the 4K disc and is ported over from the Blu-ray release.
Digital Copy Code
Getting There is Half the Fun: The Story of Planes, Trains, and Automobiles (1080p/60; 00:16:38)
John Hughes: Life Moves Pretty Fast (1080p; 00:53:30):

John Hughes: The Voice of a Generation
Heartbreak and Triumph: The Legacy of John Hughes

John Hughes for Adults (1080p/60; 00:04:01)
A Tribute to John Candy (1080p/60; 00:03:00)
Bonus Disc:
Deleted and Extended Scenes – Recently discovered in the archives of writer, producer, and director John Hughes (1080p; 01:15:27):

Waiting to Board (Extended)
Seatmates (Extended)
Airplane Food (Deleted)
Dooby's Taxola (Extended)
Edelen's Braidwood Inn – Part 1 (Extended)
Edelen's Braidwood Inn – Part 2 (Extended)
Broke at Breakfast (Extended)
99 Bottles of Beer on the Bus (Deleted)
The El Rancho Motel (Extended)
The Oshkonoggin Cheese Truck (Extended)

Audition – Dylan Baker "Owen" (1080p; 00:03:34)
The Final Assessment
While this is still a funny and fantastic holiday film, this 4K Ultra HD release is even more disappointing than the already problematic Blu-ray release. I cannot really recommend this as an upgrade and was really wondering to myself if Paramount somehow issued the incorrect transfer of this release. If I could just use a "head scratching" emoji to sum up my thoughts, I would.
Planes, Trains, and Automobiles is out on 4K Ultra HD November 22, 2022, from Paramount
---
Rating Certificate: R
Studios & Distributors: Paramount Pictures | Hughes Entertainment | Paramount Home Entertainment
Director: John Hughes
Written By: John Hughes
Run Time: 93 Mins.
Street Date: 22 November 2022
Aspect Ratio: 1.85:1
Video Format: HEVC 2160p (4K UHD)
HDR Format: Dolby Vision (HDR10 Compatible)
HDR10 Metadata:

MaxLL: 1000 nits
MaxFALL: 337 nits

Primary Audio: English DTS-HD MA 5.1
Secondary Audio: English Audio Description | German DD 2.0 | Spanish (Castilian) DD 2.0 | Spanish (Latino) DD Mono | French DD 2.0 | Italian DD 2.0 | Portuguese (Brazil) DD Mono
Subtitles: English | English SDH | Danish | German | Spanish (Castilian) | Spanish (Latino) | French | Italian | Japanese | Dutch | Norwegian | Portuguese (Brazil) | Finnish | Swedish