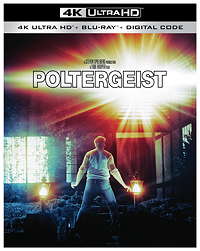 Poltergeist is the 1982 haunted house horror film directed by Tobe Hooper (The Texas Chainsaw Massacre, Lifeforce) and produced and co-written and produced by Steven Spielberg. One of the standouts of the genre from the decade, the film concerns itself with the suburban Freeling family, couple Diane (JoBeth Williams) and Steve (Craig T. Nelson) and their three children, eldest daughter Dana (Dominque Dunne), middle son Robbie (Oliver Robins), and youngest daughter Carol Anne (Heather O'Rourke).
When the family begins to experience strange paranormal events in their house, beginning with youngest daughter Carol Anne starting to communicate with entities apparently speaking to her through snow on the television at the end of broadcasts, and escalating to things like objects being moved around, such as the kitchen table chairs being mysteriously rearranged, they find it a curiosity at first. But when Carol Anne is abducted by these poltergeists, the family is prompted to bring in a team of professional ghost hunters and an exorcist to help rescue their daughter and clear their house of the malevolent spirits.
What helps to make Steven Spielberg one of the great filmmakers is he is not only a master craftsman in the traditional sense of old Hollywood, but he also knows his own limitations as a director. Bringing in horror director Tobe Hooper to direct this film was a wise decision as Spielberg is not exactly equipped to direct the horror genre. That said, this is a film that still retains much of the Spielbergian signature, such as the visual effects, the sense of wonder as the group stare up and gaze at the glowing poltergeists, a true Spielbergian stamp. The choice of Jerry Goldsmith as composer for the score is pure Spielberg as well given his very traditionalist sound.
None of this is to say that Tobe Hooper did not leave his own mark on this film. In Poltergeist one can see where Hooper would head with a film like the sci-fi horror of Lifeforce (1985). There is a sense of suspense mixed with wonder throughout this film that only Hooper could conjure and a particularly disturbing scene where one character hallucinates he is tearing apart his own face carried out through some brilliant practical makeup effects is the sort of visceral gore we would never have seen from Spielberg as a director.
The Video
Warner Bros. offers no information on the provenance of this new 4K Ultra HD reissue of Poltergeist. What I can glean is it was originally shot on slow speed 35mm Eastman 100T 5247 film stock on the Ultracam 35 with Cooke Xtal Express lenses. Given this information I would say this new transfer in HEVC 2160p (4K UHD) framed at 2.39:1 with HDR10 – and HDR metadata reading a MaxLL of 814 nits and MaxFALL of 212 nits – looks about what one would expect. The grain is natural but not exceptionally crisp and some backgrounds and darker scenes tend to soften a bit and show heightened amounts of grain. The colors look natural, but the application of HDR10 is a bit reserved, not necessarily adding a lot extra brightness, but bringing an additional amount pf specular highlight 'sizzle' to the snow on the television, lamplight, and the aura of the poltergeists.
The Audio
Poltergeist comes to 4K and Blu-ray with a remixed and remastered English DTS-HD Master Audio 5.1 audio track as well as the original theatrical English track in DTS-HD Master Audio 2.0 Surround plus various dubs in Dolby Digital 2.0 stereo and Dolby 1.0. The 5.1 mix expands naturally on the 2.0 surround track more so than offering heavy amounts of discrete sound effects in the surround channels. There's lush ambience, particularly on the very traditional Jerry Goldsmith orchestral score, which spreads nicely across the channels and had good dynamic breadth. The sound effects that come later in the film hit with good wallop and an appropriate abundance of low end.
The Supplements
In addition to a Movies Anywhere digital code, all bonus features, which are contained solely on the included Blu-ray, have been previously released and are:
They Are Here: The Real World of Poltergeists, Part 1 – Science of the Spirits (1080p; 00:15:31)
They Are Here: The Real World of Poltergeists, Part 2 – Communing with the Dead (1080p; 00:15:33)
The Making of Poltergeist (SD; 00:07:18)
Theatrical Trailer (1080p)
The Final Assessment
Poltergeist delves into the darkness behind the walls of suburbia and gives us a classic haunted house horror from the 1980s. Tobe Hooper directs brilliantly from a screenplay co-written by Steven Spielberg and the new 4K Ultra HD disc is a satisfying release.
Poltergeist (1982) is out on 4K Ultra HD Combo Pack September 20, 2022 from Warner Bros. Home Entertainment

---
Rating Certificate: PG
Studios & Distributors: Metro-Goldwyn-Mayer (MGM) | SLM Production Group | Warner Bros. Home Entertainment
Director: Tobe Hooper
Written By: Steven Spielberg (screenplay by) | Michael Grais (screenplay by) | Mark Victor (screenplay by)
Run Time: 114 Mins.
Street Date: 20 September 2022
Aspect Ratio: 2.39:1
Video Format: HEVC 2160p
HDR Format: HDR10
HDR Metadata:

MaxLL: 814 nits
MaxFALL: 212 nits

Primary Audio: English DTS-HD MA 5.1 (Remastered)
Secondary Audio: English DTS-HD MA 2.0 Surround (Original Theatrical) | French DD 2.0 | German DD 2.0 | Italian DD 1.0 | Spanish (Castilian) DD 2.0 | Spanish (Latino) DD 2.0
Subtitles: English SDH | French | Spanish