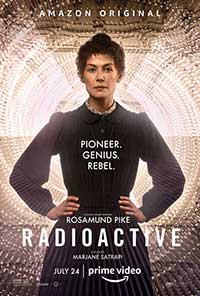 Radioactive opens with an elderly, terminally ill Marie Curie, but quickly moves back to 1893 when young Marie Sklodowska (Rosamund Pike) literally bumps into Pierre Curie (Sam Riley) in a Parisian park.  She is an aspiring scientist, but this is the era of insufferable male chauvinism. Marie's research is currently being thwarted by Department head Gabriel Lippmann (Simon Russell Beale) but, fortunately, Pierre is more than happy to make room for her in his modest laboratory.
The relationship between Pierre and Marie blossoms when he brings her an electrometer, a device to measure extremely small particles in her study of uranium-containing pitchblende. They start spending more private time together, including a skinny-dipping session in the river and some energetic rolls in the sack. The couple gets married and has their first child Irene (Anya Taylor-Joy). When Marie discovers radium, albeit in very small amounts, suddenly the scientific community is at her doorstep.[Be sure to keep your eyes peeled for the small vial of radium that Marie totes around] After their second child Eve (Cara Bossom) is born, Pierre gets nominated for a Nobel prize for discovering the phenomenon of radiation (in this version Marie is excluded but in real life, she was a co-winner although neither attended the awards ceremony in 1903).  A decade later, Marie will receive a second Nobel prize for chemistry, the only woman to win this award in two different fields.
When Pierre (who is clearly suffering the effects of radiation exposure) gets trampled to death by a horse-drawn carriage, Marie's world is rocked and even a promotion to a full professorship at the University of Paris will not compensate for her loss. An extramarital affair with fellow scientist and friend Paul Langevin (Aneurin Barnard) proves to be a temporary embarrassment for Marie. Still, she eventually becomes a venerated member of French and international scientific societies.  During World War I Marie successfully gets X-ray machines into field hospitals to protect wounded soldiers from getting unnecessary limb amputations.
[envira-album id="124453″]
Although Marie lived for nearly two decades after WW I ended, her final fantasy trip to the afterlife (in which she did not believe) provides flashbacks of her life with her late husband as her escort is but one of this film's numerous problems.  The 1945 dropping of the atomic bomb on Hiroshima, a 1957  treatment of a pediatric cancer patient with a linear accelerator, the 1961 A-bomb test in Nevada that destroys a simulated American city or the 1986 Chernobyl reactor disaster are totally unnecessary cutaways. These heavy-handed agenda-driven distractions were clearly intended to show that the harm caused by atomic energy might have outweighed its long-term benefits.
The makeup department must have had a field day in making the gorgeous Rosamund Pike look quite dowdy, in keeping with the plain-Jane features of the real Marie Curie. Pike is also burdened with Jack Thorne's subpar script that casts her as a perenially bitter woman which was not the case in real life. In an exchange with Pierre, Pike delivers the most telling lines of the film: "You have one of the finest minds that I have ever met. The problem is that mine is finer."  Alright already, we get it—Marie is brighter than Pierre but being a woman and foreigner in 1890s France effectively relegated her to second-class citizenship.
Among the few bright spots in this rather bland biopic are the performances by Anya Taylor-Joy as the outspoken Irene and Simon Russell Beale as the crusty chemistry professor.  A far better version of this venerable love story can be found in the nearly eight-decades old Madame Curie that paired the inimitable Greer Garson with Walter Pidgeon as their personal chemistry exceeds what we get here.
Radioactive is now available for viewing on Amazon Prime Video
[youtube https://www.youtube.com/watch?v=mU0oOUTo5zo&w=864&h=486]
---
The Film: 3.0/5
Studios & Distributors: Working Title Films | Shoebox Films | StudioCanal | Amazon Prime
Rating Certificate: PG-13 (thematic elements, disturbing images, brief nudity, scene of sensuality)
Country: UK
Language: English
Run Time: 110 Mins.
Aspect Ratio: 2.35:1
Director: Marjane Satrapi
Writer: Jack Thorne
Release Date: 24 July 2020