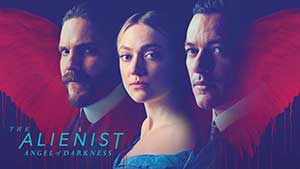 The Alienist: Angel of Darkness reunites Dr. Laszlo Kreizler (Daniel Brühl), John Moore (Luke Evans), Sara Howard (Dakota Fanning), and forensic specialist Isaacson brothers Lucius (Matthew Shear) and Marcus (Douglas Smith).  Since viewers were introduced to Caleb Carr's 1890s crime-ridden New York City more than two years ago, Lazlo has become an eminent shrink; John is a New York Times reporter, engaged to Violet Hayward (Emily Barber), "goddaughter" of newspaper magnate William Randolph Hearst (Matt Letscher); Sara runs her own detective agency.
New York's Lying-In Hospital, directed by obstetrician Dr. Markoe (Michael McElhatton), assisted by the Matron (Heather Goldenhersh), accommodates poor pregnant women but also has a hush-hush "research" wing where the pregnant mistresses of prominent businessmen like Richard Osgood (Ryan Ellsworth) can bear their illegitimate children. Patient Martha Napp (Hebe Beardsell) discovers her newborn child is missing, yet to avoid any scandal and even with no body to be found, Markoe gets her convicted of murder and sent to the electric chair.
Sara takes on the tricky assignment of finding the missing daughter of the Linares family, Spanish diplomats living in New York. War with Spain is looming, and it is rumored that the family engineered this abduction.  A doll found in Ana's crib leads Sara to the department store where it was purchased and where a dead baby turns up that happens to be the missing Napp child who, as the Isaacson brothers discover, was poisoned by acetanilide-laced breastmilk.
Sara enlists the aid of Lying-In nurse Libby Hatch (Rosy McEwen), a major misstep as she is a mentally unstable "wet nurse" who has abducted Ana.  After murdering the Matron, Libby takes Ana to her secret hideout in the Hudson Street district where her lover, gang leader Goo Goo Knox (Frederick Schmidt), holds sway.
[envira-album id="109665″]
With time running out, Sara rushes to track down the nurse down before the Linares baby suffers the same fate as the other children that Libby snatched and murdered.  After rescuing Ana, and returning her to the Linares, Sara finds out that Libby is still at large and has just abducted the infant grandson of Cornelius Vanderbilt (James Faulkner).  Another rescue mission begins with Sara heading a team that includes retired Police Chief Thomas Byrnes (Ted Levine).  There are numerous bloody obstacles to overcome if Sara, Laszlo, John, and the Isaacsons are to recover the missing baby as Libby and Goo Goo prove to be formidable adversaries.
The Alienist: Dark Angel benefits greatly from its scriptwriters' decision to make baby-faced Dakota Fanning its focal point and to relegate the far less interesting characters portrayed by Luke Evans and Daniel Brühl to the background where they belong.  Rosy McEwen's Libby Hatch is absolutely brilliant, her beauty belying her evil tendencies. John's tenuous engagement to Violet while being sexually attracted to Sara and Laszlo's discovery of a kindred spirit in Dr. Karen Stratton (Lara Pulver) provides brief diversions from the gruesome subject of the main storyline—the abduction and murder of newborn infants.  Sensitive viewers may want to avert their gaze from the photo gallery of dead babies, some with eyes painted on their closed eyelids that Lazlo discovers at a photographer's apartment in Episode 4. Similarly, they may find the Lying-In's practice of removing newborns from new mothers whom they deem unfit absolutely appalling.
As in Season 1, the shots of old New York manufactured on location in Budapest, Hungary, perfectly evoke this fin-de-siècle era, as do the costumes of the cast and the frequent appearance of horse-drawn carriages.  Adding limited "historical" interest are brief appearances by William Randolph Hearst, Cornelius Vanderbilt, Harry Houdini, and suffragist Elizabeth Cady Stanton. The tighter pacing of this second season makes for a far better show than was its meandering Season 1. Although many of the loose ends have been wrapped up by the end of Episode 8, there is still enough material that, hopefully, will stoke interest for yet a third installment.  Highly recommended.
The Alienist: Angel of Darkness is streaming now in its entirety on TNT On Demand
[youtube https://www.youtube.com/watch?v=O0Uti4coWOU&w=724&h=407]
---
The Creative Content: 4.0/5
Show Creator: Caleb Carr
Original Release Date: 19 July 2020
Network: TNT
Ep.  Run Time: 60 Mins.
No. Eps.: 8
Studios & Distributors: Paramount Television Studios | Vanessa Productions | Anonymous Content | TNT | HBO Max
Rating Certificate: TV-MA