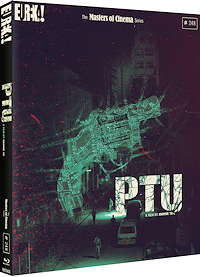 In 2003, filmmaker Johnnie To, who had stayed on in Hong Kong rather than move to filmmaking in the West when the market in the city took a downturn in the late 1990s, shifted from his usual comedies and action films to the atmospheric crime noir PTU.
Set against the backdrop of a late-night Hong Kong that seemingly never sleeps, a suspenseful chain of events is set off when Sergeant "Fatty" Lo (Suet Lam) first has his car vandalized and is then assaulted by a group of street thugs who he believes stole his gun. With his service weapon on the streets and up for a new promotion in days, he looks to his colleague Sergeant Mike Ho (Simon Yam) to help cover up the ordeal and find the missing weapon before daybreak.
Sergeant Ho and his team stalk the dark streets of Hong Kong at night in search the gun and find themselves tangled up in a gang and Triad rivalry as Fatty works the other end of the investigation involving a stabbing and death of one of the gang leaders he tangled with earlier in the night.
To's film is slow-burning intensity at its finest. He uses the visuals of a nighttime Hong Kong and many slow panned, deep focused shots from both Steadicam and otherwise to show the vastness of cityscape in what is visually a neon noir. The themes in the film are cornucopia of crime thriller plot twists, malevolent characters, antiheroes, and implications of corruption where there should be upstanding enforcers of the law. The P.T.U. (Police Tactical Unit) move through the streets like a wolf pack and they are not above using beastly violence to get what they want either, such as when they kick an asthmatic man nearly to death to extract information.
The slow, systematic tension that To builds climaxes in a burst of almost operatic violence to end the film but one that is not wholly unexpected. To call PTU a masterpiece of not only Hong Kong cinema, but of cinema in general would be an understatement.

The Video
PTU was shot with 35mm medium speed Fuji Super F-250T 8552 and fast speed Super F-500T 8572 film stock on Arriflex 35 BL4 and Arriflex 35 III cameras with Technovision Anamorphic lenses. The film comes to Blu-ray from a 2K DI in a 2.35:1 AVC 1080p encodement. This transfer of this 2003 film looks absolutely stunning. The film, which takes place mostly in the dark nighttime streets of Hong Kong against the backdrop of neon street signs, lamp lights, or the dim fluorescent light leaking out of late-night restaurants has amazing shadow detail and very strong depth of field in the many deep focus shots that Johnnie To uses in the film. The colors are also breathtaking with lots of 'pop' in the primaries, and we have high contrast with just hints of clipping in the white levels, more as an artistic choice than as a deficit in the mastering.
The Audio
There are two audio options for the Cantonese-language, LPCM 2.0 stereo and DTS-HD MA 5.1 as well as an English dub also in DTS-HD MA 5.1. I used the lossless Cantonese 5.1 mix as my reference while sampling the LPCM 2.0. The 5.1 is very atmospheric and well balanced. It opens up what is a very narrow stereo soundfield for the 2.0 mix a lot. The best example of how well it is mixed would be the scene where the PTU unit enter the video arcade and the various bleeps and blurps from the game machines quietly surround you in the din of the space.
The Supplements
Eureka provides a fine collection of archival interviews, a detailed and analytical essay on To and the Hong Kong film market. There's also the excellent audio commentary by Asian Cinema expert Frank Djeng who offers up his usual conversational style while providing plenty of details on PTU, Johnnie To, the cast and crew, and cultural issues surrounding the film and filmmaking in Hong Kong today.
Audio Commentary with Asian Cinema Expert Frank Djeng
Interview with Johnnie To and Simon Yam (upscaled 1080p; 00:18:14)
Archival Interview with Johnnie To (upscaled 1080i; 00:13:27)
Archival Interview with Simon Yam (upscaled 1080i; 00:21:49)
Archival Interview with Actress Maggie Siu (upscaled 1080i; 00:12:51)
Trailer (1080p)
Limited-Edition O-Card Slipcase featuring new artwork by Grégory Sacré (Gokaiju) [First Print Run of only 2000 copies]
Collector's Booklet with essay by writer and journalist specializing in East Asian Pop Culture, and news editor at Neo Magazine David West.
The Final Assessment
This is a film truly deserving of the Masters of Cinema imprint from Eureka Entertainment and a transfer that also lives up to the label. If you have never seen this film, you owe it to yourself to watch this today. Highly recommended.
---
If you found this article useful please consider clicking the button below and donating to help keep TheaterByte funded, which will allow us to continue posting great content.
---
PTU is out on Blu-ray in the UK 21 June 2021 from Eureka Entertainment
---
Rating Certificate: UK:15
Studios & Distributors: Mei Ah Films Production Co. Ltd. | Milky Way Image Company | Eureka Entertainment
Director: Johnnie To
Written By: Yau Nai-Hoi (written by) | Au Kin-Yee (written by)
Run Time: 103 Mins.
Street Date: 21 June 2021
Aspect Ratio: 2.35:1
Video Format: AVC 1080p
Primary Audio: Cantonese DTS-HD MA 5.1
Secondary Audio: Cantonese LPCM 2.0 Stereo | English DTS-HD MA 5.1
Subtitles: English