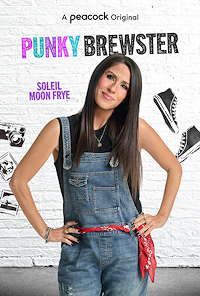 Punky Brewster, the iconic 1980s sitcom about the feisty young foster kid with the mismatched Converse taken in by the kind older gentleman originally ran for four seasons from 1984-1988 and has had lasting effects in the popular culture. The series is now back on NBCUniversal's Peacock streaming network. It's less of a reboot than it is a continuation of the story.
Original stars Soleil Moon Frye (Punky) and Cherie Johnson (Cherie) are back reprising their original roles as BFFs. Penelope "Punky" Brewster is now a middle aged divorcee and professional photographer with three kids of her own, two of them are younger boys whom she and her now ex-husband Travis (played by Freddie Prinze Jr.) adopted after fostering. Through her friend Cherie, Punky meets the feisty young orphan Izzy (Quinn Copeland) in the foster system who reminds her of herself. The first episode introduces us to Punky, her family, Travis, and Izzy and her constant attempts to escape from the orphanage.
Punky Brewster (TV) (2021- )
Over the course of the first six Peacock made available for early viewing of this of this updated, feelgood family series (the series will have ten episodes in total), a lot of predictable things happen, the first one being Punky, and her family all take to Izzy and welcome her into their home, including Travis, who, even though he and Punky are nominally divorced, is always around the house and the pair are best buds. There is an episode with the kids trying to find Izzy's lost skullcap that was the last thing she remembered getting from her father. When they fail in their attempts, they find an identical one and "age it" using various food products. Izzy loves the thought, never letting on to her proud new siblings that she knew it was a replacement all along. It the kind of cheesy humor you just can't help but love.
The humor in the new Punky Brewster is very lighthearted and maybe even a bit forced at times as if they were trying too hard to recapture the atmosphere of the original series, right down to a cute dog named Brandy, but the series does start to settle in eventually and is really fun if not full of belly laughs. I'm sure the nostalgia crowd will enjoy it and there's nothing offensive across its six episodes to stir much controversy. Does this series hit as well as another Peacock 'reboot' Saved by the Bell?  Not really. The latter was actually excellent at reworking itself into a tongue-in-cheek sendup of itself while also poking fun at Millennial and Zoomer culture while also being able to capture the nostalgia crowd. Punky Brewster, a multi-camera sitcom with a laugh track, plays it straight and its success will depend on how that all lands with today's viewing audience.
---
If you found this review useful please consider clicking the button below and donating to help keep TheaterByte funded and to allow us to continue posting great content.
---
Punky Brewster Premieres on Peacock February 25, 2021
---
Show Creator: David Duclon
Original Release Date: 25 February 2021
Streaming Service: Peacock
Ep. Run Time: 24 Mins.
No. Eps: 10
Studios & Distributors: All3Media America | Main Event Media | NBCUniversal Content Studios | Universal Television