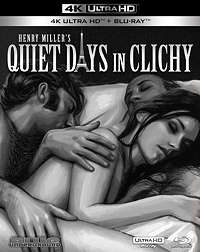 Quiet Days in Clichy, based on the controversial novel by Henry Miller, which itself was once banned for obscenity, is the 1970 film adaptation from director Jens Jørgen Thorsen. True to Miller's writing, which was often controversial, raunchy, but never lacking artistry or outright pornographic, this film, shot in stark black and white, has its moments of artistry as well. It looks gorgeous, it makes Paris look beautiful, and there are some genuine comedic moments.
Joey (Paul Valjean) a struggling American writer and his British friend Carl (Wayne Rodda) spend their days in Clichy with little money, little food, but an insatiable appetite for sex. They seem to be able find many wanton women to satiate their urges, including a prostitute named Mara (Avi Sagild), theBohemian Nys (Ulla Lemvigh-Müller), and a dim-witted fifteen-year-old runaway the men take in and have their way with until the parents come to retrieve her, but not before they freak out about the police coming to get them for having sex with a minor.
Quiet Days in Clichy plays like an erotica/soft porn version of a French New Wave film in its quick pace, quick edits, and shaky camera movements. There is not much beyond that for this film. There is nudity, obviously, which is what made the film very controversial at the time, and a lot of the word 'c*nt' scrawled on the screen, so much so that it loses its power and becomes obvious that Thorsen is trying to stir controversy.
Like the novels of Henry Miller, the film ran into issues with censors in the US and was seized upon its release. Eventually it won in the courts, but it did vanish for years. It is worth watching, especially if you are a fan of Henry Miller.
Quiet Days in Clichy (1970)
The Video
Blue Underground lists this as a new 4K 16-Bit restoration from its recently discovered uncut and uncensored original fine-grain negative. It is presented in a 1.66:1 HEVC 2160p (4K UHD) Dolby Vision HDR encodement. Quiet Days in Clichy's luxuriant black and white photography looks magnificently organic and textured in this new restoration and transfer. The application of Dolby Vision brings wonderfully nuanced shadows with inky blacks but no crush. The nighttime shots of Paris have dazzling 'pop' in the lights, showing superb contrast and specular highlights.
The Audio
The soundtrack for Quiet Days in Clichy is offered in lossless English DTS-HD Master Audio 1.0. It is clear and has good enough dynamics for the sounds by Country Joe.
The Supplements
Blue Underground includes three interesting interviews (all on the Blu-ray only): one with Country Joe McDonald, one with Henry Miller's editor, and another with Barney Rosset. Also interest to look through the court documents.
Remastered Blu-ray
Limited Edition NSFW embossed slipcover and reversible sleeve with alternate artwork (First Pressing Only)
NEW Deleted Scene (4K; DV; 00:06:11)
NEW Theatrical Trailer (4K; DV)
Songs of Clichy – Interview with Country Joe McDonald (1080p; 00:11:13) (Blu-ray Only)
Dirty Books. Dirty Movies: Barney Rosset on Henry Miller – Interview with Henry Miller's editor and publisher Barney Rosset (1080p; 00:17:19) (Blu-ray Only)
"Midnight Blue" interview with Barney Rosset (1080p; 00:25:04) (Blu-ray Only)
NEW Poster & Still Gallery (1080p)
NEW Book Cover Gallery (1080p)
NEW Court Documents (1080p)
The Final Assessment
The controversial, soft erotica film seems tame by today's standards, and looks absolutely fantastic in this new restoration from Blue Underground. For fans of cult films and Henry Miller, Blue Underground has provided a gem with this 4K Ultra HD release.
Quiet Days in Clichy is out on 4K Ultra HD Combo October 25, 2022 from Blue Underground
---
Rating Certificate: Not Rated
Studios & Distributors: Dans-Svensk | SBA | Blue Underground
Director: Jens Jørgen Thorsen
Written By: Henry Miller | (novel "Quiet Days in Clichy") | Jens Jørgen Thorsen
Run Time: 91 Mins.
Street Date: 25 October 2022
Aspect Ratio: 1.66:1
Video Format: HEVC 2160p (4K UHD)
HDR Format: Dolby Vision (HDR10 Compatible)
Primary Audio: English DTS-HD MA 1.0
Subtitles: English SDH