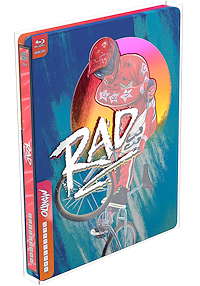 The 1986 film Rad is a film that is aimed squarely at fans of BMX biking, be they pros, amateurs, or just the guys and gals that like to pull tricks in the streets. If you know, you know. In this film the economically depressed small town of Cocharane with its own local set of BMX obsessed kids tries to raise funds by building its own BMX racing track called Helltrack in order to attract a big commercial race and raise funds. Local hero and BMX enthusiast, the 17-year-old Cru (Bill Allen), decides to enter the tournament in lieu of taking his SATs despite his mother's reprimands. Cru goes toe-to-toe against Bart Taylor (Bart Conner) the best BMX biker in the world who is in town to race in the $100,000 Helltrack competition. There are no real surprises in this fast-paced, feelgood film. If you like lighthearted comedy, BMX, watching teens outsmart clueless cops and a little goofy teen romance (a young Lori Loughlin appears as Cru's love interest and fellow BMX enthusiast Christian), then this film is the film for you, but others may not be inclined to watch it. There are other good parts to the film, however. The settings go a long way to making the film very watchable. Filmed in Cochrane, Alberta, Canada, the undeniably scenic setting is eye candy for anyone watching and director Hal Needham uses every inch of the open spaces to make a fun and free-spirited movie feel even more so.


The Video
Rad comes to Blu-ray from Mill Creek Entertainment in an AVC 1080p encodement framed at 1.85:1. This 1986 film was originally shot on 35mm and it looks natural here. There hasn't been any sort of heavy DNR applied nor is there detrimental edge enhancement, it has been scanned and restored in 4K from its original 35mm camera negatives,but no major new restoration done on the film for this Blu-ray release. There are some moments where the flesh tones and colors look too washed out because white levels may be tipping over into clipping, but for the most part the film stays steady and bit toward the dimmer side, even having some issues with crush in darker colors. Lapels and dark hair lose detail even in some of the bright outdoor scenes. But overall color saturation is vibrant and sunny looking. I would say the transfer is uneven, but satisfying and organic.
The Audio
Rad comes with a competent lossless English DTS-HD Master Audio 5.1 mix as the sole audio track. It handles the 1980s soundtrack well sounding the way you expect that big digital, gated reverb sound to be. Dialogue is clear, but the surrounds are mostly filled with ambience. Low end does not extend too deep but there is a relatively solid foundation that goes at least into the mid-lows.
The Supplements
This Mill Creek Entertainment release of Rad comes packaged in a SteelBook with gorgeous Mondo artwork and a translucent slipcover with Mondo design. The bonus features include a new covid-era Q&A done over Zoom, some archival featurettes and a Digital Code for Mill Creek's MovieSpree service.
MovieSpree Digital Code
"Rad" Q&A Session (1080i; 00:40:59) – Featuring cast members Bill Allen, Talia Shire, Bart Conner, screenwriter Sam Bernard, and hosted by Jorma Taccome
Archival Video Interviews with Cast and Crew (SD; 00:10:47)
Original Behind-the-Scenes Featurette (SD; 00:05:00)
"Break the Ice" Music Video (SD; 00:03:34)
The Final Assessment
Mill Creek Entertainment delivers a beautiful collectible package for this 1980s genre film with a satisfying if not perfect transfer on Blu-ray.
---
If you found this article useful please consider clicking the button below and donating to help keep TheaterByte funded, which allow us to continue posting great content.
---
Rad is out on Blu-ray Steelbook with Mondo artwork March 16, 2021 from Mill Creek Entertainment
---
Rating Certificate: PG
Studios & Distributors: TaliaFilm II Productions | Mill Creek Entertainment
Director: Hal Needham
Written By: Sam Bernard | Geoffrey Edwards
Run Time: 93 Mins.
Original MSRP: $39.99
Street Date: 16 March 2021
Aspect Ratio: 1.85:1
Video Format: AVC 1080p
Primary Audio: English DTS-HD MA 5.1
Subtitles: English SDH