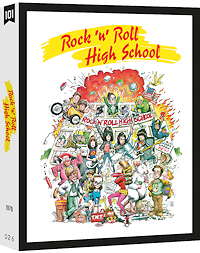 Rock 'n' Roll High School is the 1979 musical comedy from producer Roger Corman directed by Allan Arkush. The film, which has attained cult classic status in the years since its release, is pretty much in line with much of the teen school comedies of the era such as Animal House and Fast Times at Ridgemont High, but surprisingly less raunchy given this is from the same filmmaker responsible for Death Race and Piranha.
For many, the film is probably most famous for the title track from the Ramones, and the band does play a big part in the film. The story revolves around the students of Vince Lombardi High who love rock music, but their authoritarian new principal, Togar (Mary Woronov), but leader of the student rock 'n' roll rebellion and Ramones fanatic Riff Randell (P.J. Soles) is determined to infuse some punk spirit into the student body – and to go see the Ramones in concert. But when Togar confiscates her tickets, she wins them in a radio contest and gets to the show anyway.
Like the film FM, which also ended in a concert and heavily relied on a rock music soundtrack but managed to completely miss the punk rock revolution even though it came out only a year before, Rock 'n' Roll High School ends with a rollicking live performance by the Ramones at the Roxy and the ultimate scene of teenage rebellion as the kids at Lombardi wreck their school. How this finale would play today in an era where serious concerns of school violence, mass shootings, and literal mass shooting drills at schools play out is a topic for another time.
Rock 'n' Roll High School's nearly alternative reality, slapstick, and even building up of the Ramones into a supergroup status they never quite attained seems quaint today. While the film is hardly great filmmaking by any means, as a cultural statement that others at the time seemed to be missing it still holds up and is a great popcorn film. And I hear it's raining cats and dogs in Idaho.

Rock 'n' Roll High School (1979)
The Video
This 101 Films release is taken from the same restoration as 40th anniversary edition of Rock 'n' Roll High School on Blu-ray in the US from Shout! Factory. It is from a new 4K scan from the original camera negative. It is brought to Blu-ray in a 1.85:1 AVC 1080p encodement and it looks gorgeous. For a low budget comedy from 1979, the film looks relatively crisp with natural colors, a thin layer of grain and very little source damage present. This film will never look absolutely spectacular given the low budget and production limits, but this is the best it has ever looked.
The Audio
This 101 Films release of Rock 'n' Roll High School sheds the DTS-HD Master Audio 2.0 and instead provides the original monaural mix in LPCM 2.0. This sort of film would seem like it presents the perfect opportunity to provide a 5.1 or at the very least a 2.0 stereo mix to go along with the Ramones' punk rock soundtrack, but the mono mix sounds good here at least, with a punchy mid-range and clean dialogue. Sometimes the louder passages have some clipping, but that seems inherent to the source and the original recording.
The Supplements
This release from 101 Films carries over all the bonus features from the US release from Shout! Factory's 2019 40th Anniversary steelbook edition. Plus, there is a Limited Edition Booklet that includes 'Mindless Authority and Rebellious Youth' by Jon Towlson and 'I Got No Cerebellum' by Jimmy Martin. The first 3000 units come with a Limited Edition slipcase.
Class of '79: 40 Years of Rock 'n' Roll High School (1080p; 01:10:23)
Commentary with Allan Arkush, Mike Finnell and Richard Whitley
Commentary with Roger Corman and Dey Young
Commentary with Allan Arkush. P.J. Soles, and Clint Howard
Commentary with Richard Whitley and Russ Dvonich
Back to School: A Retrospective (1080i; 00:23:46)
Staying After Class: An Interview with Actors P.J. Soles, Vincent Van Patten, and Dey Young (1080p; 00:16:02)
Interview with Roger Corman Conducted by Leonard Maltin (1080i; 00:04:36)
Interview with Allan Arkush (1080p; 00:11:35)
Audio Outtakes from The Roxy (1080p; 00:15:24)
Original Radio Ads and TV Spots (1080p; 00:01:05)
Theatrical Trailer (1080p)
The Final Assessment
An excellent 4K restoration of this cult musical classic. Whether you are a Ramones fan or just a fan of silly Roger Corman comedies, this is one you should pick up, for the packaging, for the fine transfer, and for just the punk fun. Highly recommended.
Rock 'n' Roll High School (Limited Edition) is out in the UK on Blu-ray 27 June 2022 from 101 Films
---
Rating Certificate: UK: 15
Studios & Distributors: New World Pictures | 101 Films
Directors: Allan Arkush | Joe Dante (uncredited)
Written By: Richard Whitley (screenplay) | Russ Dvonch (screenplay) | Joseph McBride (screenplay) | Allan Arkush (story) | Joe Dante (story)
Run Time: 93 Mins.
Street Date: 27 June 2022
Aspect Ratio: 1.85:1
Video Format: AVC 1080p
Primary Audio: English LPCM 2.0 Mono
Subtitles: English SDH