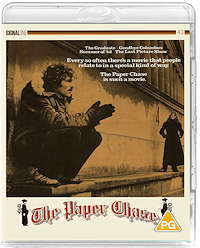 The Paper Chase is a 1973 dramedy from writer/director James Bridges (The China Syndrome) that has admittedly flown under my radar for all these years. An adaptation of John Jay Osborn Jr.'s novel Paper Chase the film become one of the surprise hits of the 1973-74 season.
The story follows James T. Hart (Timothy Bottoms), a first-year student in Harvard Law School. He has naïve ideals, is brilliant, but is also in awe of his fear-inspiring professor, Kingsfield (John Houseman in a brilliant turn). Hart manages to join a motivating study group of his fellow aspiring young attorneys to help him push through the tough course, but also starts up a romance with his professor's gorgeous daughter professor's pretty daughter (Lindsay Wagner).
The Paper Chase for all its charms never manages to get beyond its one-dimensional issues, a shallow dive into the overprivileged world of Harvard elites dealing with, what we might call today, "First World problems." The film is rescued by the charisma of Bottoms and the scene stealing scenes of Houseman, who, after decades of being a well-regarded theatrical and film producer, emerged from the film with a newfound career in front of the camera mostly reproducing the same tough and uncompromising persona from his professor in this film.
The Video
The Paper Chase makes its UK Blu-ray premiere with this 2.39:1 AVC 1080p high definition transfer from Signal One Entertainment. While the picture here does not have any significant flaws, it does have some film softness and frames where little bits of source damage and a little tip toward noisiness in the grain structure are noticeable. Otherwise, the colors are very much in keeping with the production of the era and look natural, the detail is generally acceptable, and contrast is stable throughout.
The Audio
The original mono soundtrack for The Paper Chase is included in LPCM 1.0. It is more than adequate for this dialogue-driven film and provides clean and surprisingly full sound.
The Supplements
There is not much included with this, but there is a good audio commentary from the producer that gives some insight into the film's production along with the theatrical trailer.
DVD (25fps/PAL) with feature film and bonus features
Audio Commentary by producer Robert C. Thompson
Trailer (1080p)
The Final Assessment
A somewhat forgotten classic from the early 1970s that encompasses several strong performances and a pleasing transfer on Blu-ray from Signal One Entertainment. Definitely recommended for film enthusiasts, and I am highly appreciative of Signal One for bringing a gem like this to home video for reconsideration.
The Paper Chase is out on Blu-ray Combo in the UK 13 June 2022 from Signal One Entertainment.
---
Rating Certificate: UK: PG
Studios & Distributors: Thompson-Paul Productions | Twentieth Century Fox | Signal One Entertainment
Director: James Bridges
Written By: John Jay Osborn Jr. (novel) | James Bridges (screenplay)
Run Time: 113 Mins.
Aspect Ratio: 2.39:1
Video Format: AVC 1080p
Primary Audio: LPCM 1.0
Subtitles: English SDH