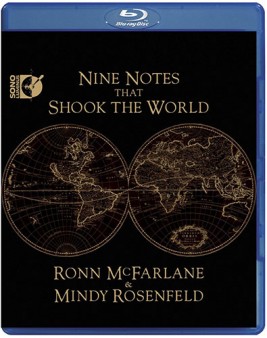 The Performance
[Rating:4.5/5]
Lutenist Ronn McFarlane and multi-instrumentalist (flute, fife, harps, bagpipes) Mindy Rosenfeld are both founding members of the well-known musica antiqua group, the Baltimore Consort. These two artists have now collaborated on a disc of renaissance, baroque and classical period "oldies" for Sono Luminus, a label created in 1995 by Cisco Systems founders, Sandy Lerner and Len Bosack. Sono Luminus acquired the well-respected audiophile label Dorian ten years later (the SL label logo looks suspiciously like the old Dorian one), hence their connection with Dorian recording artists, the Baltimore Consort. If you are not a lucky Dorian CD owner you will have missed out on some of the finest recordings ever made with repertory that is frequently off the beaten path.
The playlist is potpourri of early music genres:
Green Inn (John Adson)/My Lord Willoughby's Welcome Home (John Dowland)
Brando di Cles (Cesare Negri)/Passo e mezzo (Fabrizio Caroso di Sermoneta)
My Lady Carey's Dompe/Lady Wynkfield's Rownde
Rondeau dans Zaide (Michel Blavet)
Sonata in G Major (George F. Handel)
Andante  (BWV 1034) (J.S. Bach)
The Thistle (James Oswald)
The Laurel (James Oswald)
Dorrington Lads (traditional)
Passemeze (Adrian Le Roy)
Premier Suite in E minor (J.B. de Boismortier)
Minuetto and Variations (Pietro Locatelli)
Sitting in the Stern of the Boat/Thugamar/Road to Lisdoonvarna/Star Above the Garter/Carnac (traditional)
Branles de Village (Robert Ballard)
Each of these brief pieces is given showcase treatment by McFarlane and Rosenfeld and the crystal-clear recording allows listeners to hear "into" the various instruments on display.
Audio Quality
[Rating:4.5/5]
Listening to the Blu-ray DTS-HD Master Audio 5.1 version (at 192kHz, the highest sampling frequency on this disc) was like getting a key that opened the door to a live recital. There is an incredible amount of air around these acoustic instruments and, for an hour and a quarter, we are transported back several centuries in musical time.
Supplemental Materials
[Rating:4/5]
The set comes with a standard definition CD that sounds just fine until you hear the Blu-ray version. It is a bonus to have this second disc since it allows access to this music that can travel with you in your car. There is an excellent program booklet with background information on the selections as well as their composers. A track listing with a breakdown of the various instruments used for each piece is also provided.
The Definitive Word
Overall:
[Rating:4.5/5]
Righteous renaissance music to be sure, the McFarlane/Rosenfeld duo really delivers the goods. Even if you think that you know this music (and much of it has been frequently played and recorded) hearing the mighty bagpipes in the final cut will change your perspective. By the way, the disc's title is borrowed from musician/writer Mike Seattle's resurrection of the William Dixon Collection of 1773 aka "The Master Piper, or Nine Notes That Shook The World." This present collection of ancient hits may not be literally world-shaking but it is quite entertaining. Fanciers of the lute and other historic instruments will get their money's worth here, particularly with the high quality of musicianship on display. Highly recommended.
[amazon-product]B00CLFYXDC[/amazon-product]
Overall
[Rating:4.5/5]
The Performance
[Rating:4.5/5]
Audio Quality
[Rating:4.5/5]
Supplemental Materials
[Rating:4/5]