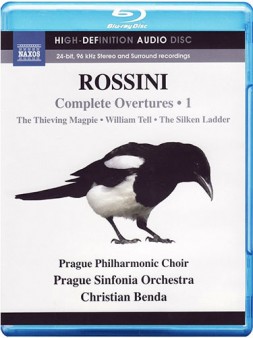 The Album
[Rating:3.5/5]
Giachino Rossini was by all measures a prodigious composer but one who burned out at the midway point of his life, having written 38 operas or one per each year of his life up to that point.  At the height of his career, Rossini was the most popular operatic composer who ever lived. While time may have dimmed his shining star a bit, there is still a thrill to his music that surely won over the audiences of the early 19th century as well as those of today. This Blu-ray audio-only disc from Naxos offers thirteen operatic overtures as well two sinfonias. In the list that follows, there will be works both familiar and obscure to all but the most aspiring opera cognoscenti:
La Gazza Ladra
Semiramide
Elisabetta, Regina d'Inghilterra (Il Barbiere di Siviglia)
Otello
Le siege de Corinthe
Sinfonia in D, "al Conventello"
Ermione (with chorus)
Guillaume Tell
Eduardo e Cristina
L'inganno felice
La scala di seta
Demetrio e Polibiio
Il Signor Bruschino
Sinfonia di Bologna
Sigismondo
The novelty of this recording is not only the inclusion of some rarely heard pieces but their capture in high-resolution surround sound.
Audio Quality
[Rating:5/5]
The 96 kHz/24bit 5.1 HD MA sound track is spacious and clear letting listeners hear deeply into the chamber orchestra assembled for this occasion. Hall ambience is present without excessive reverberation. The two-channel version is no slouch and gives us a nice sonic picture.
Supplemental Materials
[Rating:1/5]
A detailed program booklet on the works is included that will help newcomers to these pieces.
The Definitive Word
Overall:
[Rating:3.5/5]
This collection of Rossini overtures, and given the title number we can expect more, is a great way to become acquainted with a composer who might be best remembered for providing the theme to the old radio and television program, "The Lone Ranger," aka the overture to Guillaume Tell (William Tell).  These pieces average about eight minutes in length, longer than most typical operatic overtures, suggesting that they were really designed as stand-alone compositions. Superficially, Rossini overtures have a degree of bombast that tends to seduce conductors and orchestras into milking this aspect of the score. However, that approach is unfortunate as it misses the wit that lies beneath the surface. Great orchestral conductors like Arturo Toscanini, Fritz Reiner, and Carlo Maria Giulini got beyond the superficial elements of these scores and opened their inner beings like few have done before or since.  Benda and his Czech forces do not perform at this level or even near it. However, this is not to detract from the enjoyment that this music generates (and if it does not make you smile frequently, you need to find some happy pills).  From an audio perspective, this is Rossini as heard from about the tenth to twelfth row (where orchestra lovers congregate). In sum, a serviceable entry into the Rossini overture sweeps (greatly aided by demonstration sound), if not one to displace the standard resolution CD renditions that we hold most dear.  
[amazon-product]B00BX8TYYG[/amazon-product]
Overall
[Rating:3.5/5]
The Album
[Rating:3.5/5]
Audio Quality
[Rating:4.5/5]
Supplemental Materials
[Rating:1/5]