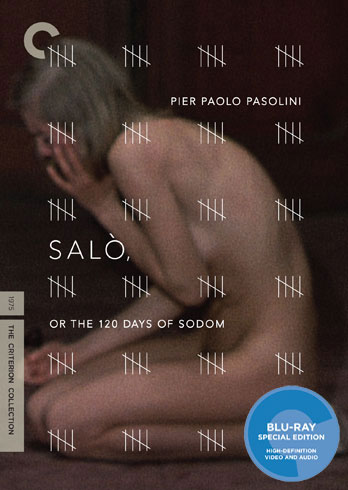 One of the most controversial films of all time, Italian filmmaker Pier Paolo Pasolini's final work, Salò, or The 120 Days of Sodom was an updating of the Marquis de Sade's novel, moving the story to fascist Italy at the end of World War II, and also incorporating the works of Dante. Discarding the literary pontifications of the two authors, Pasolini's film cuts straight to the heart of human decadence as it follows four fascists who kidnap nine young boys and nine young girls, taking them to an isolated villa and subjecting them to tortuous sexual, mental, and physical punishments, even murder.
In 1976, Salò was accused of being no more than pornography and for some it may seem perilously close, but the film's shock value would be overshadowed in the very same year by Nagisa Ôshima's In the Realm of the Senses, who would take the barrier between pornography and mainstream film and tare it down completely, allowing his actors to not only expose themselves on camera, but to perform uncensored sex acts.
For some there will never be any convincing them that either of these films isn't pornography, but when a cinephile watches these next to a porn flick, there is no comparison between them. The quality of the cinematography, the moving score, in the case of Salò, by the famed Ennio Morricone, and the quality of the acting make them rise of above simple prurient castoffs.


The Video
'This high definition digital transfer was created on a Spirit 2K Datacine from a 35mm interpositive. Thousands of instances of dirt, debris, scratches, splices, warps, jitter, and flicker were manually removed using MTI's DRS system and Pixel Farm's PFClean system, while Digital Vision's DVNR system was used for small dirt, grain, and noise reduction.'
Salò comes in its original 1.85:1 aspect ratio with a 1080p/24 AVC/MPEG-4 encodement from Criterion Collection. For a film from 1976, the transfer looks rather remarkable. Source damage is not an issue at all, the grain structure is quite fine with lots of high frequency information. Color depth is a little light, and at times blacks look just a tad washed out, but shadow detail is very well extended.
The Audio
'The original monaural soundtrack was mastered at 24-bit from a 35mm magnetic track, Clicks, thumps, hiss, and hum were manually removed Pro Tools HD. Crackle was attenuated using AudioCube's integrated workstation.'
The original Italian soundtrack in LPCM Mono is the way to go here. It sounds clean, full, and warm, with little to no crackle whatsoever. The English mix in Dolby 1.0 sounds quite sharp and high-ended in contrast.
The Supplements
This set comes with one of the better, fullest Criterion Collection booklets in addition to a good amount of featurettes on disc as well.
The supplements provided with this release are:
"Salò": Yesterday and Today (1.33:1; 1080i/60; 00:33:17) – This thirty-three-minute documentary about the making of Salò contains interviews with director Pier Paolo Pasolini, longtime Pasolini collaborator Jean-Claude Biette, and actors Hélène Surgère and Ninetto Davoli, and features footage of Pasolini shooting the final scene.
Fade to Black (1.78:1; 1080i/60; 00:23:23) – This twenty-three-minute documentary, porduced and directed by Nigel Algar in 2001, explores Salò's notoriety and the misguided claims that the film constitutes pornography. It features interviews with director Pier Paolo Pasolini, filmmakers Bernardo Bertolucci, Catherine Breillat, and John Maybury, and scholar David Forgacs.
The End of "Salò" (1.33:1; 1080i/60; 00:39:47) – In this forty-minute documentary, actors Antinisca Nemour and Paolo Bonacelli, screenwriter Pupi Avati, production designer Dante Ferretti, and others reflect on director Pier Paolo Pasolini, the film's production, and its tragic ending.
Dante Ferretti (1.85:1;1080i/60; 00:11:28) – Salò was production designer Dante Ferretti's fourth collaboration with director Pier Palo Pasolini. In this twelve-minute interview, Ferretti discusses his friend and their work together in this, Pasolini's last film.
Jean-Pierre Gorin (1.78:1; 1080i/60; 00:27:06) – This twenty-six-minute interview with filmmaker and scholar Jean-Pierre Gorin was recorded in New York City in February 2006, exclusively for the Criterion Collection.
Trailer (1.66:1;1080p/24)
Booklet: This is one of the better Criterion Collection booklets. Its eighty-pages are packed with essays from the likes of Catherine Breillat, Naomi Greene, Gary Indiana, Neil Bartlett, Sam Rohdie, Roberto Chiesi plus excerpts from Gideaon Bachmann's on-set diary.
The Final Assessment
Twenty-five years later, the controversy and notoriety still circles around this film and Criterion have brought it to Blu-ray in an excellent package allowing anyone who wants to judge the film for themselves, with the film presented in the best possible light.
Salo is available on Blu-ray from the Criterion Collection
Purchase Salo [Criterion Collection] on Blu-ray at CD Universe
---
Studios & Distributors: Produzioni Europee Associate (PEA) | Les Productions Artistes Associés | The Criterion Collection
Director: Pier Paolo Pasolini
Written By: Pier Paolo Pasolini
Run Time: 116 Mins.
Street Date: 4 October 2011
Aspect Ratio: 1.85:1
Video Format: AVC 1080p
Primary Audio: Italian LPCM 1.0
Subtitles: English