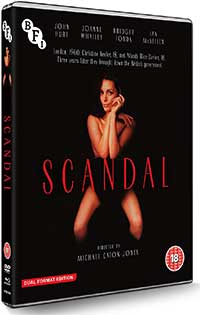 Scandal, the first feature film from British director Michael Caton-Jones, hit theaters in 1989 and told the real-life story of the so-called 'Profumo Scandal' of 1963 which rocked British politics and brought down the then ruling Conservative party. The film itself ran into controversies of its own given its handling of politics and salacious topics like prostitution and freewheeling nude scenes which would make it a difficult film to get made in today's climate.
The story begins when well-connected doctor Stephen Ward (played marvelously by John Hurt) becomes smitten with exotic cabaret dancer Christine Keeler (Joanne Whalley). Ward plucks the working-class Keeler from her life as a dancer and has her move in with him, giving her a Pretty Woman-style makeover that even includes redoing her bleach blonde hair to her natural and sultry dark brown. Soon Christine is meeting and also dating many of Stephen's powerful, Conservative Party connections, including Secretary of State for War John Profumo (Ian McKellen). When a violent incident at Stephen's flat with Christine's black musician boyfriend brings her relationship with Stephen and subsequently John Profumo to light, it sends a scandal shooting through the government that threatens their rule and their freedom.
While the film from Caton-Jones from the screenplay by Michael Thomas is visually enticing, slick, and well shot by any standard, placing us nicely in the early 1960s post-War UK, the story does feel more like a highly polished, well-acted B-film. Too much time is spent on the titillating moments like naked dips in a pool at a late-night party, orgies, and scantily clad or topless cabaret dancers and the big bombshell scandal that shot around the world is rushed through as if that is the smallest part of the whole story.
The film screened at Cannes and Venice film festivals and Bridget Fonda was nominated for an Oscar for Best Supporting Actress for her role as Christine Keeler's friend and partner in crime Mandy Rice-Davies, although I can't honestly say what was so special about her performance other than a bad English accent that warranted the nod.
[envira-album id="123263″]
The Video
Scandal comes to Blu-ray for the first time worldwide from the BFI in a new restoration taken from the original materials encoded in a 1.85:1 AVC 1080p transfer. The opening credits look troubling given the amount of film softness and incidents of source damage like bits of scratching and some dirt that show up, but after the credits pass, things really turn around and we get a pristine, crisp, and natural-looking film grain, good black levels and rich, balanced saturation.
The Audio
An English LPCM 2.0 stereo track is the only option, but it is solid and works well for the material providing clean dialogue, good stereo imaging and a decent amount of dynamics given the dialogue-driven nature of the film.
The Supplements
BFI includes an excellent selection of bonus materials, as usual, including two audio commentaries, new interviews with the director and producer, and two short films.
Commentary by Stephen Woolley and Michael Thomas
Commentary by Michael Caton-Jones
The Minister, the Model & the Russian Spy: Making Scandal (1.78:1; 1080p; 00:25:35) – A featurette about the making of Scandal featuring interviews from members of the cast and crew.
Michael Caton-Jones Remembers Scandal (1.78:1; 1080p; 00:26:39) – Director Michael Caton-Jones reminisces about Scandal in this new interview shot in 2019.
Stephen Woolley Remembers Scandal (1.78:1; 1080p; 00:39:52) – Producer Stephen Woolley discusses some of the problems he faced getting Scandal made and reminisces about his time on the film.
Music Video: "Nothing Has Been Proved" (1.66:1; 1080p)– The official music video to Scandal's theme song performed by Dusty Springfield – her second collaboration with the Pet Shop Boys, who wrote the song and produced it with Julian Mendelsohn.
Trailer
Stills Gallery
Cabaret Girl (1.35:1; 1080p; 00:26:21) – This 1965 documentary goes behind the scenes at Murray's Cabaret Club where Christine Keeler and Mandy Rice-Davies were later to work as showgirls.
The Riveter (1.66:1; 1080p; 00:35:21) – Michael Caton-Jones' National Film and Television School graduate show film from 1986 tells the tale of an unemployed single-parent dad struggling g to get by with his young son in Glasgow.
The Final Assessment
This lavish, titillating, and controversial film helped close out the 1980s with its scandalous telling of an actual political and sexual scandal that rocked the British government only a decade and a half before. BFI brings the film to Blu-ray in an excellent new restoration packed with high-quality bonus features.
Scandal is out in the UK on dual-format edition 24 February 2020 from the BFI
---
The Creative Content: 3.0/5
The Video: 4.5/5
The Audio: 3.5/5
The Supplements: 4.0/5
Rating Certificate: UK:18
Studios & Distributors: British Screen Productions | Palace Pictures | BFI
Director: Michael Caton-Jones
Writer: Michael Thomas
Run Time: 114 Mins.
Original RRP: £22.99
Street Date: 24 February 2020
Aspect Ratio: 1.85:1
Video Format: AVC 1080p
Primary Audio: English LPCM 2.0 Stereo
Subtitles: English HOH