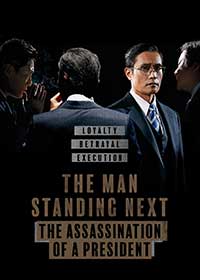 This South Korean film, The Man Standing Next (Namsanui bujangdeul) is based on the true events surrounding the 1979 coup d'état which led to the assassination of then-dictator President Park (Lee Sung-min), who had been leading the country since its revolution twenty years earlier, by his own director of the tightly controlled KCIA (Korean Central Intelligence Agency) Kim Kyu-pyeong (Lee Byung-hun).
Writer/director Woo Min-ho's film is less a broad telling of this assassination and more a zoom-in on the man central to the plot, Kim Kyu-pyeong, seeking to explain why he did what he did. Much of the blame seems to fall on the pressure put on South Korea by the West, mainly the United States, but also Woo seems to build Kim up as an idealist who saw Park as someone who abandoned the promises of democracy that were made during their revolution and now wanted to restore freedom to the people and get Korea out from under the grip of what he increasingly saw as a corrupt and brutal dictatorial regime. According to The Man Standing Next, Park had recently ordered martial law and called in the military to crush demonstrations spreading across the nation over his corruption and ousting of one of the governors who dared to speak to the American press detailing much of Park's malfeasance.
[envira-album id="123279″]
With slick production values, Woo's direction and screenplay keep the viewer on the edge of their seat, despite knowing the outcome, even though the story does often drag. There's a lot of nothing and off-camera action going on that could have been incorporated into the film, instead, the story plays out like a John le Carré spy thriller much of the time, in shadowy office rooms, quiet restaurants, and park benches where there is a lot of intrigue and talking past and around what we know the ultimate outcome will be. Much of this could have been trimmed and replaced with a little more exposition. Still, The Man Standing Next manages to be a worthy entry into the political intrigue genre thanks to the competent direction, excellent production, and top-notch performances.
The Man Standing Next is out in the USA on VOD May 26th, 2020 courtesy of MPI Media Group
---
The Film: 3.5/5
Studios & Distributors: Hive Media | Gemstone Pictures | MPI Media Group
Country: South Korea
Language: Korean
Run Time: 114 Mins.
Aspect Ratio: 1.85:1
Director: Woo Min-ho
Writer: Woo Min-ho
Release Date: 26 May 2020