–
Click thumbnails for high-resolution 1920X1080p screen captures
(Screen captures are lightly compressed with lossy JPEG  thus are meant as a general representation of the content and do not fully reveal the capabilities of the Blu-ray format)
The Film
[Rating:4.5/5]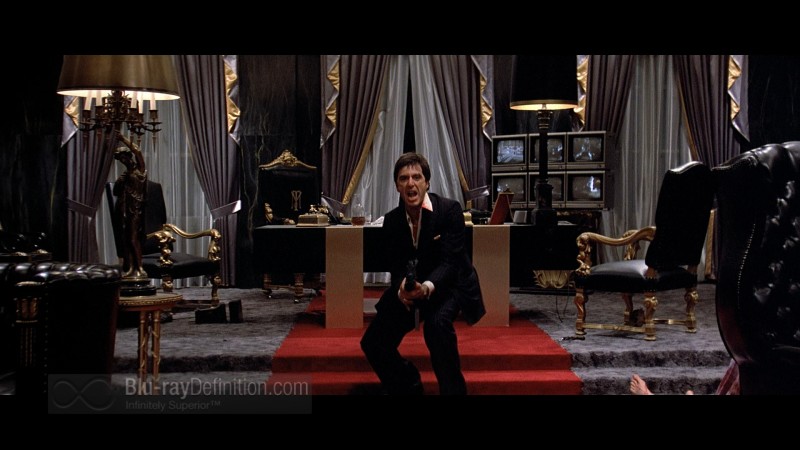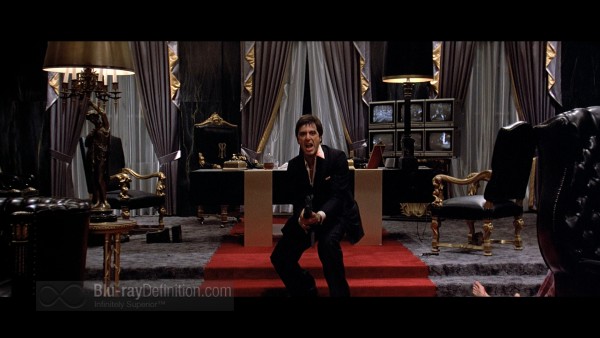 It would be enough to simply say Brian De Palma (The Untouchables; Blow Out), Oliver Stone (The Doors; Wall Street; Platoon), and Al Pacino (Heat; Dick Tracy; Revolution), and then walk away; say no more. That would leave most people with enough information to know that, with those three names in a sentence together, there must be something special afoot. Now, mention a reworking of the 1932 Howard Hawks film based on the life of Al Capone, Scarface, and we're really talking.
1983's Scarface, directed by De Palma, written by Stone, and starring Pacino was a modern American gangster tale that transported the story of the original to Miami of the 1980s, just after the Mariel boat lift. An operatic crime drama rife with violence, hard language and drug use, it follows the story of Cuban refugee Tony Montana's (Pacino) rise to the top of a Cuban-American drug cartel during the cocaine boom of the 1980s.
The film was a magnet for controversy before it was even completed, drawing criticism and even death threats from the Cuban community in Miami for what they perceived as the purposeful portrayal of Cubans as nothing but drug dealers and murders in an effort to discredit Cuban immigrants, forcing production to move from Miami to California. Upon its release, the film opened to mixed reviews, getting panned for its shocking violence and loose use of the "f-word." No doubt, much of these criticisms stemmed from the much publicized troubles Scarface had getting its rating knocked down to an "R" from an "X."
Despite all of that, Scarface has garnered a growing cult following over the years making it much worthy of reassessment. In a post-Saw world with series like Dexter on the air, the violence in Scarface hardly seems anything more shocking that what one can normally spot in your average video game. Beyond that, there is a masterpiece of dialogue and cinematic vision – the colors, the sweeping camera angles, the famous lines ("Say hello to my little friend!","I kill a communist for fun, but for a green card, I gonna carve him up real nice.") and the superb acting from everyone involved.
Tony Montana is the iconic gangster. He rises from nothing and he wants it all. He wants the money, he wants the fancy clothes. He wants the girl (Michelle Pfeiffer). He is the underbelly of the American dream, or perhaps the real face of the American dream.
Video Quality
[Rating:4.5/5]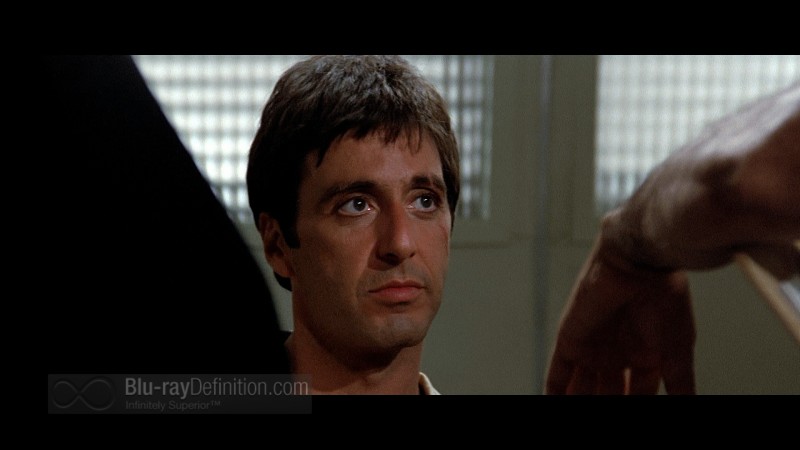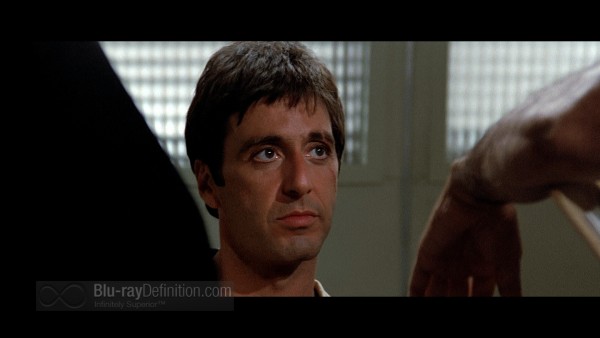 In the past month, Universal has released two classics in "limited edition" packages to Blu-ray. The first was The Big Lebowski in a spiffy Blu-ray book and now comes Scarface in this classy Steelbook edition. I thought Lebowski's video transfer looked questionable due to some heavy-handed use of DNR that resulted in a near absence of grain and waxy skin textures. Scarface has been cleaned up as well. But it looks far better, in my opinion. Although there has obviously been some DNR applied, it still retains a natural level of grain and skin looks far more textured in this VC-1 encodement. Colors sparkle as well; it can be seen in the gaudy floral shirts and the pastel buildings of Miami Beach in particular. Blacks are inky, only showing the slightest bit of noisiness on occasion.
Audio Quality
[Rating:4.5/5]
Scarface has been given a grand new 7.1 remix that really brings the sound alive. Showing up in a lossless DTS-HD Master Audio encodement, the new mix is lively and dynamic. The surround back channels seem to be active all the time with ambient sounds and music, There is a lot of stereo panning across the front and some good use of the LFE to give the sound some weight. There is still some crackle that can be heard in dialogue during louder passages that lets you know this is still older material and the high frequencies sound just a bit too tweaked.
There is also a DTS 2.0 Stereo mix for those looking for something a bit more authentic to the original theatrical mix, which was 4-track stereo. It doesn't seem to be encoded in surround. There is a good, wide spread of sound across the stereo field and good extension into the lower ranges with the mix, but it has the same issue with tweaked highs.
Supplemental Materials
[Rating:5/5]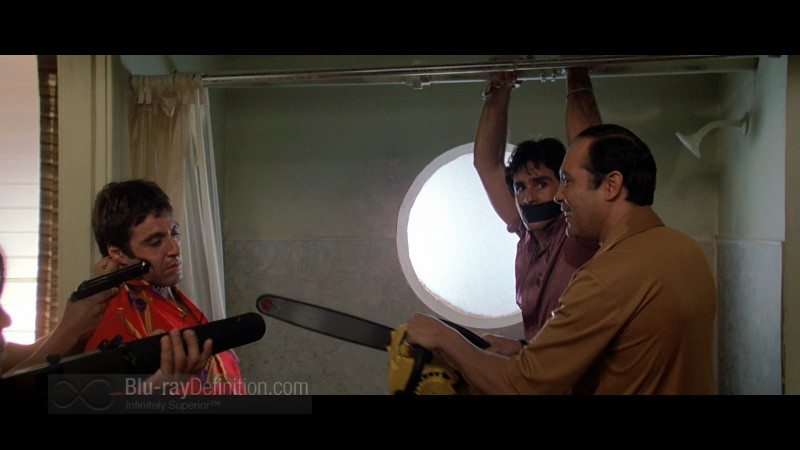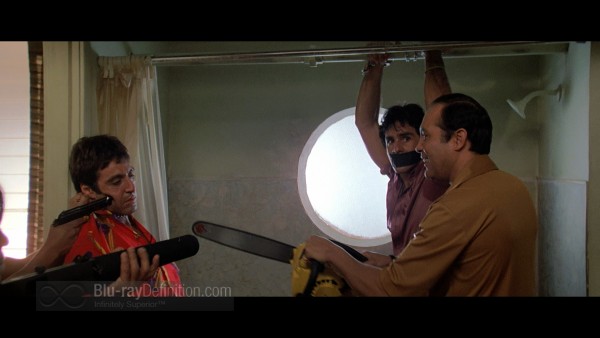 This thing is packed with anything a Scarface fan could want, and then some. First, Universal has seen fit to include a DVD of the original 1932 Scarface film that inspired this version. Then, of course, there is access to a digital copy of Scarface, plus 10 Collectible Scarface Art Cards. After that, there is the picture-in-picture commentary, the running F-bomb and gunshot "scorecard" and a whole slew of in depth featurettes. Oh, did I forget to mention the snazzy Steelbook case this thing comes in?
The supplements:
The Scarface Phenomenon (1080p/24) – Director Brian DePalma, members of the cast and others discuss the creation of the film, its impact on the audience, and its critical reception, both good and bad. :

Say Hello to the Bad Guy
Pushing the Limit
The World & Everything in It

Deleted Scenes (1.33:1; 480i/60; 00:22:29)
The World of Tony Montana (1.78:1; 1080i/60; 00:11:38) – DEA agents talk about the real-life Miami drug scene in the early-80s that acts as the backdrop for the rise of Tony Montana.
The Rebirth (1.33:1; 480i/60; 00:10:08) – A look at the evolution of how this remake of Scarface came to be.
The Acting (1.33:1; 480i/60; 00:15:05) – A look at the casting for the film
The Creating (1.33:1; 480i/60; 00:29:35) – Find out some of the secrets to the way the crew filmed Scarface and the various locations that were used for the settings of the film.
The Making of Scarface: The Video Game (1.33:1; 480i/60; 00:12:05)
Scarface: The TV Version (1.33:1; 480i/60; 00:02:48) – Take a look at some of the ridiculous editing applied to Scarface to make it suitable for network broadcast.
D-Box Motion Code
BD-Live
U-Control:

Scarface Scorecard – Keep an onscreen count of F-bombs and gunshots with this feature turned on.
Picture in Picture – Scene specific Picture-in-Picture commentary from Brian DePalma, Al Pacino and others

10 Collectible Scarface Art Cards
Bonus DVD of the original Scarface (1932).
Steelbook case
The Definitive Word
Overall:
[Rating:4.5/5]
Scarface is a true American crime classic that has aged very well. Though its violence and language is hardly as shocking as it once was to us now in our jaded, post-internet era, it still has the same impact when it is viewed. Nothing can lessen the impact of a perfect storm of skilled writing, directing, and acting coming together to form a timeless motion picture. Kudos to Universal for putting together such a reference quality package for this film; this is a must-have release.
Additional Screen Captures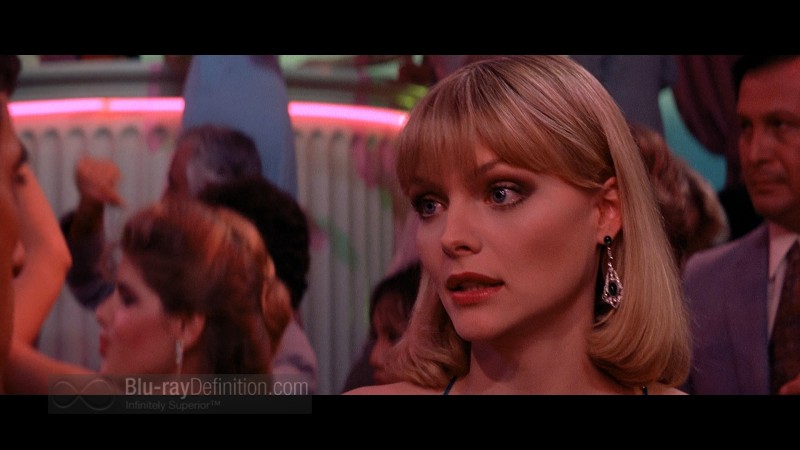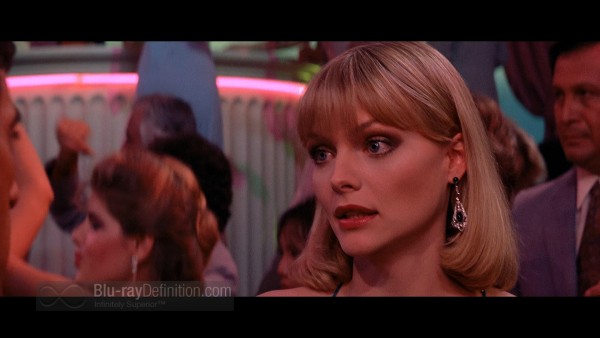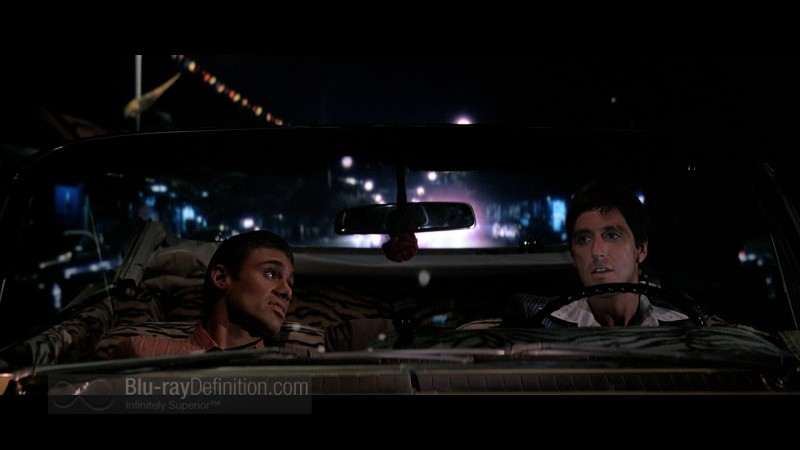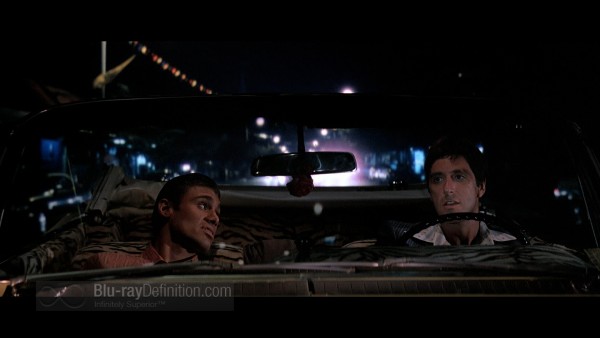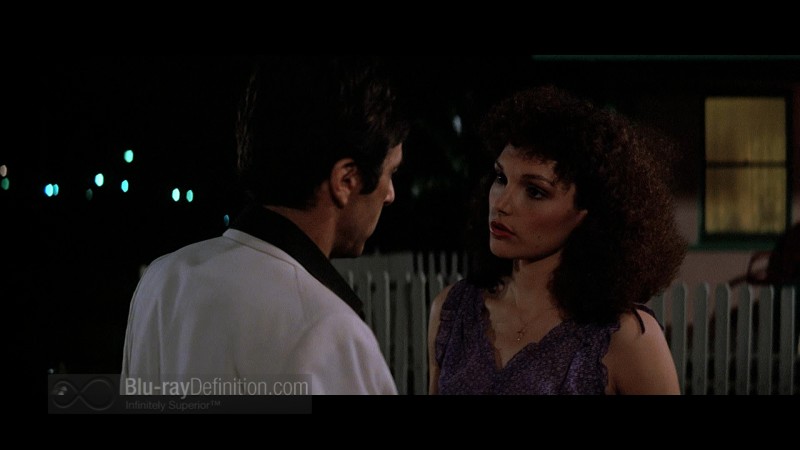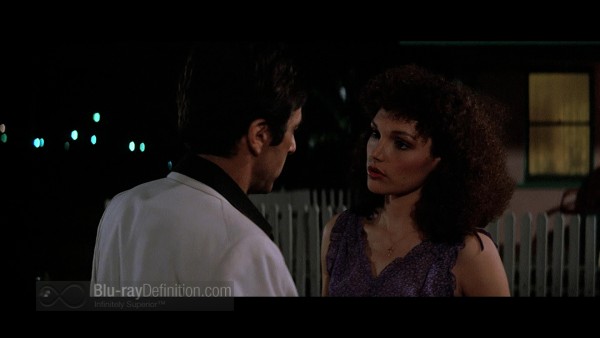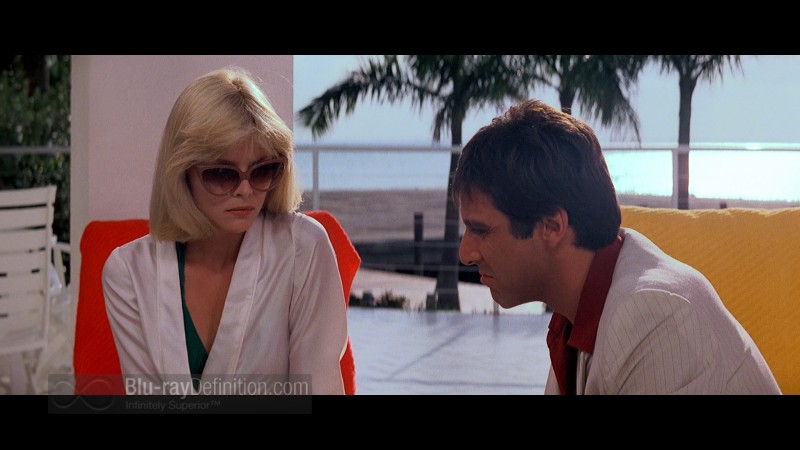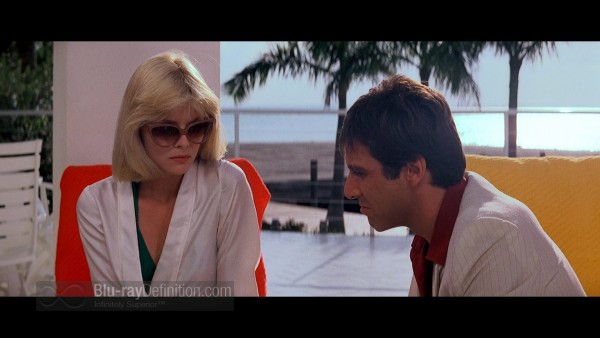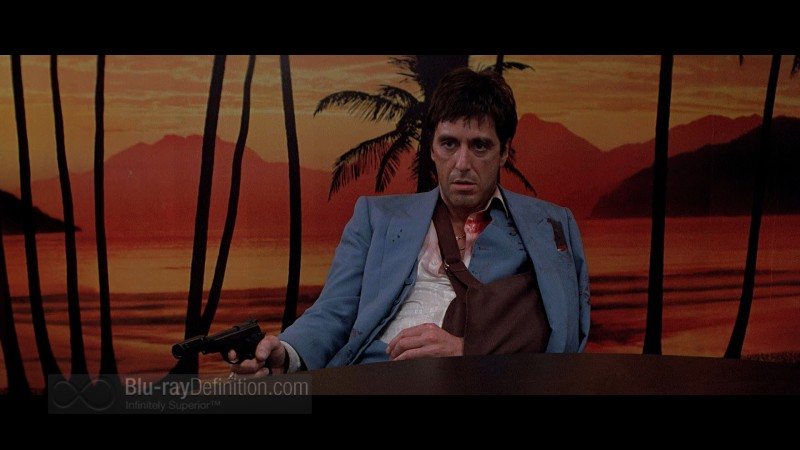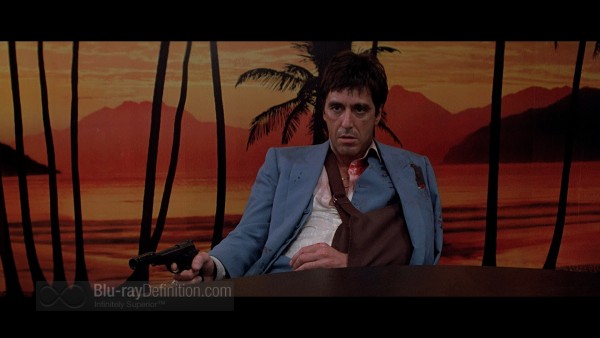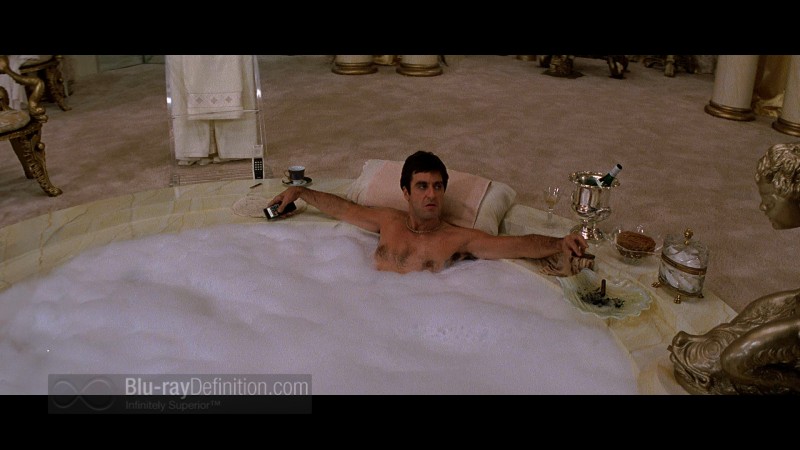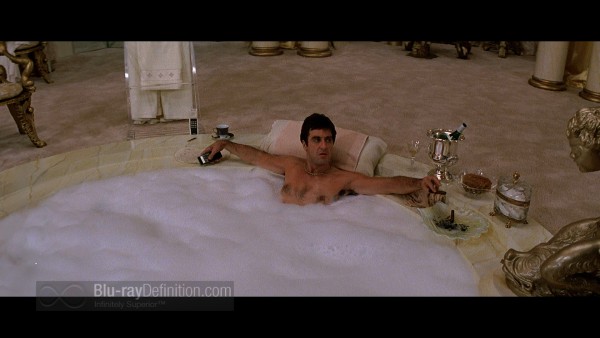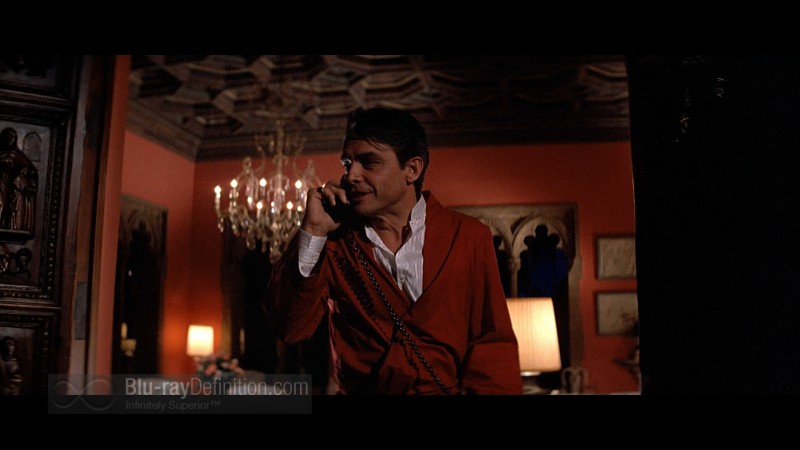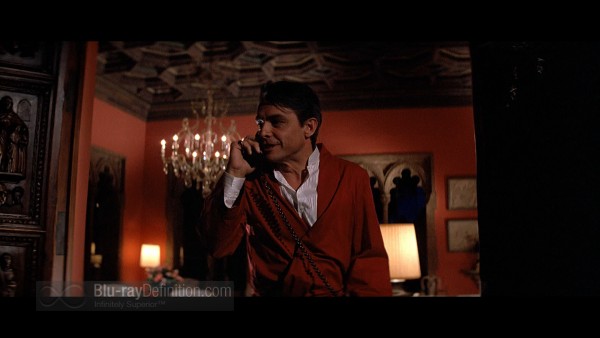 [amazon-product]B0019N94X6[/amazon-product]
Purchase Scarface Limited Edition Steelbook on Blu-ray+DVD+Digital Copy at CD Universe
Shop for more Blu-ray titles at Amazon.com