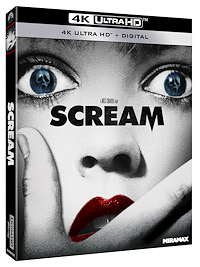 It's hard to believe it's been 25 years since Scream hit theatres and shook up the world of horror. It's no surprise that the man that would be responsible for reinvigorating the flagging horror scene would be the same man who gave it one of its most iconic figures, A Nightmare on Elm Street's Freddie Krueger. Director Wes Craven's 1996 film wasn't the typical slasher film, it was hip, it was fresh, and merged genres. It was slasher, horror, murder mystery, and suspense thriller all in one, while also in a tongue-in-cheek way making fun of the very idiosyncrasies peculiar to the genre.
In Scream, a group of teenagers is terrorized by a masked serial killer who likes to call his victims from a cell phone. With the body count on the rise, their lives begin to mirror the same horror movies they've been talking about. With the whole town on edge and the killer on the loose, everyone is suspicious of the next person – who could the killer be?
Part murder mystery, part thriller and part slasher flick, Scream's strength lies in its clever plot twists, witty dialogue and particularly strong acting for a horror film. This is one truly deserving of the label "classic."
The film stars Neve Campbell as the killer's focus Sydney, Courtney Cox as a tabloid reporter covering the killings and reporting on the death of Sydney's mother the previous year, David Arquette as a local Sheriff's deputy and Skeet Ulrich as Billy, Sydney's boyfriend, upon whom suspicion falls immediately and throughout the film.

The Video
Scream has been newly remastered for 4K and uses a 4K DI. It comes to 4K Ultra HD Blu-ray in a HEVC 2160p encodement with Dolby Vision (HDR10 compatible) framed at 2.39:1. This was a relatively low-budget film shot with Moviecam Compact cameras with Clairmont lenses and Panavision Panaflex Platinum cameras with Panavision Primo lenses. This transfer looks about as good as this film can get given its age and production. While there are no real complaints about source damage or edge enhancement, you won't see too much high frequency crispness in the image, there's a pervasive, overall softness to Scream. With that said, the Dolby Vision, while it doesn't provide massive amounts of brightness, does provide a decent amount of 'pop' and added detail in the specular highlights of lamps and headlights. Flesh tones, shadow detail, colors all look natural.
The Audio
The English DTS-HD Master Audio 5.1 mix for Scream is serviceable, it places sounds, both discrete and atmospheric all around. There are voices that come from the sides and behind, scary noises, lots of activity to make you jump, but it is not one of the more reference mixes. There's a little bit too much of a front-heavy emphasis on much of the action despite some activity being blended into the surrounds. There's good separation and dynamic range, but low end frequencies don't extend to booming, floor rattling levels. They have decent enough impact though and are more than good enough for this film.
The Supplements
There is one new bonus feature discussing the legacy of Scream, with interviews with the cast and crew. The rest are archival featurettes and interviews and a very informative audio commentary by Craven and Williamson.
Digital copy code
Audio commentary by director Wes Craven and writer Kevin Williamson
(NEW) A Bloody Legacy: Scream 25 Years Later (1080p; 00:07:29)
Production Featurette (1080p; 00:06:12)
Behind the Scenes (1080p):

On the Scream Set (00:03:25)
Drew Barrymore (00:02:53)

Q&A with Cast and Crew (1080p):

What's Your Favorite Scary Movie? (00:02:44)
Why Are People So Fascinated by Horror Films? (00:02:31)
The Final Assessment
This horror classic has never looked better even if it will never be top-tier reference. This one is big improvement over the previous Blu-ray release. Highly recommended.
Scream is out on 4K Ultra HD & 25th Anniversary 4K SteelBook editions October 19th, 2021 from Paramount Home Entertainment
---
Rating Certificate: R (for strong graphic horror violence and gore, and for language)
Studios & Distributors: Dimension Films | Woods Entertainment | Paramount Home Entertainment
Director: Wes Craven
Written By: Kevin Williamson
Run Time: 111 Mins.
Street Date: 19 October 2021
Aspect Ratio: 2.39:1
Video Format: HEVC 2160p (4KUHD)
HDR Format: Dolby Vision (HDR10 Compatible)
Primary Audio: English DTS-HD MA 5.1
Secondary Audio: German DTS-HD MA 5.1 | Spanish (Castilian) DD 5.1 | Spanish (Latino) DD 2.0 | French DD 2.0 | Italian DD 2.0 | Japanese DD 2.0 | Russian DD 2.0
Subtitles: English | English SDH | Danish | German | Spanish (Castilian) |Spanish (Latino) | French |Italian |Japanese | Korean | Dutch |Norwegian |Portuguese (Brazilian) | Russian | Finnish | Swedish