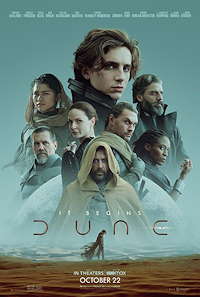 Frank Herbert's classic 1965 novel is set in a future  universe where noble families vie for the favor of a heartless ruler was first adapted for the big screen by David Lynch in 1984.  In 2021, director Denis Villeneuve has co-written a new and quite faithful adaptation of this story with Jon Spaihts and Eric Roth. Villeneuve felt that Herbert's story was too complex to be crammed into a single movie, a painfully obvious shortcoming in the original version, so a decision was made to present only the first half of the Dune saga in his film.
It is 10191 A.G. (After Guild) and Duke Leto Atreides (Oscar Isaac), ruler of the planet Caladan, is assigned by Padishah Emperor Shaddam IV (whom we never see) to assume control of the desert planet Arrakis from the House Harkonnen. Arrakis is the sole source of the spice mélange, a valuable drug mined by the native Fremen that enhances consciousness, increases longevity, and enables the endurance of lengthy space voyages. Shaddam considers House Atreides to be his rival so he will later have his Sardaukar army destroy them and return Arrakis to the Harkonnen.
Leto's concubine Jessica (Rebecca Ferguson), a member of the Bene Gesserit sisterhood, has defied the orders of Reverend Mother Gaius Helen Mohiam (Charlotte Rampling) by bearing a son Paul (Timothée Chalamet) rather than a daughter.  Years pass and young Paul has received extensive self-defense training from Jessica, Duncan Idaho (Jason Momoa), and Gurney Halleck (Josh Brolin) which will come in quite handy later in the film.
After arriving at Arrakeen, the Arrakis stronghold, the Atreides family quickly becomes acquainted with the hazards of this barren planet–its oppressive heat, frequent sandstorms, and its giant sand worms. After exposure to spice, Paul has recurring visions of Chani (Zendaya), a Fremen woman. When he reveals these visions to Jessica, Mohiam is summoned to administer gom jabbar to Paul as the ultimate test of his humanity which he fortunately passes.
Leto's personal physician Doctor Wellington Yueh (Chen Chang) drugs the Duke and delivers him to the evil Baron Vladimir Harkonnen (Stellan Skarsgard). Yueh also equips Leto with a false tooth that will emit poison gas and take out the Baron and his court—a feat that the dying Duke nearly accomplishes. Yueh has also disabled Arrakeen's defensive shields, allowing Harkonnen and Sardaukar armies to destroy the fortification and kill Leto's troops. Paul and Jessica escape capture by Harkonnen soldiers and begin a dangerous crossing of the desert in hopes of finding a safe haven among the Fremen.
An all-star cast led by Timothée Chalamet and Rebecca Ferguson engage in plenty of action sequences that trump the often-stilted dialogue they were given. Yet, as was the case in the original Dune, this current film is quite lengthy and its pace tends to drag when the fight sequences and the harrowing escapes are over. I could have used fewer Paul Atreides's visions, but I did appreciate their attempt at otherworldliness. On the plus side, this is a visually stunning movie thanks to Greg Fraser's camera work with dusty yellow and brown backgrounds resembling some of those that Roger Deakins created for Denis Villeneuve's Blade Runner 2049.  The Dolby Atmos soundtrack is used very effectively and  immerses  the audience in the middle of the action. Hans Zimmer's atmospheric and often Middle Eastern sounding score reminded me, at times, of the masterpiece that he wrote for Gladiator.  As for now, Dune fans will need to be satisfied with at least half a loaf until contracts can be finalized for the Part Two sequel.  A definite feast for the eyes with special effects that completely surpass those of its predecessor and a film that will delight Dune's many loyal fans.
Dune is now being shown in theaters and is streaming on HBO Max through November 21.
---
Rating Certificate: PG-13 (for sequences of strong violence, some disturbing images and suggestive material)
Studios & Distributors: Legendary Pictures | Villeneuve Films | Warner Bros. | HBO Max
Country: USA
Language: English
Run Time: 155 Mins.
Aspect Ratio: 2.39:1
Director: Denis Villeneuve
Written By: Denis Villeneuve | Eric Roth | Jon Spaihts
Release Date: 21 October 2021