– (scroll to bottom of using mobile OS)

The Film
[Rating:5/5]
Kurosawa Akira's 1954 film Seven Samurai was to go on to become the most successful and most acclaimed film of his career. It heralded a new era in his filmmaking career, a new direction, a new level of comfort and experimentation in his filmmaking. It marked his first use of telephoto lenses to flatten the action and draw viewers closer into the film, and its nearly three-and-a-half-hour length left no doubt about his mastery over his art.
The slow, methodical epic samurai drama focuses on a provincial farming village harassed by a band of marauding bandits who, on the suggestion of the village elder, decide to hire seven masterless samurai, or ronin, to help defend them. They have nothing to offer in return for the samurai's services other than shelter and one bowl of rice a day.
Upon finding the eponymous seven samurai, the warriors not only come in to defend the village and train the villagers to defend themselves, but they change how the villagers think about and see themselves.
Kurosawa's film takes place over the span of an entire year, and it took nearly as long to create. Six weeks of script writing, three months of pre-production and 148 days of shooting — it shows in the careful way in which the action unfolds in Seven Samurai. Not a moment is wasted, not a line of dialogue out of place. An entire hour goes by before the eponymous warriors of the film are even hired. With most directors, this would seem tiresome and self-indulgent, but with Kurosawa and Seven Samurai, it is all in the pursuit of perfection.
Seven Samurai's influence has been far-reaching in the world of entertainment. In 1960, the film was remade as the Hollywood western The Magnificent Seven. There was even an anime series based on the film, Samurai 7, released in the US by FUNimation.
Video Quality
[Rating:3.5/5]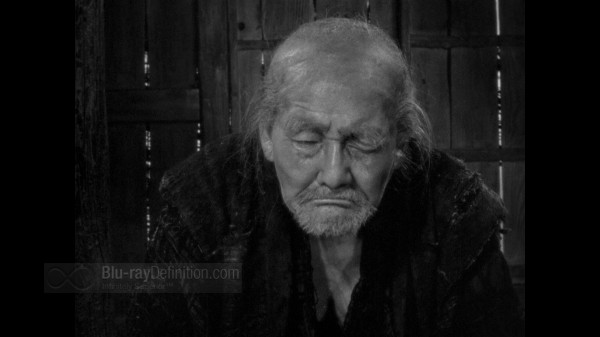 The original negative of Seven Samurai is no longer available, so a duplicate negative was created from the original fine-grain master positive using wetgate processing. This high definition digital transfer was then created from in 2K resolution on a Spirit Datacine from the dupe negative. For the extensive restoration of Seven Samurai, several different digital hardware and software solutions were utilized to address flicker, instability, dirt, scratches, and grain management, including da Vinci's Revival, Discreet's Fire, Digital Vision's ASCIII Advanced Scratch and Dirt Concealer, MTI's DRS, and Pixel Farm's PFClean.
The film is presented in its original 1.33:1 framing with an AVC/MPEG-4 encoding. The image does maintain a film-like quality, but black levels do vary going from deep to greyish and lots of scratches in the source are still visible. At times, the image is sharp and detailed, and other times soft. Of course, the problems with the source cannot all be overcome, but Criterion have done a decent job restoring the film to a watchable state.
Audio Quality
[Rating:3.5/5]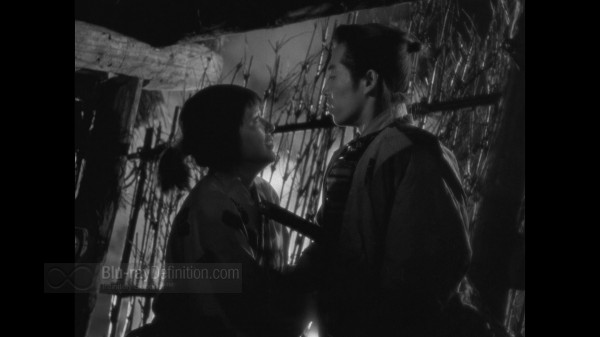 The 2.0 "Surround" mix was created from the original optical track recordings, original stereo music masters, and original production sound effect masters. The original monaural soundtrack was mastered at 24-bit from an optical soundtrack print. Clicks, thumps, hiss, and hum were manually removed using Pro Tools HD. Crackle was attenuated using AudioCube's integrated audio workstation.
Using the PCM 1.0 track as a reference, the sound still shows the inherent limitations of the time period with some obvious crackle and thin-sounding effects, but dialogue is intelligible and the mix is well balanced.
Supplemental Materials
[Rating:4/5]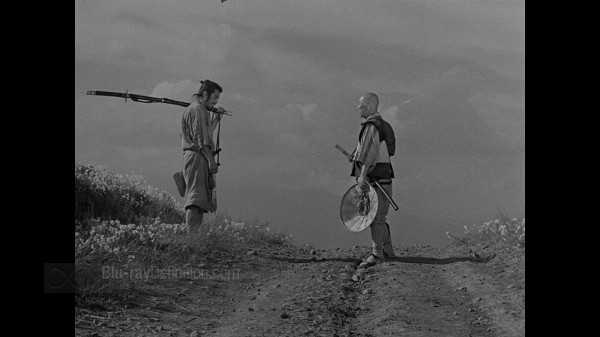 Seven Samurai appears on Blu-ray from the Criterion Collection with the studio's usual heavy dose of quality supplemental materials included. The length of the film has required offloading of the abundance of the video extras to a second disc, most likely to preserve the video quality of the main feature.
The supplements provided with this release are:
Disc 1:
Scholar's Roundtable — This commentary features the renowned scholars and critics David Desser, Joan Mellen, Stephen Prince, Tony Rayns, and Donald Richie discussing Seven Samurai's signature style, historical importance, and ongoing influence. They were recorded individually in 2005 and 2006.
About the scholars: Bios on each of the scholars and critics in the commentary.
Michael Jeck — This commentary, recorded for the Criterion Collection in 1988, features Japanese film expert Michael Jeck, who has lectured on and programmed Japanese film since 1974.
Disc 2 (Supplements Only):
Akira Kurosawa: It is Wonderful to Create (1.33:1; 1080i/60; 0:49.10) –This fifty-minute documentary on the making of Seven Samurai is part of the Toho Masterwirks series Akira Kurosawa: It is Wonderful to Create and features interviews with a number of Kurosawa's key collaborators, including writer Shinobu Hashimoto, set decorator Koichi Hamamura, script supervisor Teruyo Nogami, and actors Seiji Myaguchi and Yoshio Tsuchiya.
My Life in Cinema: Akira Kurosawa (1.33:1; 1080i/60; 1:55.59) — Filmed for the Director's Guild of Japan in 1993, this video interview features director Akira Kurosawa in conversation with fellow filmmaker Nagisa Oshima. The two speak at length about Kurosawa's life and career.
Seven Samurai: Origins and Influences (1.78:1; 1080i/60; 0:55.12)– The samurai occupied a prominent place in Japanese film long before the celebrated heroes of Akira Kurosawa's Seven Samurai. This documentary, created exclusively for the Criterion Collection, takes a close look at the history of the samurai in Japanese life and art, and the influence of the samurai figure in film leading up to and culminating in Kurosawa's masterpiece.
Booklet: The booklet contains eight very interesting essays by Kenneth Turan, Peter Cowie, Peggy Chiao, Alan Silver, Stuart Galbraith, Arthur Penn, and Sydney Lumet and an interview with Toshiro Mifune from 1993, plus film credits and information on the transfer.
The Definitive Word
Overall:
[Rating:4/5]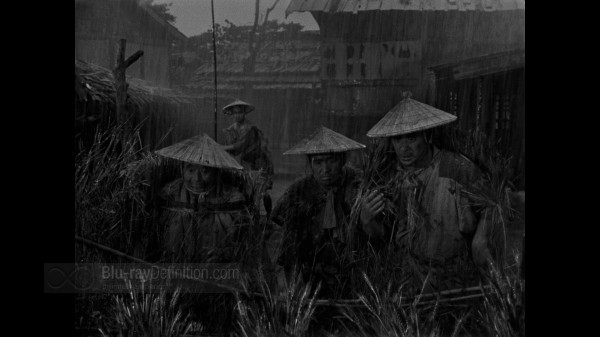 They rarely make them like this anymore and you'd be hard pressed to come by a film of this length as easy to sit through as Seven Samurai. The brilliance of the film is in the seamless blending of history, philosophy, action, social commentary, and Kurosawa's filmmaking prowess. Highly Recommended.
Additional Screen Captures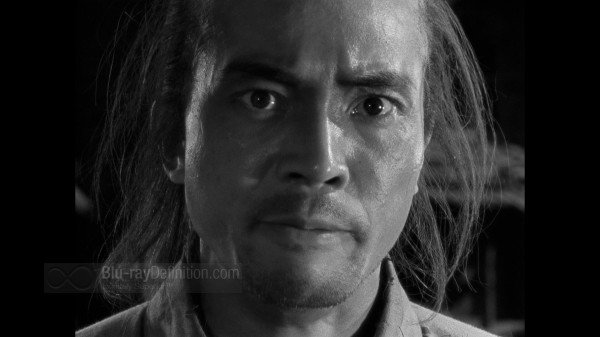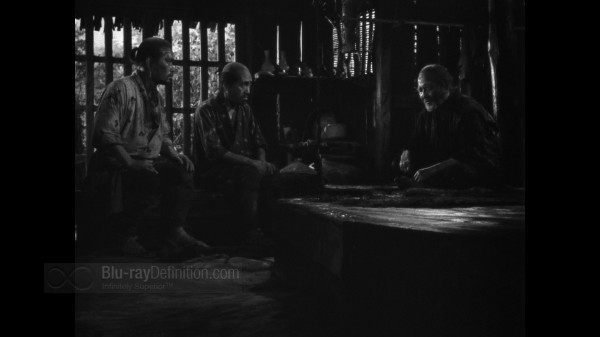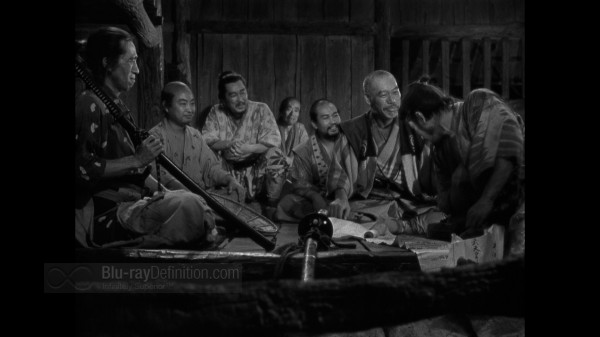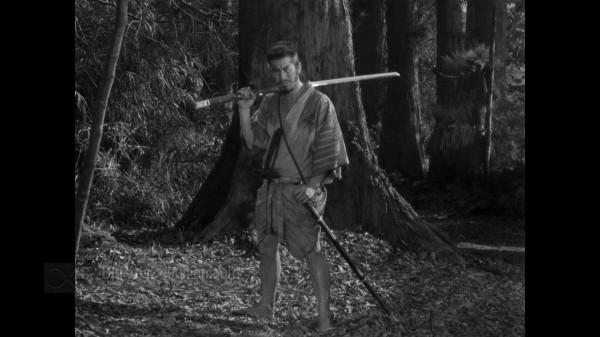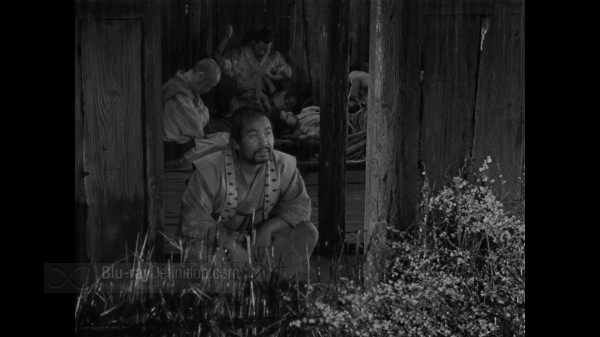 [amazon-product align="right"]B003KGBISY[/amazon-product]
Purchase Seven Samurai on Blu-ray at CD Universe
Shop for more Blu-ray titles at Amazon.com