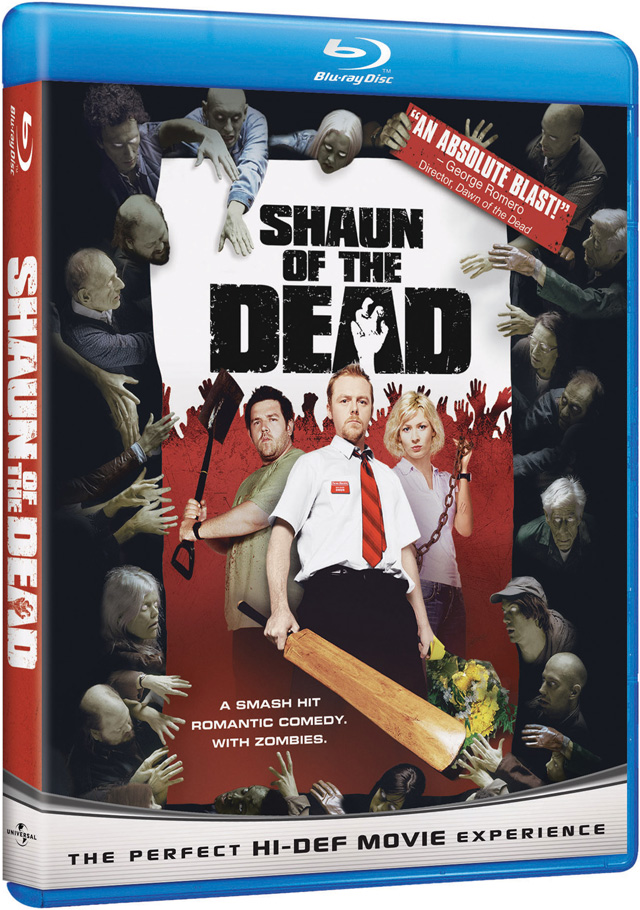 Video Codec: AVC/MPEG-4
Resolution: 1080p/24
Audio Codec: French LPCM 1.0 (48kHz/24-bit)

Subtitles: English
Region: ABC
Discs: 2
Rating: R

Studio: Universal Studios

Blu-ray Disc Release Date: September 22, 2009
List Price: $29.98

 

[amazon-product align="right"]B0025VLEM0[/amazon-product]



Purchase Shaun of the Dead
on Blu-ray at CD Universe

Download: 

Shop with us for more Blu-ray
titles at Amazon.com

Overall

The Film

Video Quality

Audio Quality

Supplemental Materials


Click thumbnails for high-resolution 1920X1080p screen captures
More screen captures (17 Total)

(Screen captures are lightly compressed with lossy JPEG and thus are meant as a general representation of the content and do not fully reveal the capabilities of the Blu-ray format)
The Film

Writer-comedians Simon Pegg and Edgar Wright moved from television to the big screen with this comedic spoof of George A. Romero's Dawn of the Dead. Loser Shaun (Pegg) has exacerbated the declining relationship with his girlfriend Liz (Kate Ashfield) and is a complete disappointment to his parents. All he has left in the world is working at his dead end job as a sales manager and hanging around with his best mate Ed (Nick Frost) watching the telly and knocking down pints at the local pub — that is until London is taken over by flesh eating zombies. Shaun finally has his chance to become a hero and save himself, his friends, family, and his relationship with Liz.
Setting aside the political undercurrents of Romero's Dawn, which lashed out at consumerism in modern culture, Pegg and Wright instead crafted a lighthearted, goofy, romantic comedy zombie flick. Filled with in jokes on pop culture ranging from music and television to video games, Shaun of the Dead may well be the silliest, funniest, most original zombie film ever made.
All of the requisite earmarks of a zombie movie are there, but Pegg and Wright poke fun at them at every turn. The addition of the romantic comedy that runs parallel throughout is pure genius. This is a "rom-com" that guys won't be dragging their feet to go see. Filled with slapstick comedy plus enough gore to qualify as a true horror film, Shaun of the Dead never fails to entertain and it truly stands alone in the world of film.
Video Quality

Shaun of the Dead on Blu-ray Disc is provided with a solid AVC/MPEG-4 1080p transfer of its 2.35:1 framing from Universal Studios. The encoding is free from any compression artifacts and I do not notice that any edge enhancement has been applied. The source looks impeccably clean, flesh tones are natural and black levels are deep. There is detailed shadow delineation and grain structure is consistent and film-like.
Audio Quality

The disc's English DTS-HD Master Audio 5.1 lossless mix is completely immersive. Discrete sound effects are panned around the room and to the sides. Low frequencies are deeply resonant in the most active scenes even as dialogue remains audible, clean, and intelligible. High frequencies are smooth and the sound effects not only have good punch, but they sound realistic. It's a reference quality mix to go along with the solid picture quality.
Supplemental Materials

Shaun of the Dead has been given a heavy dose of supplements that, even though they are only in standard definition, offer an abundance of added value to this release.
The supplements available on this release are:
Missing Bits:

Extended Bits with optional Commentary (1.33:1; 480i/60):

Kitchen Pow-Wow
Body on the Line
Body on the Line/Yvonne
Taxi Driver
Bathroom Blowout
In the Bedroom
Meercats United
Alternate Ed
The Dopplegang
Q.W.A.
David vs. Shaun
More Peanuts
Rifle Trifles
David's Redemption
Bar Extension

Outtakes (1.33:1; 480i/60)
The Man Who Would Be Shaun (1.33:1; 480i/60)
Funky Pete (2.35:1; 480i/60)
Plot Holes (1.78:1; 480i/60) — The actors narrate the storyboards of missing scenes.

Raw Meat (480i/60):

Simon Pegg's Video Diary (1.33:1; 0:06.44)
Lucy Davis' Video Diary (1.33:1; 0:05.05)
Joe Cornish's Video Diary (1.78:1; 0:10.16)
Casting Tapes (1.33:1; 480i/60; 0:04.12)
Edgar and Simon's Flip Chart (1.33:1; 480i/60; 0:13.36)
SFX Comparison (1.33:1; 480i/60)
Make-Up Tests (1.33:1; 480i/60; 0:02.20)
EPK Featurette (1.33:1; 480i/60; 0:07.10)

TV Bits (480i/60):

T4 with Coldplay (1.78:1; 0:04.21)
Fun Dead (1.33:1; 0:01.05)
Trisha — Your Nine Lives Are Up (1.78:1; 0:01.26)
Trisha — I Married a Monster (1.78:1; 0:01.31)
Remembering Z Day (1.78:1; 0:02.32)

Zombie Gallery (1080p/24):

Photo Gallery
2000 AD Strip
Poster Designs

Trailers (480i/60):

US Trailer (1.33:1)
UK Teaser Trailer (1.78:1)
UK Trailer (1.78:1)
UK TV Spot #1 (2.35:1)
UK TV Spot #2 (2.35:1)
Fright Fest Trailer (1.33:1)

Storyboard Gallery — View storyboards in a picture-in-picture window during playback of the film.
Feature Commentary with Simon Pegg & Edgar Wright
Feature Commentary with Simon Pegg, Nick Frost, Dylan Moran, Kate Ashfield, and Lucy Davis
Feature Commentary with Bill Nighy and Penelope Wilton
Feature Commentary with the Zombies
D-Box Motion Code
BD-Live
Digital Copy — Bonus disc with access to a digital copy of the film for playback on iPod/Windows Media devices and Mac/Windows PCs
The Definitive Word
Overall:

Shaun of the Dead is funny, scary, romantic, silly — it's everything a good movie should be. It may not have the political undertones of George A. Romero's works, but it has its own charms and Universal has provided it in a solid release here on Blu-ray Disc. Highly recommended.

Purchase Shaun of the Dead
on Blu-ray at CD Universe

Download: 

Shop with us for more Blu-ray
titles at Amazon.com