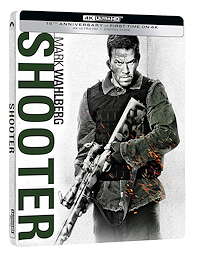 In Shooter, the stylish 2007 film from Antoine Fuqua (INFINITE) now celebrating its 15th anniversary with this 4K disc release from Paramount, Mark Wahlberg plays highly skilled Marine sniper Bob Lee Swagger who has retired from the military and is living in isolation after his last mission in Africa went sideways and ended in tragedy.
Approached by a retired colonel (Danny Glover) working with a US senator (Ned Beatty) to aid them in a special mission requiring his special skills as one, if not the best, sniper in the world to help protect the President of the United States, Swagger finds himself double-crossed and engulfed in a deeper conspiracy. Now on the run from the FBI and framed for trying to assassinate the president, Swagger runs to his former spotter's girlfriend (Kate Mara) for help and inveigles a skeptical rookie FBI agent (Michael Peña) to help him clear his name as well.
Like many of Fuqua's other works, Shooter is not about character development or plots that make a lot of sense from beginning to end. There's a moment where Swagger has the evidence to clear his name and implicate the people responsible for the conspiracy and decides not to use it. That's just one example as is the denouement that relies a lot on chance and happenstance.
Putting that aside, Fuqua knows how to put together a good-looking thriller that keeps you interested and entertained. There are no lapses in Shooter, it's kinetic, always moving forward, and there is always a sense of urgency. The action sequences are explosive – pun very much intended. Then there's Wahlberg who is a good lead for this. He's believable and there's not much heavy lifting required. Add in the gorgeous Kate Mara who also gets her own moment to do some damage and this is some solid popcorn entertainment.
The Video
Shooter was shot on 35mm and comes to 4K Ultra HD Blu-ray in a 2.39:1 HEVC 2160p (4K UHD) Dolby Vision (HDR10 compatible) encodement. The fine grain structure of the anamorphic 35mm production looks very good, crisp, three-dimensional, aided by the application of the Dolby Vision HDR, which is mildly applied, but adds very good depth and nuance. We're not seeing a super bright image here, but we do see some inky blacks and nice gradations in the shadows, and some good specular highlights that really come into play in the nighttime scenes such as in chapter 12 at the 01:19:20 mark as Danny Glover and Ned Beatty walk in D.C. with the Capitol Building in the background. You can see a good bit of 'pop' in the lights in the buildings, lamplights, and headlights, reflections and so forth. Another strong reference scene is in chapter 14 at the 01:30:00 mark as Wahlberg confronts Rade Serbedzija. First indoors you can see excellent depth in the shadows with Wahlberg's face against the background, then when the action moves to outdoors and we get some explosions, we see the wide color gamut come into play with some bright orange flames and strong highlights.
The Audio
Shooter comes to 4K Ultra HD with the same 5.1 audio mix in DTS-HD Master Audio. It would have been interesting to hear how this film sounded with an upgraded Atmos or DTS:X mix, but this mix is a very serviceable one. There are some moments where it seems to get a little too inactive, such as during some of the more dialogue-driven scenes like when Swagger first meets Sarah at her home, for instance. The action scenes such as in Chapter 14 where Swagger and Nick Memphis are at the compound result in some very good, weighty explosions that extend well into the lower frequencies. Bullets fly around, perhaps not quite as tightly and actively as could be, but we still get quite a bit of activity to put us into the action.
The Supplements
There are two featurettes that are included and a nice bundle of deleted scenes that expand the story just a tad. The making of and the breakdown of the crucial Independence Hall scene are interesting looks into the film's production.
Digital Copy Code
Survival of the Fittest: The Making of Shooter (4K; DV; 00:21:50)
Independence Hall (4K; DV; 00:07:19)
Theatrical Trailer (4K; DV)
Deleted Scenes (4K; DV; 00:11:50):

Nick Memphis Intro at FBI
Timmons in the Alley
Sarah and Swagger Discuss Conspiracy
Extended Shopping Scene
Swagger and Memphis at the River
Swagger and Memphis Driving After Farmhouse
Swagger and Memphis in Motel Room
The Final Assessment
A cool little action film that looks top notch in this 4K remaster from Paramount. The supplements could have been little more robust, but this is still a good upgrade.
Shooter (Limited Edition) is out on 4K Ultra HD SteelBook March 15, 2022 from Paramount

---
Rating Certificate: R (for strong graphic violence and some language)
Studios & Distributors: Paramount Pictures | Di Bonaventura Pictures | Paramount Home Entertainment
Director: Antoine Fuqua
Written By: Stephen Hunter
Jonathan Lemkin
Run Time: 125 Mins.
Street Date: 15 March 2022
Aspect Ratio: 2.39:1
Video Format: HEVC 2160p (4K UHD)
HDR Format: Dolby Vision (HDR10 Compatible)
Primary Audio: English DTS-HD MA 5.1
Secondary Audio: German DD 5.1 | Spanish DD 5.1 | French DD 5.1 | Japanese DD 5.1
Subtitles: English | English SDH | Danish | German | Spanish (Castilian) | Spanish (Latino) | French | Italian | Japanese | Korean | Dutch | Norwegian | Polish | Portuguese (Brazilian) | Portuguese (Portugal) | Finnish | Swedish