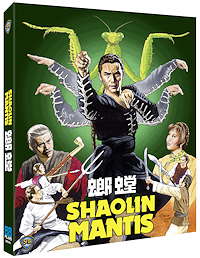 Right out of the golden age of martial arts cinema, Shaolin Mantis, AKA The Deadly Mantis, from director Liu Chia-Liang, is one of the better films from the era as far as the complexity and continuity of its plot.
Scholar and martial arts expert Wei Fung (David Chiang) is hired by the Han Emperor to infiltrate a clan of Ming loyalists who are plotting a coups to overthrow the Emperor and install a Ming Emperor on the throne. His entire family's lives are on the line should he fail in his mission as the emperor promises to first strip his father of his titles, then jail all his family, and lastly execute his entire family should Wei Fung not return with news by certain deadlines. Wei Fung's mission goes sideways when the members of the clan he infiltrates begin to suspect he is a spy. But there is a complication – he has fallen in love with the patriarch's (Liu Chia-Yung) granddaughter Tien Chi-Chi (Cecilia Wong). She pleads for mercy for Wei Fung since the plan is for him to be killed, but a reprieve is granted given that he agrees to marry her, and he never leave the family compound. As time passes, however, Wei Fung knows he must get back to the emperor with news or risk his own family. He asks to be allowed to take Tien Chi-Chi to meet his parents, and grandfather agrees, but the truth is he will be forced through a series of dangerous trials before being killed.
This sets up the most thrilling and revealing part of the film as Wei Fung is forced through combat in several "chambers" in the family compound and Chi-Chi aligns with him, finally choosing her husband over her own family, which enrages her grandfather even more.
What happens next was probably the inevitable outcome of this film and sets up the revenge and mantis kung fu arch of Shaolin Mantis, where Wei Fung, in the face of a tragic turn of events, goes into training and teaches himself a new technique based on the movements of the preying mantis and returns seeking vengeance.
What makes Shaolin Mantis such a great film are these levels of character development, the conflicted loyalties, filial responsibilities, and it almost goes without saying the incredible martial arts choreography, especially the hand-to-hand combat that dominates much of the final third of the film. Throw into the mix the wild twist that closes out the film and what we have here is an endlessly watchable film.
The Video
Shaolin Mantis is another of the films from the vast Shaw Brothers catalogue that has been restored and remastered by Celestial Pictures Limited. This film is stated as being an "HD remaster from the original 35mm camera negatives" and is brought to Blu-ray in an AVC 1080p encodement in a 2.35:1 framing. The image certainly looks very clean, but like the previous two 88 Films Shaw releases there is some softness and lack of higher frequency information, and bit of an absence of grain that makes some skin look a little waxy. I also spot some artifacts on edges, particularly in the backgrounds, as if there is perhaps some manipulation going on to sharpen the image a little. There is noticeable stair-stepping that crops up and also a little posterization in flat backgrounds. Apart from these issues that pop up, this is otherwise satisfying to me with good colors and contrast, and a decent amount of shadow nuance.
The Audio
Shaolin Mantis comes with its original Mandarin mono soundtrack in LPCM 2.0 with newly translated English subtitles and the English dub also in a LPCM 2.0 mono mix. Both tracks are about on par with the quality of these '70s kung fu films. The dynamic range isn't great, and they tend to sound a bit grating when the effects get loud. Otherwise, the dialogue (dubbed whether you go for the English or Mandarin) sounds clear, but the English dialogue sounds fuller.
The Supplements
88 Films continues to impress with their packaging and collection of bonus features. This film is beautifully packaged in a gorgeous slipcase with eye-catching artwork, plus has a reversible inner sleeve with the original artwork as well. Then they include a foldout, double-sided poster and four artcards. If that wasn't enough, we get the on-disc extras which include two fantastic audio commentaries, including one from the always informed and listenable Frank Djeng and the amiable and conversational Mike Leeder and Arne Venema.
Slipcase with brand-new artwork from R.P. "Kung Fu Bob" O'Brien
4 x Collectible Artcards
Double-Sided Foldout Poster
Reversible Sleeve Featuring Original Hong Kong Poster Artwork
Complicated Families – David West on Shaolin Mantis (1080p; 00:13:52)
Uncle Tien Chung – An Interview with John Cheung (1080p; 00:20:35)
Audio commentary with Asian cinema experts Mike Leeder and Arne Venema
Audio Commentary with Asian cinema expert Frank Djeng
The Deadly Mantis US Trailer (1080p)
Hong Kong Trailer (1080p)
The Final Assessment
Awesome martial arts film with more layers than a lot of these films usually have and fantastic collectible packaging and bonus materials that 88 Films seems to be carving out a niche for themselves with. Highly recommended.
Shaolin Mantis (Limited Edition) is out on Blu-ray March 22, 2022 from 88 Films
---
Rating Certificate: R
Studios & Distributors: Shaw Brothers | Celestial Pictures | 88 Films
Director: Liu Chia-Liang
Written By: Szeto On
Run Time: 100 Mins.
Street Date: 22 March 2022
Aspect Ratio: 2.35:1
Video Format: AVC 1080p
Primary Audio: Mandarin LPCM 2.0 Mono
Secondary Audio: English LPCM 2.0 Mono
Subtitles: Newly Translated English Subtitles