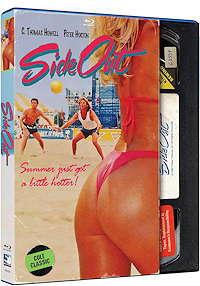 Let's face facts, this 1990 film, Side Out, with its cast of mostly 1980s film star has-beens (C. Thomas Howell) and TV series familiars (Courtney Thorne-Smith and Peter Horton) is all about, to borrow the lyrics from The Rivieras, being "out there having fun in the warm California sun". It's also about hot bodies in swimsuits and a thin story sculpted around this.
Howell plays Midwesterner Monroe Clark who moves to California for the summer to work as an intern for his uncle's firm helping to evict tenants where he befriends a volleyball-playing beach bum and a retired pro beach volleyball player and coach (Horton). Clark is soon drawn into the California lifestyle and recruited to play volleyball on the pro beach circuit. He also finds time for romance with the beautiful Samantha (Courtney Thorne-Smith).
With its upbeat musical soundtrack that has some era pop gems from the likes of Paula Abdul ("Straight Up") among others and warm and sunny cinematography, this is a film that simply revels in the sun and fun of the California beach life, beautiful women in bikinis, and hard bodies trawling the beaches to pick them up.

The Video
Side Out comes in an AVC 1080p encodement framed at 1.85:1. I cannot give this one very high marks, unfortunately. It's very easy to see from the opening credits some source damage, unnatural, noisy, and blocky looking film grain, and soft detail Colors look good, but not quite as vibrant, warm, sunny, and eye-catching as it could be with a fresh and new restoration.
The Audio
Side Out comes with an English DTS-HD Master Audio 2.0 stereo audio mix on Blu-ray from Mill Creek. Could this mix have sounded a little better with a new remaster? Possibly, because there's just a little lack of clarity in the high frequencies and just a bit of 'digititis' in that late 1980s early 1990s musical soundtrack. None of this is to say this track sounds bad. This mix gets plusses for good, wide stereo panning and dynamic musical presentation.
The Supplements
Apart from the snazzy retro VHS packaging, there are no bonus materials for this release.
The Final Assessment
I'd call this one a forgettable bit of eye candy if this transfer at least looked good. I suppose the budget line from Mill Creek won't leave out too much cash if you really want this on Blu-ray and don't care too much about the picture quality.
Side Out (Retro VHS) is out on Blu-ray February 22, 2022 from Mill Creek Entertainment
---
Rating Certificate: PG-13
Studios & Distributors: Aurora | Jay Weston Productions | Then Productions | TriStar Pictures | Mill Creek Entertainment
Director: Peter Israelson
Written By: David Thoreau
Run Time: 100 Mins.
Street Date: 22 February 2022
Aspect Ratio: 1.85:1
Video Format: AVC 1080p
Primary Audio: English DTS-HD MA 2.0 Stereo
Subtitles: English SDH