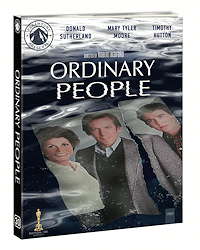 Robert Redford's 1980 directorial debut, Ordinary People, from the Judith Guest novel of the same name, became that year's runaway success at the Oscar's bringing home four statuettes for Best Picture, Best Director, Best Actor in a Supporting Role (Timothy Hutton), and Best Writing, Screenplay Based on Material from Another Medium (Alvin Sargent).
This story follows a universal and almost simple story about an outwardly perfect family, the Jarretts, who are suffering after a great loss and breaking apart because of it. After one of their sons dies in a boating accident on Lake Michigan in which their son Conrad (Hutton) survives, Conrad is having problems adjusting to a normal life, suffering from survivor's guilt, and having nightmares. Intense sessions with his psychiatrist (Judd Hirsch) do not resolve his underlying feeling of guilt and feeling that he should have been the one to die rather than his brother. Meanwhile, his parents (Donald Sutherland and Mary Tyler Moore) are too preoccupied with their own quibbling on how to react to Conrad's troubles. Beth (Moore) is more concerned with outward appearances and quickly moving on from the tragedy and she feels Calvin (Sutherland) is coddling Conrad too much. It isn't until Conrad finds himself in a romance with the beautiful, amiable, and very intelligent Jeannine (Elizabeth McGovern) that he begins to finally crawl out of his shell.
As a directorial debut, the film is extraordinary, as Redford handles the subject deftly, staying out of the way of the actors and dialogue and allowing the emotional drama to unfold without allowing it to ever tip over into sentimentalism. There are many people who watch this who will be able to relate to the devastation the loss of a loved one can have on a family and Redford along with this cast gets that across beautifully. Mary Tyler Moore is the shining star as the Upper Middle Class suburban wife trying desperately to hold everything together and keep up outward appearances all while things are falling apart at home.
The Video
Ordinary People is remastered from a new 4K film transfer overseen by Robert Redford and presented on Blu-ray in a 1.85:1 AVC 1080p encodement from Paramount's Paramount Presents label. True to form for this line, the picture is top notch. There isn't anything I can find to complain about in this transfer. The image has been wonderfully cleaned up and stabilized but there is still a lot of grain present that looks very organic, and no detail is lost. Colors look natural, with flesh tones having that nice peachy glow and primaries having just the right amount of vibrancy. We have yet another beautiful, reference quality release in the Paramount Presents line.
The Audio
Ordinary People comes with its original mono soundtrack in a lossless Dolby TrueHD 2.0 track. It is more than adequate to convey this mostly dialogue-driven sound mix with clarity and dynamics without any clipping.
The Supplements
The two contemporary interviews and the collectible packaging make this a lovely set worth having.
Digital Copy Code
Swimming in the Rose Garden: Timothy Hutton on Ordinary People (1080p; 00:10:55)
Feeling is Not Selective: Author Judith Guest on Ordinary People (1080p; 00:05:35)
Theatrical Trailer (SD)
Collectible packaging featuring foldout image of the film's theatrical poster and an interior spread with key movie moments.
The Final Assessment
The first time I saw Ordinary People was in high school on VHS for a class I had called "Classics into Film." How far the tech has come. This film has never looked so good on a home video format and Paramount with their Paramount Presents label continues to do a bang up job.
Ordinary People is out on Blu-ray March 29, 2022 from Paramount

---
Rating Certificate: R
Studios & Distributors: Paramount Pictures | Wildwood Enterprises | Paramount Home Entertainment
Director: Robert Redford
Written By: Judith Guest (novel) | Alvin Sargent (screenplay) | Nancy Dowd (uncredited)
Run Time: 124 Mins.
Street Date: 29 March 2022
Aspect Ratio: 1.85:1
Video Format: AVC 1080p
Primary Audio English Dolby TrueHD 2.0 Mono
Secondary Audio: German DD 2.0 Mono | Spanish (Castilian) DD 2.0 Mono | French DD 2.0 Mono | Japanese DD 2.0 Mono
Subtitles: English | English SDH | German | Spanish | Castilian | French | Japanese