Eureka Entertainment Ltd. has announced they will be releasing the classic sci-fi film Silent Running on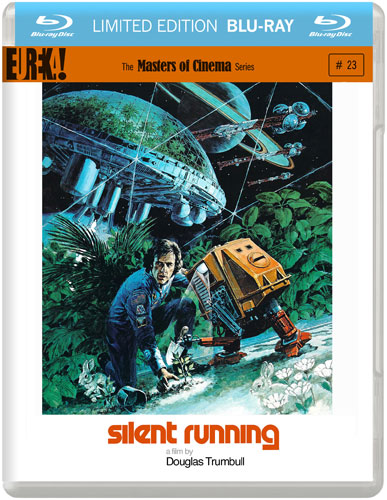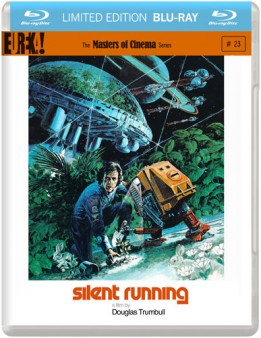 Blu-ray and Special Ltd. Edition Blu-ray Steelbook on 14 November 2011 under their esteemed Masters of Cinema label. The release will sell at a RRP of £19.99 (Blu-ray) and £29.99 (Blu-ray Steelbook) respectively. The Blu-ray will feature a new high-definition master in its original aspect ratio and as usual for Masters of Cinema releases, a lavish booklet featuring rare production imagery, and more.
Extras are to be announced nearer the release date.
Further details:
Label: Eureka Entertainment Ltd
Catalogue No: EKA70038/ EKA70049 (STEELBOOK)
Barcode: 5060000700381/ 5060000700497 (STEELBOOK)
RRP: £19.99/ £29.99 (STEELBOOK)
Release Date: 14 November 2011
Certificate: U
Run Time: 90 min. approx.
Format:  1.85:1 OAR/ Colour
Genre: Sci-Fi
Director: Douglas TRUMBULL
Year: 1971
Country:  USA
Language: English
Subtitles: English SDH (Optional)
Film Synopsis
Three years after helping to achieve some of the most amazing imagery in cinema history with 2001: A Space Odyssey, special effects maestro Douglas Trumbull made an auspicious directorial debut at age 29 with the environmentally themed science fiction classic Silent Running.
In the distant future, plant life on our planet is extinct. Remaining specimens are cultivated in vast greenhouse-like domes orbiting in space. Bruce Dern (Marnie, Coming Home, The 'burbs, Monster) stars as Freeman Lowell, dedicated botanist aboard the "Valley Forge", awaiting the call to refoliate Earth – despite the scorn of his crewmates. When an order comes to instead destroy the domes and return home, Lowell takes matters into his own hands, beginning a long and lonely voyage into the unknown.
With its remarkable special effects (especially the robot drones Huey, Dewey, and Louie); glorious score (including songs performed by Joan Baez); memorable sound effects (created by Joseph Byrd from the cult band The United States of America); a screenplay co-written by Michael Cimino (The Deer Hunter) and Steven Bochco (Hill Street Blues), and an impassioned central performance from Dern, Silent Running remains a uniquely contemplative and haunting adventure that continues to make hippies of young children, even today.
Acknowledged as a major influence on Pixar's WALL-E and Duncan Jones' Moon, and directed by Douglas Trumbull, the special effects genius behind 2001: A Space Odyssey, Close Encounters of the Third Kind, Blade Runner, and, most recently, The Tree of Life.  The Masters of Cinema Series is proud to present a new Blu-ray special edition of Silent Running to celebrate the film's 40th anniversary (Also available as a limited edition Steelbook). Released on 14 November 2011.
###
[amazon-product region="uk" tracking_id="bluraydefinit-21″]B005DE1G2Y[/amazon-product]
[amazon-product region="uk" tracking_id="bluraydefinit-21″]B005FM53R8[/amazon-product]
Join the Discussion on Our Forum